10 Activities To Do with Grandparents on Zoom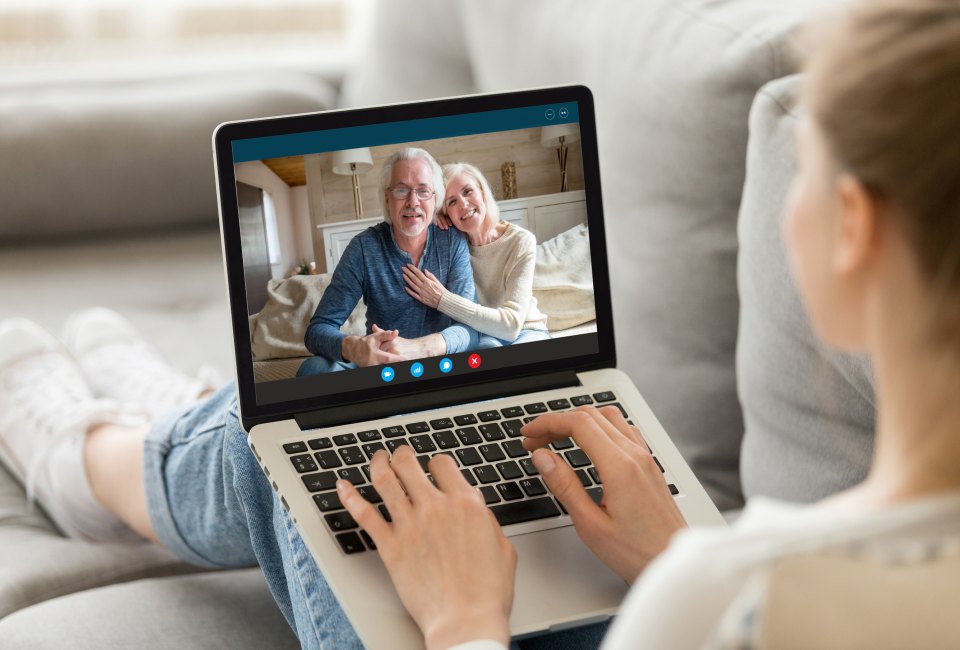 6/15/20
- By
Jody Mercier
Zoom became popular during the pandemic, but the video chat platform—and others like FaceTime and Skype—is great for more than just quarantine times. For families like mine, with grandparents spread across the country, a Zoom date is an easy, satisfying way to foster face-to-face connections between generations. While a casual chat is fun in itself, sometimes we like to up the ante and incorporate some fun activities into the video session. Here are our 10 favorite activities and games that kids can do with grandparents over Zoom.
For more fun Zoom tips, be sure to read our roundups of ways to make virtual hangouts more awesome and the best games to play with friends virtually.
1. Complete a crossword puzzle.
Download a printable crossword puzzle and share it with Grandma and Grandpa in advance. Then, let your kids connect with them and work through the clues together, building vocabulary and connection at the same time.
2. Hone those reading skills.
All of my kids have shared their early-reading days with Grammy. Handing them an iPad and a book gave her something to look forward to and gave me some free time. As they were learning to read, she'd keep a pile of favorite picture books nearby, too, and they would take turns: For each book read to Grammy, Grammy would read one back. The "chore" of getting in those 20 minutes of reading time was instantly more fun. As they grow and their reading skills multiply, have kids and grandparents alternate reading chapters of a book aloud to one another or pick a novel to read offline, and follow it with a book-club inspired discussion via Zoom.
3. Do some show and tell.
Have your kid pick out a special piece of artwork or current favorite toy and share it with the grandparents via Zoom. Grandma and Grandpa can return the favor, sharing a beloved family heirloom or unique artifact from a recent trip.
4. Play I-Spy.
Set your Zoom camera up in front of a busy background and ask Grandma and Grandpa to do the same, then take turns playing I-Spy and providing clues and guessing objects in the background. Bookshelves make for a variety of possibilities. Another fun spin: Find a small action figure and hide it somewhere in the background, then try to pick it out while you chat.
5. Get goofy with Mad Libs.
Remember these old-school fill-in-the-blank stories? Pick one up, and let your kids take turns filling them in with Grandma and Grandpa. Hilarity always ensues, and children get a bonus parts-of-speech grammar lesson to boot.
6. Embark on a scavenger hunt.
Help your kids come up with a list of everyday household items and let them shout out those items to their grandparents. Set a (generous) timer and let grandparents try to beat the clock by finding each one and bringing it back to the screen to share via the camera. Turn the tables, and let Grandma and Grandpa shout out a list of items for the kids to collect. Need ideas? Pinterest abounds with lists of scavenger hunt items to cull.
7. Make a simple recipe together.
Set your Zoom up in the kitchen and let Grandma or Grandpa teach the kids a simple recipe. Even little kids can whip up some no-bake cookies, or use the microwave to make something like Rice Krispie Treats.
8. Play with virtual backgrounds.
Savvy kids have likely figured out you can swap your Zoom background for any photo in your camera roll. Let them school Grandma and Grandpa on this tech skill during one Zoom, then encourage them each set up a new background for their next Zoom call. It might be a personal photo or something from Google Images. Each person guess the other's background and then talk through why they choose that image. Is it personally significant? Historically significant? Somewhere they've been or hope to visit? It's a fun way to learn a little something new about a loved one.
RELATED: Make Virtual Hangouts 100% More Awesome with Virtual Backgrounds, Games, Special Guests
9. Conduct an interview.
Speaking of learning more about loved ones ... Zoom is the perfect platform for kids to interview Grandma, Grandpa, or both. Let children ask questions about their grandparents' past. Where did they grow up? What were their favorite activities when they were your child's age? How did they meet? Of course, my kids' favorite questions to ask revolve around stories about my siblings and me and our growing-up shenanigans. Make sure your kids take notes (of everything but the shenanigans!) or record the conversation for prosperity's sake.
10. Do a craft.
A simple craft can be lots of fun and another way to learn something new about grandparents. Maybe Grandma knits and can give some pointers via a video chat, or Grandpa can demonstrate some whittling techniques. Whatever handiwork grandparents are passionate about, encourage them to pass it on to your kids.