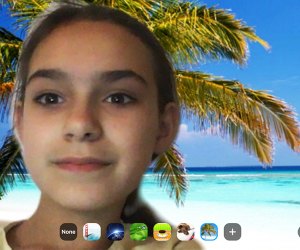 Make Virtual Hangouts 100% More Awesome with Fun Features and Ideas
With social distancing measures in place, most of us are keeping in touch with friends and relatives via virtual hangouts on Zoom, HouseParty, FaceTime, and other video apps. While nothing can replace real face time with friends and family, video conferencing can bring its own unique brand of fun. From virtual backgrounds to interactive games to special guests (who knew goats had such screen presence?), these tips and tricks will add some pizzazz to your next online gathering.
For more creative ways to connect while keeping socially distant, check out our ideas for car parades, neighborhood scavenger hunts, and more.

Customize your background on Zoom with free downloads from Nickeldeon, like Paw Patrol! Photo courtesy of Nickelodeon
Fun Backgrounds for Virtual Hangouts
We're all stuck at home, but that doesn't mean we can't pretend we're somewhere else amazing. With virtual backgrounds in apps like Zoom, Microsoft Teams, or Skype, kids can pretend they're calling from a tropical beach, Cinderella's Castle, the Millenium Falcon, Paw Patrol or Sponge Bob Headquarters, or anywhere in the Marvel Universe.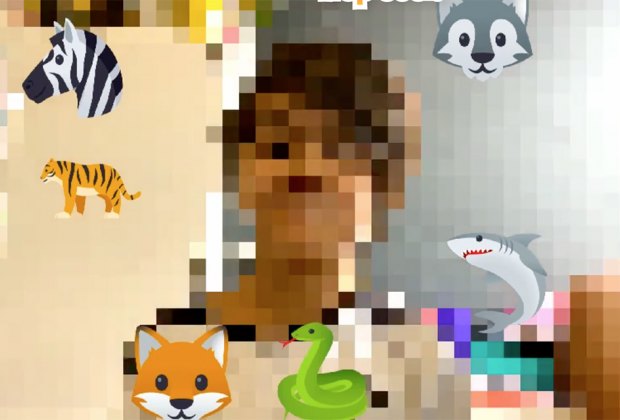 Decorate your screen with critters, and even "Minecraft" your face! Photo by Mommy Poppins
Filters and Disguises for Virtual Hangouts
Take making silly faces to the next level with virtual filters and disguises. FaceTime allows you to chat as your memoji or animoji. Snap Camera is a free app with filters you can use with other video chatting apps like Skype or Microsoft Teams. Some days you just feel like a potato head.
Special Animal Guests for Virtual Hangouts
Feeling extra silly or want to surprise (or perhaps thoroughly confuse) your grandparents? Have a goat join the call! Or a camel. Or a donkey. Or an alligator! Some enterprising farms and media companies have connected to create a service in which a live animal can "call" into a meeting or hangout, thoroughly upping a gathering's funny or cute factor. While some animal call services charge a fee, others ask for a donation.
Playing Games During Virtual Hangouts
HouseParty makes it easy to simultaneously video chat and play online games with your friends and family, including trivia, pictionary, Heads Up, and more. If you're looking for something more low tech, try playing charades or bingo over video. Or, use an online tool that is compatible with your video conferencing app. Here is a great roundup of 52 games you can play online.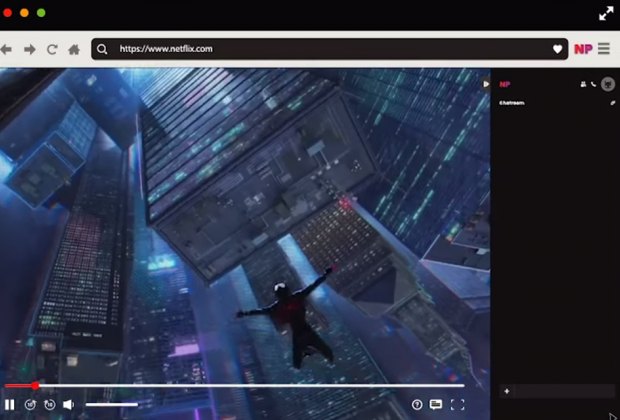 Movie nights don't have to be a thing of the past. Netflix Party makes it easy to watch movies together even though friends might be far apart. Photo courtesy of Netflix
Watching Movies During Virtual Hangouts
While we can't share a bowl of popcorn, we can still watch our favorite movies together online with apps and extensions like Netflix Party, TwoSeven, Watch2gether, or Plug.DJ, to name a few. These are free, and allow people to watch movies, TV shows, and videos together while chatting in real time. Different extensions are compatible with different streaming services, so be sure to look for one that best suits your needs.
Doing Karaoke During Virtual Hangouts
Karaoke is fun for all ages! Apps like Smule are built for people to sing together. Or, use a combination of Zoom and one of the video streaming apps mentioned above so that you can simultaneously watch music videos and people's faces. Or, if you're really serious, there are apps dedicated to karaoke, like Karafun.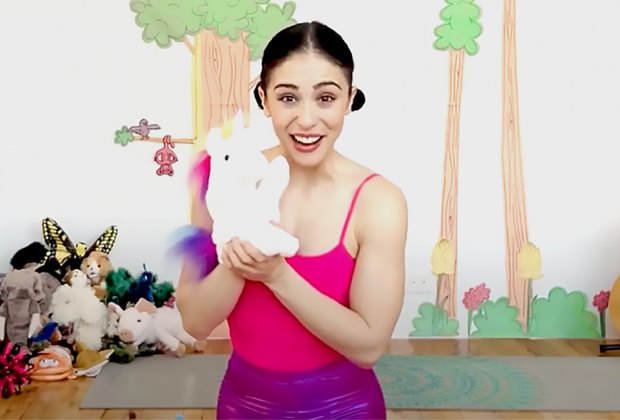 Do a virtual YogiKids workout with friends.
Workout Together During Virtual Hangouts
Sign up for a virtual workout together, or share your screen to do your favorite YouTube workout together on Zoom. Our kids are crazy for YogiKids and Go with YOYO.
Take Cooking Lessons During Virtual Hangouts
Have your kids learn a recipe from grandma while cooking together over video chat, or sign up for a virtual cooking class with friends or family.
Read Stories or Have Book Club During Virtual Hangouts
There is an endless list of virtual storytimes families can enjoy together, with readings by everyone from Michelle Obama to Dolly Parton. Or, create your own book club with friends or family and read and take turns picking a book to read and discuss together.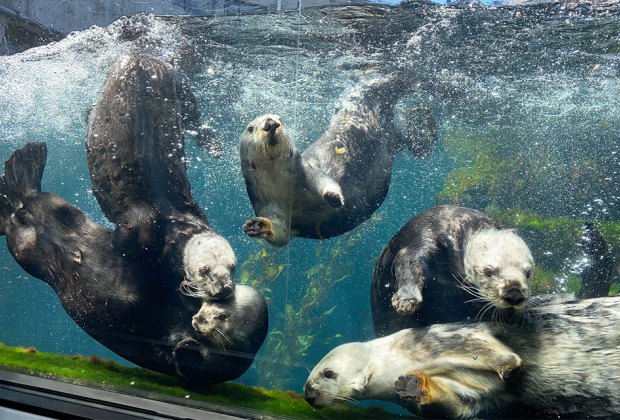 Take a virtual tour or watch live cams together of the sea life at the Monterey Bay Aquarium. Photo courtesy of the aquarium
Take a Field Trip Together During Virtual Hangouts
Share your screen and (virtually) explore a new place together. Tour some of the world's most popular tourist destinations like the Louvre and the Monterey Bay Aquarium, which have online guided tours and live webcams, respectively.
Whether you're using Whatsapp, FaceTime, Zoom, Microsoft Teams, Skype, or any other video conferencing app to keep in touch with loved ones, we hope these ideas will bring a smile to your face and help foster the connection that we all crave right now. Remember to optimize your view, filter out background noise if necessary, and protect your privacy.