Submerge: NYC Marine Science Festival
Hudson River Park Pier 84

Sugar Skull! A Dia de Muertos Musical Adventure
The Sheen Center for Thought & Culture

Cirque-tacular presents 'The Art of Circus'
BMCC Tribeca Performing Arts Center
Best Games Kids Can Play on Zoom Virtually with Friends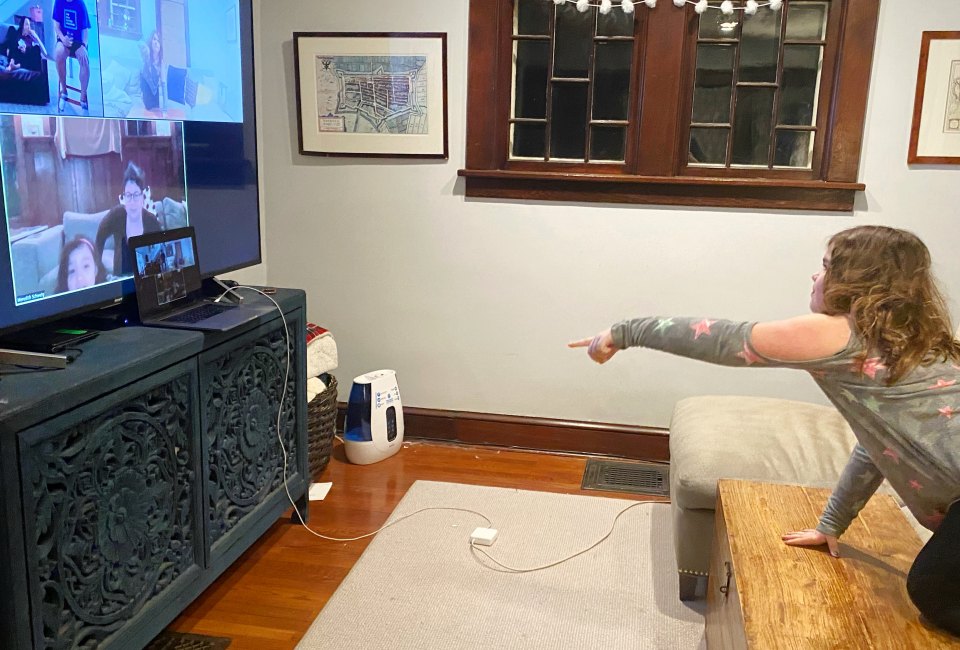 4/7/20
- By
Ally Noel
Life in quarantine has forced families to think of creative ways we can get together during the novel coronavirus outbreak. And if you need a break from playing board games with whomever you share a home, a virtual game night makes for an excellent (and refreshing) alternative. Whether you choose Zoom, Hangouts, FaceTime, or Skype, there is virtually no end to the technological tools that keep us connected.
Group games are so important to kids for so many reasons. You can still sing your heart out with friends, challenge grandparents to a round of Pictionary, or ask your cousin to play a game of Battleship. Despite the circumstances, kids just want to have fun. So, let the games begin!
For more ideas on pandemic parenting, visit our Coronavirus Guide for Parents with hundreds of activities and things to do with kids of all ages.
Charades
The great thing about charades is it doesn't really require any materials or prep beyond your imagination and a list of words to act out. This game can be easily customized to suit just about any age group. Use this no-frills Charades Generator to pick a word for you to act out in front of the camera, then see who in your audience can guess!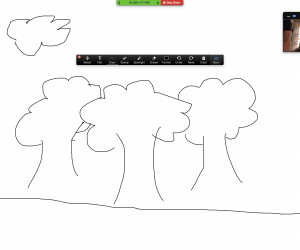 Put your drawing skills to the test with a game of virtual Pictionary.
Pictionary
If you don't have an easel handy, you can play Pictionary with Zoom's whiteboard feature. If you click on the "share screen" button and select whiteboard you can use the annotation tools that allow you to use your mouse to draw. The Game Gal's word generator helps to keep the family-friendly words flowing.
Related: 63 Easy Science Experiments to Do At Home
Battleship
"You sunk my Battleship!" If both participants have the board game, simply pull one of the game boards out of the box, and start playing. It's a lot harder to peak at your opponent's ships when you are playing on Facetime (wink wink).
RELATED: Activities to do with grandparents on Zoom.
Hedbanz
Hedbanz is a fun family guessing game that is great for larger virtual groups or just a couple of people. This game is the perfect choice for all ages - there is no reading required!
Name that Tune
Without signing actual words, hum a song into your device's microphone. See if your family or friends can guess which song you are humming in a certain amount of time.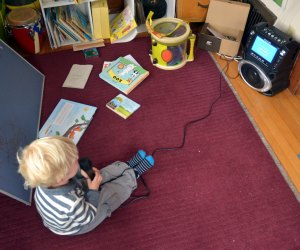 Karaoke is perfect for video calls - you can mute the performer at any time! Photo courtesy Emily Mills via Flickr.
Karaoke
Virtual Karaoke requires a little extra set-up before you begin. In addition to a Zoom, each player should also set up an account with Watch2Gether. This app allows everyone to watch the same karaoke video at the same time. You can find karaoke songs on YouTube by adding the word "karaoke" to the search words. For example, if you want to sing Let It Go, search for "Let It Go Karaoke" It might take a few tries to get the kinks out, but once you do, you are set up for endless fun.
Family Joke-Telling Session
A round-robin of classic "knock knocks" is sure to lift your spirits! Check out our list of 40 Jokes for Kids to get your party started!
Related: Best Podcasts for Kids
Freeze Dance
Pre-load a killer playlist and get those bodies moving! Blast some tunes and dance it out in front of your camera as long as you hear the music! When the music stops - FREEZE! If you even wiggle a toe, you are out!
Scavenger Hunt
Before you log-on, designate one adult as "the host." The host will create a list of items for participants to collect around their homes. Think of general categories that most people will have in their homes, like "something with wheels," "something red," and "a piece of jewelry." The host instructs each player to go "find something with wheels" and whoever brings it back to the screen, wins that round!
Bingo
Make your own bingo cards by following these directions or download an existing set (make sure no one is using the same card). One adult will call out the numbers and the fun will begin.
Photos by the author unless otherwise noted.

Sign up for our free
newsletters.
Mommy Poppins is a family activity website that helps people find things to do with kids.
©
2023
MommyPoppins. All Rights Reserved.
mp-prod4-v4.32.99
Click Here to Sign Up!
i