Storm Damages Port Jefferson's Theatre Three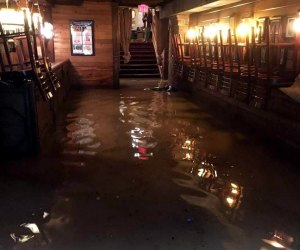 The popular Long Island children's and adult theater in Port Jefferson, Theatre Three, suffered extensive damage and loss due to flooding from a rainstorm in late September.
Theatre Three has a full selection of live productions throughout the year, from musicals to comedy shows and concerts, contributing to the robust arts scene at Port Jefferson's harborfront.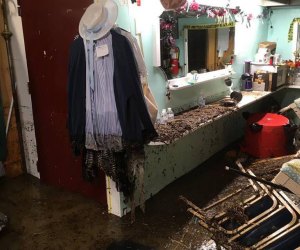 Costume and changing areas saw extensive damage.
When the fast-moving floodwaters began rising along Main Street, executive artistic director Jeffrey Sanzel was hosting auditions for the upcoming holiday production of A Christmas Carol. He kept 40 children safe in the upstairs area while 3 to 4 feet of water filled the first floor. Fire and police personnel evacuated the building, according to reports. Several other buildings, businesses, and restaurants were likewise damaged.
RELATED: A ferry ride acrosss the Sound to discover Port Jeff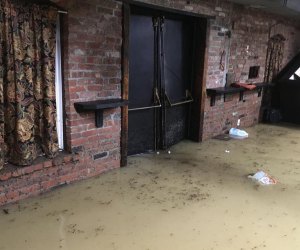 Floodwaters caused nearly $50,000 in damage to the venerable playhouse, according to officials.
Sanzel estimated nearly $50,000 in damage to the building. Floodwaters destroyed electrical and lighting equipment, stage decor and costumes, as well as memorabilia and scripts from past productions. While volunteers have been assisting with the cleanup, officials say donations to help restore the theater are welcome.
Productions are expected to continue as planned. In addition to A Christmas Carol, upcoming productions at Theatre Three include Kooky Spooky Halloween and Barnaby Saves Christmas.
Photos courtesy of Theatre Three