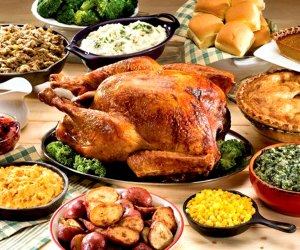 15 Restaurants Serving Thanksgiving Dinner Takeout on Long Island in 2020
Thanksgiving celebrations may be a bit different in 2020, but one thing that will undoubtedly stay the same is the food on our tables: a traditional turkey, sensational side dishes, and yummy desserts. Why not leave the cooking to the pros and order Thanksgiving dinner takeout from one of these Long Island restaurants?
Between overseeing homeschooling, managing hybrid schedules, and working from home, we've all got a lot on our plates these days, so it's the perfect opportunity to opt for turkey day takeout. We've rounded up 15 Long Island restaurants willing to cook Thanksgiving dinner for you. All you have to do is set the table.
So, instead of planning your menu, you can scheme how you'll spend the day with your family. Consider a brisk nature walk or trip to explore one of Long Island's 15 beautiful state parks to burn off all your favorite holiday treats. For more family-friendly activities before and after the big meal, check out our Long Island Fall Fun Guide.
Subscribe to FREE our newsletter to get stories like this delivered to your inbox.

The Milleridge Inn offers several options for Thanksgiving takeout meals.
Restaurants Serving Thanksgiving Takeout in Nassau County
This perennial Long Island favorite offers many options for Thanksgiving meals to-go. You can order individual meals or family-style dinners. Everything must be preordered and picked up on Thanksgiving Day.
2. Ben's Deli — Carle Place, Woodbury
Ben's offers a Thanksgiving dinner menu with all the trimmings. For a family of 10, you get a 15-pound turkey, stuffing, gravy, and two sides. A smaller option that feeds six is also available
This restaurant, on the heart of Mineola's Main Street, is open for takeout on Thanksgiving Day. Order from its holiday prix fixe menu, which includes appetizers, entrees, and desserts, both traditional to the holiday (roast turkey, giblet gravy, and chestnut stuffing) and not (broiled salmon with roasted pepper sauce).
Along with the regular Italian Trattoria-style menu available here, this local favorite offers turkey with all the trimmings as a Thanksgiving takeout option for families.
A true family-friendly restaurant, Uncle Bacala's offers a prix fixe menu that includes soup, a harvest salad, an entrée (roasted turkey plus other choices), and dessert. There's a special kids menu, and you can also choose turkey a la carte or anything from its regular menu. Delivery or curbside pick up is available.
Zorn's has several options for large and small gatherings. If you're serving a crowd, go for the Turkey Feast that includes a whole oven-roasted turkey, gravy, stuffing, a choice of three sides, dessert, and more. There's also a smaller spread that serves six, and you can order individual turkey dinners, too. Zorn's is closed on Thanksgiving Day, so all orders must be picked up Tuesday, November 24, or Wednesday, November 25. Reheating instructions are included.
RELATED: The Magic of Lights Drive-Thru Returns to Jones Beach for 2020 Season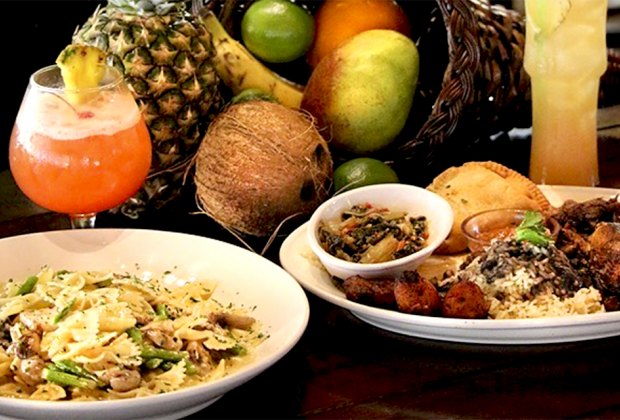 Dream of warm weather while indulging in an island-inspired Thanksgiving takeout dinner from Bahama Breeze.
Restaurants Serving Thanksgiving Dinner To-Go in Suffolk County
Bahama Breeze offers guests a Caribbean escape this Thanksgiving with an island-inspired dinner. Its to-go option, the Thanksgiving Family Bundle, feeds a family of four and includes sliced turkey with all the trimmings, including dessert. The package is available for pick up Thursday, November 26 only.
This South Shore Italian restaurant's special Thanksgiving prix fixe menu is available for takeout. Be sure to order a few days ahead. Meals are available for pick up only.
Order a complete family Thanksgiving dinner from this well-known Long Island caterer. Serving 8-10 people, it includes an 18-pound turkey, triple-berry sauce, savory stuffing, sweet potato casserole, green beans, roasted vegetables, dinner rolls, and a Bindi Harvest Berry Tart. Orders must be placed by Wednesday, November 18, though Elegant Eating will stop taking orders once it reaches capacity, which is limited to allow curbside pickups. Orders for individual meals are also accepted.
This charming restaurant—historic landmark circa 1873—offers family-style takeout of traditional and non-traditional Thanksgiving foods. Choose a soup or salad and entree, which are served alongside a bevy of side dishes and a dessert platter. Special kid-friendly options are also offered.
11. Harbor Mist — Cold Spring Harbor
You can pick up a Thanksgiving turkey with all the trimmings from this cozy Cold Spring Harbor restaurant that boasts sparkling views of the Long Island Sound. All orders must be placed before Monday, November 23.
The Mill Pond House offers a special Thanksgiving dinner to-go menu, which serves 8-10. Enjoy a turkey with mushroom stuffing, mashed sweet potatoes, Brussels sprouts, and more. Available for delivery Wednesday, November 25, or pick up on Thanksgiving Day.
13. Robkes – Northport
This perennial favorite restaurant in Northport is open for Thanksgiving dining and offers a limited Thanksgiving takeout menu, too.
RELATED: Free Things To Do Online for November Holidays

Get a perfectly cooked turkey for Thanksgiving dinner at Uncle Giuseppe's.
Chain Restaurants Serving Thanksgiving Takeout on Long Island
Uncle Giuseppe's offers two Thanksgiving dinner packages, one serves 6-8 people, and the other serves 12-15. Along with sliced turkey, gravy, and cranberry sauce, you have a choice of appetizers, pasta or soup, vegetable, potato, stuffing, and dessert. All orders should be placed by Sunday, November 22.
This popular spot also has locations all around Long Island and offers plenty of to-go options for Thanksgiving, including complete heat-and-serve holiday meals, individual entrees, sides and desserts, and much more. Orders can be placed online.
Photos courtesy of the restaurants