Affordable After-School Classes For Long Island Kids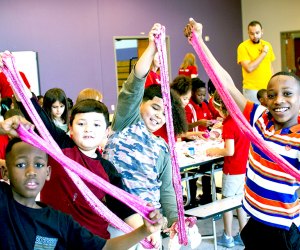 Even the most creative parents on Long Island know the value of quality after-school classes. Kids learn valuable skills, social tools, and critical thinking under the supervision of caring, qualified adults. Here are some of our favorite affordable after-school programs for kids on Long Island. You might be surprised to learn many of these classes and programs fall within a conservative budget.
While you're at it, check out our rundown of great STEM classes for Long Island kids and our Long Island Classes and Enrichment Guide.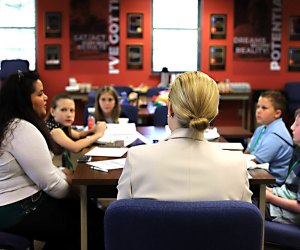 Group and individual classes are available for kids at Huntington Learning Centers.
Affordable After-School Classes for Kids Across Long Island
While the cost of joining a Boys and Girls club varies by location, it is impressively affordable. An annual fee of less than $150 and a membership fee of $25 to $55 includes a full school year of classes from 3pm until 6:30pm. Kids ages 6-18 are supervised by caring adults. Programs include health and life skills, at which children learn to create healthy meals. Kids can also learn character and leadership, drama, art, basketball, tennis, golf, and swimming.
Test prep, reading, study skills, and ADHD help are all part of the curriculum at Huntington Learning Center. One-on-one tutoring and organizational help are also provided. Tuition at Huntington Learning Center is tax deductible if your child has special needs. Many locations are open until 7pm during the school year.
RELATED: Awesome Dance Classes for Long Island Kids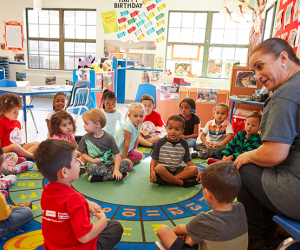 Enjoy the community atmosphere at Manhasset KinderCare.
KinderCare — Manhasset, Bohemia
Some learning enrichment programs at Manhasset and Bohemia KinderCare are available for children up to age 12. There is a cooking academy, STEM innovations, and phonics adventures. Transportation is provided for your child, and subsidies are available for military families. KinderCare is open Monday through Friday up to 7pm. Care is also available during winter, spring, and summer breaks.
YMCAs — Multiple Locations
The YMCA offers affordable two-, three-, four-, and five-day after-school options for kids in kindergarten through fifth grade. Financial assistance is available if you qualify, and the cost varies depending upon your location. The YMCA offers daily homework help, arts and crafts, and sports. STEM classes and healthy eating and nutritional education are available. The YMCA also operates affordable after-school programs at elementary schools in the districts of New Hyde Park, Glen Cove, and Valley Stream.
RELATED: Our Guide to Long Island Preschools, Public Schools, and Private Schools
Affordable After-School Classes for Kids in Nassau County
If your child is artistic, the Art Academy of Garden City's world-class instructors can guide his or her fingers. Twelve-class sessions are available in two semesters. Kids learn to paint with charcoal, ink, pastels, acrylics, and watercolors. Advanced students learn a palate of drawing and painting techniques, including still life, portraits, and perspective.
The German American School is an after-school program for kids from kindergarten through 10th grade. Students from all backgrounds are welcome; the school has no religious, cultural, or political affiliations. No prior German experience is necessary. The annual tuition of less than $800 is reduced for siblings. Older kids will graduate with state Regents certification in German.
RELATED: Indoor Swimming Lessons for Long Island Kids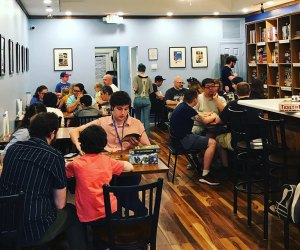 Kids can get their game on at the Main Street Board Game Cafe.
Affordable After-School Classes for Kids in Suffolk County
The Main Street Board Game Cafe offers two-hour drop-off sessions between 4:30pm and 6:30pm on weekdays. Board games for younger kids and more creative, role-playing games for older students help to develop strategic and critical-thinking skills. Students in grades 1-12 can register for 12-week sessions. There is also a discount for siblings.
After-school programs are available at the Suffolk County JCC from 3pm to 6pm for kids in grades 3-8. Transportation and snacks are available at no additional cost. Swimming, sports, and homework help are included. Kids enrolled in the program are also eligible for reduced fees on vacation and enrichment programs.
Photos courtesy of the programs/institutions