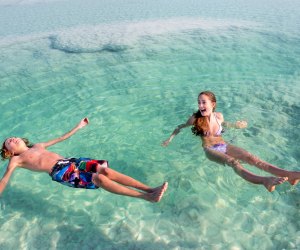 Tel Aviv with Kids: 35 Top Things to Do in Tel Aviv
A trip to Tel Aviv delivers crystal clear beaches, mindblowing museums, history and modernism meeting on every corner—and some of the best food you'll ever have. All of it makes Tel Aviv the ultimate blend of beach lounging, historical sightseeing, and urban exploring.
The Israeli city is kid-friendly to boot! My husband is Israeli, so although we live in New York, my family rents an apartment in Tel Aviv for a few weeks every year. Kids are welcome anywhere adults are and public playgrounds are ubiquitous. Just about everyone speaks English, the weather is phenomenal, and the area is super walkable, meaning touring Tel Aviv is easy even with kiddos.
I might be a bit biased when it comes to this beautiful city, but there are plenty of fun things to do in Tel Aviv, so I think it makes a great vacation spot for families. Find more fun cities to visit in our Family Travel Guide, including Stockholm or unique trips, such as exploring Iceland.
Don't worry about renting a car here. Tel Aviv really is walkable and stroller friendly. Cabs are relatively inexpensive, but the bus system will also get you wherever you want. Explore the city by bike using the Tel-O-Fun bike rental program. Don't worry about asking for directions; I've never met an Israeli who wasn't happy to point me in the right direction, and all street signs are in Hebrew, Arabic, and English. (A note for families who still require car seats: You might want to bring your own if you anticipate driving, and invest in seat belt clips for proper fastening. Israeli car seats are not quite at the same standard as American seats.)
The pleasant weather means Tel Aviv is full of outdoor play spaces and restaurants. It's a casual, family-oriented culture, so it's unlikely the locals in restaurants and malls will mind some noisy mishegas.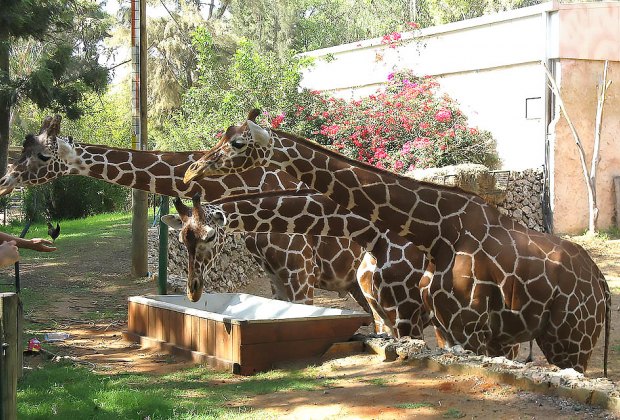 Be amazed at the wildlife as you drive through Ramat Ghan. Photo courtesy of Юкатан
Top Tel Aviv Attractions for Families
1. Drive through the Ramat Gan Safari, the largest collection of wildlife in the Middle East. The 250-acre animal sanctuary includes an African-style safari where visitors can drive through the habitat of rhinos, elephants, lions, and giraffes, as well as a traditional zoo setting that families can stroll through.
2. Spend a day at the Port of Tel Aviv. Brimming with restaurants, boutiques, playgrounds (including a carousel and zip line!), and a farmer's market, you can spend hours just exploring all the Israeli promenade has to offer. Check the official website for concerts and performances.

Enjoy kid-friendly performances at the Israel Ballet. Photo courtesy of the company
3. Watch a fairytale in motion at the famed Israel Ballet. Kid-friendly performances like Cinderella, Snow White, and Peter Pan are part of the company's regular season.
4. If contemporary dance is more your family's thing, Israel's Batsheva dance company is one of the preeminent ensembles in the world, performing at the likes of the Palais Garnier National Opera and the Brooklyn Academy of Music. Check the website for kid-friendly shows.
5. Meet Israeli artists at the Nachalat Binyamin Market where local craftsmen present and sell their work every Tuesday and Friday. Kids will enjoy the street performers and kid-friendly cafes that line the market. It's a great place to buy original paintings, sculptures, or presents and souvenirs, such as door signs in Hebrew, handcrafted necklaces, and little fridge magnets shaped like falafel sandwiches.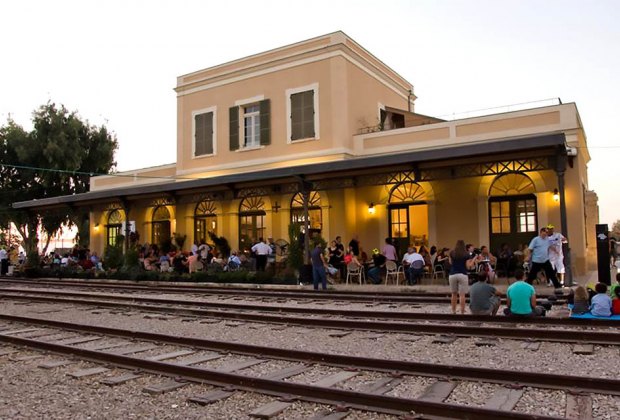 Train enthusiasts will love the Old Jaffa Train station. Photo by Michal Bar

6. Wander around Tel Aviv's Old Jaffa Train Station ("HaTachana"). Built in 1891, this was the first train station in the Middle East. Now, it's an amalgam of museum, performance space, shopping venue, and outdoor dining area. If the kids are old enough, let them explore the fairly enclosed complex while you try on some local designer wear.

7. Ready for some adventure? Take a hot air balloon ride, try your hand at rock climbing, paddleboat down the Yarkon River, play in the water park or simply enjoy a picnic or stroll through HaYarkon Park. (It's been compared to Central Park with a river winding through it. And tons of play spaces. And a free outdoor gym…).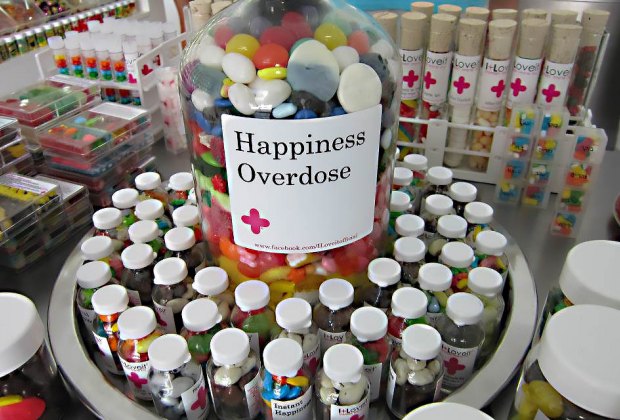 Grab some 'happiness' at a candy store on Shenkin Street.

8. Shenkin Street was once the bohemian epicenter of Tel Aviv, akin to New York's West Village. But like the Village, it's evolved (or devolved, depending on your perspective) into an area of elite boutiques that's maybe a bit of a tourist trap. Still, it's a beautiful street to walk through, grab brunch, buy local fashion or jewelry, indulge at the candy shop, and (in this writer's humble opinion) get the best smoothie in all of Tel Aviv. Try the banana, date, and melon shake—and prepare for your life to change.

​9. Neve Tzedek, the oldest neighborhood in Tel Aviv, has some of the city's most beautiful architecture. It also happens to be one of the city's cultural hubs, home to the Charles Bronfman Auditorium, the largest concert hall in Israel and where the Israel Philharmonic Orchestra plays. The Helena Rubinstein Pavilion for Contemporary Art is nearby, too. Wander through the nabe's winding, postcard-ready streets, saunter into one of its many art galleries, and sit down for a moment at a European-style café for the. rest of the afternoon.
10. Tel Aviv is known as "The White City," named so after the thousands of Bauhaus buildings built there in the 1930s and 40s. It's even a UNESCO World Cultural Heritage site. If your kids like architecture (or tolerate your interest), the Bauhaus Center Tel Aviv offers architectural tours of the city, which make a nice theme for sightseeing.

11. Beat the heat at one of Tel Aviv's malls. Mall culture is still alive and well in Israel, and when the temps get too high and humid to spend all day in the sun (looking at you, July-August), cool the kids off at the free play space at Dizengoff Center (equipped with a comfortable and private lactation room for nursing moms) or in the Pealton Play Center's ball pit and bounce houses at the TLV Fashion Mall.

12. Eat your way through Carmel Market, or if you're renting a place, buy ingredients to cook an authentic Israeli meal. Experiencing an Israeli shuk (marketplace/flea market) should definitely be on any list of the best things to. do in Tel Aviv. Carmel Market is one of the city's oldest, founded in 1920. It's open every day from sunrise to around 7PM, and includes everything from fresh fruits, vegetables and spices to locally made treats and craft beer. Shop for souvenirs, clothing, and electronics (but just like with NYC stores, avoid buying refurbished, no matter how cheap it is). It's a great place to expose the kids to new sights and smells—and it's never too early to teach them the art of haggling.
13. Tel Aviv has a small amusement park called Luna Park, which is pretty tame by American standards. Up the street, visitors will find the Meymadion, a pretty cool Tel Aviv water park with slides, a wave pool, and tubing rides, as well as a toddler-friendly section. Visit during the week to avoid massive crowds.

Spend a day playing in the waves at Sheraton Beach (Metzitzim Beach), one of Tel Avi's beaches.
Tel Aviv Beaches
Located on the Mediterranean Sea, Tel Aviv has some of the best beaches in the world, with clear warm water year-round and soft golden sand. Most Tel Aviv beaches include a deep stretch of shallow water, and wave breakers ensure the water is nice and calm. You'll also see an army of lifeguards patrolling for anyone in trouble. You can't go wrong with whichever beach you pick, but here are some of our favorite Tel Aviv beaches for families:
14. Grab your matkot (Israeli paddle game similar to ping pong) and head over to Gordon Beach. One of the larger beaches in Tel Aviv, Gordon Beach is lined by restaurants (beer and cold watermelon delivered to your waterside lounge chair!) and volleyball courts. Pilates, yoga, and Israeli folk dancing classes are held regularly on this beach. Times change based on season, so look for signage if you'd like to get a workout in with or without the kiddos.
15. Hilton Beach is vast and includes a surfer's beach, a gay beach, a dog beach, and a family-friendly beach where chairs and umbrellas are available for rent.
16. Sheraton Beach (Metzitzim Beach) tends to be less crowded than Hilton and Gordon and is especially great for families with young children because the water is particularly shallow.
17. The Dolphinarium Beach is the main surfing and water sports beach in Tel Aviv. Get a family lesson in kayaking, surfing, windsurfing, kitesurfing, or scuba diving (though if you're visiting Eilat, leave the scuba for there).
Whichever beach you pick, be sure to buy kartivim for everyone—delicious Israeli popsicles, sold by vendors carrying coolers up and down the beach.

The Israel Children's Museum has English tours available. Photo courtesy of the museum
Tel Aviv Museums for Kids
18. The Israel Children's Museum focuses on interactive exhibits designed to encourage imagination and communication, with some designed to teach respect and tolerance. Advance booking is required, and English tours are available.
19. The Tel Aviv Museum of Art is home to an impressive collection, including modern, Impressionist, and post-Impressionist works that kids can explore through family-centric programming. Immersive and interactive "adventure series" are offered during school breaks to art-loving kids.

20. Visiting the Eretz Israel Museum is a full-day event, but definitely worth it. A multidisciplinary museum with 15 buildings across 20 acres, it focuses on exploring Israeli culture, past and present, through archeology, ethnography, applied art, photography, and a planetarium.

Kids will love the soft, savory pastries at Abulafia in Jaffa and Tel Aviv.
Delicious Treats at Tel Aviv Restaurants
21. OK, time to get serious in terms of Tel Aviv restaurants, or treats and places to eat, really! Abulafia bakery is a spectacular Middle Eastern bakery. Eat your way through their (mostly savory) goodies. There's no room to sit, so just order everything on the menu and mosey on over to the nearby park for an impromptu picnic. Personal favorites are the cheese or egg sambusak and pita with za'atar.

22. Try some authentic Arab-Israeli eats at Abu Hassan (aka Ali Karavan). It may just be the best hummus there is. Don't expect anything fancy, this is a true hole-in-the-wall.

23. Max Brenner's Chocolate eateries have made their way to the US and around the world, but the chocolate-themed restaurant started in Israel. Sate your sweet tooth at the original location on Rothschild Boulevard.
24. Get your brunch on at Benedict any time of the day, an American bistro with an Israeli twist.

25. When you think gelato, Israel might not be the first country that comes to mind, but Tel Aviv is rife with gelaterias and other ice cream parlors made with rich local dairy. It is the land of milk and honey, after all. Recommended are Anita, Arte Glideria, Siciliana, and Iceberg.
Day Trips from Tel Aviv
Israel is a small country, about the size of New Jersey, so feel free to venture outside of Tel Aviv city limits to see all the fun things to do in Israel and what the country has to offer. Here are some nearby trips from Tel Aviv that are fairly easy to get to with kids in tow.

Caesarea, a national park, is a pleasant place to spend the day with kids.
26. Not far north of Tel Aviv you'll find Caesarea, a gorgeous national park with beautiful beaches and ancient Roman aqueducts. The amphitheater is still an active concert venue! Built into a Medieval fort on the seashore and overlooking a small 2,000-year-old fishing port is the Crusaders restaurant, serving great seafood and Mediterranean fare. It's not for kids who're too young to sit still, but it's like being in a storybook. Come for the sunset!

27. If you're comfortable with a two-hour drive or taxi ride, take a tour to Masada. Go early in the morning to make the famous sunrise hike up the mountain (there's also a cable car), as the breathtaking view of the Dead Sea and Moab Mountains unfolds. Once atop, explore the ancient ruins of Herod the Great's palace, built around 30 BC. Tours and recorded guides are available (many leaving from Tel Aviv) in English. If you stay past sunset, don't miss the spectacular light show on certain nights or even the occasional music concert.

28. Float in the Dead Sea after your morning hike up Masada. One of the Seven Wonders of the World and the closest you can get to an alien landscape, floating in the Dead Sea is a memory that will last your kids (and you) a lifetime. The shops selling beauty products are totally tourist traps...and totally worth it!
29. You can't visit Israel and not visit Jerusalem, considered the holy city to Judaism, Christianity, and Islam. It's only an hour's drive from Tel Aviv (or a 47-minute train ride, or 122-minute bus ride, or you can just cab it). See the Old City and all it has to offer: the Western Wall, Church of the Holy Sepulcher, and Dome of the Rock. Plenty of guided tours in English.
30. If you go to Jerusalem, for an off-the-beaten-path adventure take an underground tour of the Western Wall Tunnels. Pretend you're Indiana Jones as you walk through active archeological digs, on cobblestone streets over two millennia old, and if you want to, through knee-high water in ancient pools.

The White City is a magical family-friendly city.
Night Out in Tel Aviv
Hoping to get a little one-on-one time with your significant other while on vacation? Tel Aviv is also parent-friendly! Local English-speaking babysitting services like Jerusitters, provide qualified and certified caregivers. If you're in a hotel, many will have kid clubs open later than you'd find elsewhere, because Tel Avivians stay out late. (TA is also nicknamed "the city that never sleeps," and it's true.). Once you've got childcare taken care of, how about a romantic night out with these Tel Aviv restaurants and hot spots.
31. Sarona is one of the hottest districts in Tel Aviv. A romantic place to walk around in the evening, you and your partner can eat at any one of the 40 eateries here that house some of the best chefs in Israel. We enjoy sipping a glass at Jajo Wine Bar. Most Tel Aviv nights are nice and warm with a gentle ocean breeze that'll make you feel tipsy before you've sipped any wine.
32. Just walk around and get lost in the winding alleys of Jaffa, stop and get a drink at Samuca or dinner at Café Pua. If you haven't had a chance to visit Abulafia bakery yet, grab a couple of goodies and nosh as you stroll. The nighttime view of the Tel Aviv shoreline is beautiful.
33. Pretty much any seaside café, restaurant, or bar are going to be great, but some are greater than others. For a more lively evening, go back to the Port of Tel Aviv and drink by the pounding surf as a loud mix of Middle Eastern, European, and American music plays.
34. For a quieter night, Onza in Jaffa is a "traditional chic" food bar. For elegance, go to Manta Ray on the promenade, serving gourmet seafood with a stunning view.
35. Honestly, after a day of running around with the kids in the sun, maybe the best thing to do is enjoy a quiet cup of coffee, drink, or a slushy (which Israelis take seriously) and some people-watching in any one of the establishments peppering Dizengoff Street or Rothschild Boulevard. You've earned it.
Photos by the author except where noted