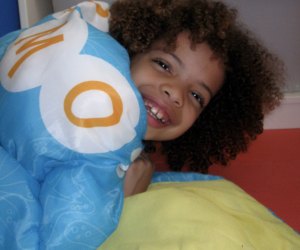 Really Cool Sleepovers for Boston Kids: Overnights at Museums and Area Attractions
Even if your kids haven't seen Night at the Museum or read The Mixed Up Files of Mrs. Basil E. Frankweiler, the appeal of staying overnight in a museum or zoo seems to be universal. These favorite destinations, within an hour's drive from Boston, make the fantasy a reality. For a night your child will be talking about for a long time, read on and start planning your family or group slumber party among science exhibits, with nocturnal animals, on a battleship, or in a baseball stadium.
Museum of Science, Boston
Museum of Science, 1 Science Park, Boston, MA 02114
The Museum of Science offers overnight programs to organized groups of 10 or more (schools and organizations like Scouts) and to MOS Members. You will spend the night surrounded by science, exploring the exhibits after hours, watching a Lightning show before bedtime (instead of telling scary stories), and enjoying an IMAX movie in the morning. Contact: Member Overnights contact 617-589-0180 or buy tickets online. Organized groups call 617-589-0350 or email overnights@mos.org for more information and to reserve space.
---
Zoo New England – Snorin' and Roarin'
Franklin Park Zoo, One Franklin Park Road in Boston, MA 02121 and Stone Zoo, 149 Pond Street in Stoneham, MA 02180
During Zoo New England's Snorin' and Roarin' programs, families and groups go behind the scenes, play games, tell stories, enjoy zookeeper presentations, and experience special animal encounters at Franklin Park Zoo or Stone Zoo. Different overnight themes are available at each zoo. Programs include breakfast and a light evening snack. Day passes to the Zoo for the next day are also included in the price of the overnight. For ages 6 and up. Contact: call 617-989-3742 or e-mail education@zoonewengland.com.
---
Battleship Cove – Family Nautical Nights
Battleship Cove, 5 Water Street, Fall River, MA 02721-1540
During Battleship Cove's Family Nautical Nights, explore every nook, cranny and exhibit of the entire Battleship Cove fleet. Sleep in the same authentic bunks that the sailors slept in, learn how the sailors lived and worked on board, watch a film, mingle with veterans who made history, and have a full dinner and breakfast in the Officer's Wardroom. Contact: Group Sales Manager or Reservations Coordinator, 800-533-3194 (New England only), 508-678-1100 EXT 101/102, or groupsales@battleshipcove.org. Nautical Nights are also available for Scouts and other youth groups.
---
Roger Williams Park Zoo – Family Overnights
Roger Williams Park Zoo, 1000 Elmwood Avenue, Providence, RI 02907
Experience the Roger Williams Park Zoo at night. In summer, Family Overnighters have dinner, take a night hike, participate in fun activities and animal encounters, and enjoy a light breakfast in the morning. In the fall, the zoo has "Boo at the Zoo" themed overnights, which include early access to the very popular Jack-o-Lantern Spectacular. If you have a group of 25 or more, check out this page. Contact: For program content questions, contact Jen at 401-785-3510 x 352 or e-mail jkarow@rwpzoo.org. For registration questions, contact Gerry at 401-785-3510 x 358 or e-mail gdichiara@rwpzoo.org
---
PawSox – Boy Scout Sleepovers at McCoy Stadium
McCoy Stadium, 1 Columbus Avenue, Pawtucket, RI 02860
The Pawtucket Red Sox hosts Boy Scout Sleepovers and a Family Sleepover at McCoy Stadium. The Scouts event includes an on-field clinic with members of the PawSox team, ticket to the game, a food voucher for a hotdog, bag of chips and sports drink. Then everyone pitches tents in the outfield of McCoy Stadium and watches a movie on the right field video board.
---
EcoTarium – Night Journeys
222 Harrington Way, Worcester, MA 01604
Typically, the EcoTarium reserves its Night Journeys program for groups of 28 or more, but they do sometimes offer overnight programs for smaller groups of boys or girls and individual scouts (with an adult). Participants sleep among the exhibits or outdoors (seasonal) and try science experiments, explore the night sky, and get to know the animals. Contact: Email reservations@ecotarium.org or call (508) 929-2703.
---
Originally published June 2013; updated August 2014