Harry Potter Hamlet: Something Is Silly in the City of Culver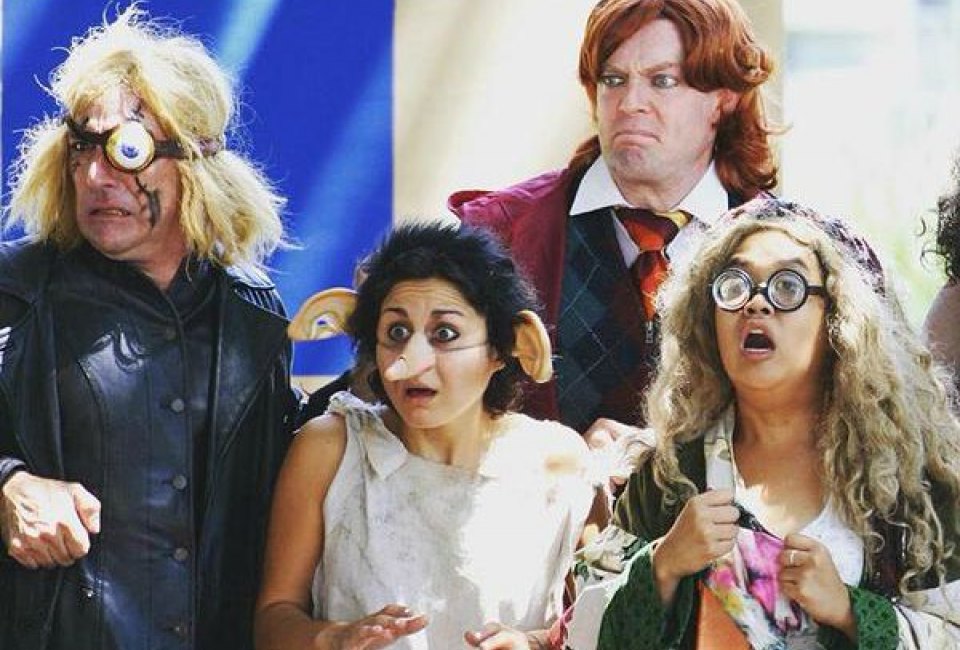 8/18/15
- By
Roberta B
One of my favorite things about August in LA is Culver City's annual Shakespeare in the Park, courtesy of the Actors' Gang. Each year the Gang gives an upbeat, modern makeover to a different Shakespeare play aimed at families; recent highlights have included the Superhero Twelfth Night, the Star Wars Romeo and Juliet, and the My Little Pony Midsummer Night's Dream. This summer, Media Park comes alive every Saturday and Sunday morning with the Harry Potter Hamlet; and to go or not to go is hardly a question.
The genius of these shows is the mixture of pop culture, physical comedy (yes, even in Hamlet), and just the right amount of original text - all in a short hour that leaves us wanting more. Families spread out blankets and bring lawn chairs, and plenty of children get their first exposure to the Bard with tunes they know and characters they love. The tale of Hamlet Potter is told with He Who Shall Not Be Named starring as evil uncle Claudius, Dumbledore as the ghost of Hamlet's father, and Ron Weasley lending his ginger sparkle to Horatio. Hermione makes for a marvelously spunky Ophelia, and the accidental murder of Pelonius never felt so good as when it was Snape hiding behind the curtain. Poor old Hamlet Potter breaks down and asks the audience's help in deciding "to be or not to be," as he suffers the spells and potions of outrageous fortune.
All of the most iconic plot points and lines from Shakespeare's original are included, though often spruced up with familiar references like invisibility cloaks and Taylor Swift songs. No character is too scary for little ones (not even He Who Shall Not Be Named), and everyone somehow lives happily ever after, surviving to pass out the free popsicles that Actors' Gang curtain calls never fail to produce.
The positive spin that the Gang puts on everything they touch is an inspiration; I wondered how on earth one could get around a plot downer like Ophelia losing her mind and killing herself, but Hermione putting a spell on herself in the midst of a well deserved feminist rant does the job nicely. Movement and music keep the pace quick and clear, and the quidditch match / duel at the story's end is created in a way which is marvelously creative and smile-inducing.
The summer Shakespeare always includes references throughout to all that Culver City has to offer - a heart-warming bit of local patriotism - and the aforementioned free popsicles offer a nice incentive to anyone wary of a bit of Shakespeare on a warm August morning. Sitting in Media Park generally gets pretty hot, and only half of the area is shaded (an argument for early arrival), but this year parasols are available for use (free) or purchase ($5). Parking is free for two hours in the Trader Joe's lot directly across the road to the south of the park, which leaves just enough time to buys snacks before and/or shop for the week after.
Places featured in this article:

Sign up for our free
newsletters.
Mommy Poppins is a family activity website that helps people find things to do with kids.
©
2023
MommyPoppins. All Rights Reserved.
mp-prod4-v4.32.99
We use cookies and other data collection technologies to provide the best experience for our customers.
Learn More
Sign up for the Mommy Poppins Newsletter today!