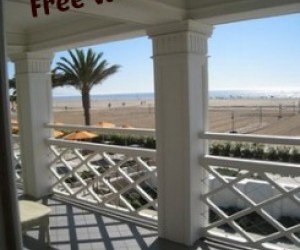 Free WiFi: A Dozen Neat Places Parents Can Connect to the Internet, from LA's Westside to Downtown
If connecting to the internet while on the parental go is the glue that holds your world together, then you probably already know plenty of family-friendly places with free WiFi; we won't waste your time mentioning obvious coffee shops and libraries (right?). You've likely also caught on that many places offering kids' classes let parents catch up on email while little athletes take gymnastics or fencing class. You might even know that several ice rinks and bowling alleys have free WiFi for waiting parents. But how about some fun, unexpected places with free WiFi that you might not know about? Parents on the Westside, in Hollywood, or Downtown will want to know about the internet hotspots below.
Annenberg Community Beach House - Santa Monica
Most Westside moms know that the beach house is there for summer fun, but what about free WiFi all year round? Even if the pool isn't open, the playground, sand, and sun are all there - and the porch of the Marion Davies Guest House makes a person feel like a lady of leisure from an age gone by.
Santa Monica Place - Santa Monica
Another dreamy spot near the beach is the roof of the newly remodeled Santa Monica Place; count on great views, fireplaces, and free WiFi. If the weather drives you indoors to the food court, young kids can romp on the life-sized, sustainable whale play structure while moms wirelessly connect.
Armand Hammer Museum Courtyard - Westwood
A walled courtyard with trees, bamboo, shady benches, tables open to the sky, and a cafe a few steps away - what more could one ask just off Wilshire Blvd. in the center of the Westside? Oh yes - free WiFi; the Hammer's got it.
Getty Center or Getty Villa - Bel Air or Malibu
Granted, the parking isn't free, but the WiFi is, and the view is hard to beat. Both the Getty Center in Bel Air and the Getty Villa in Malibu offer a free GettyLink WiFi network during a visit.
Pier Avenue, Hermosa Beach
The town of Hermosa Beach has you covered from the moment you arrive, with free WiFi anywhere on Pier Avenue between Pacific Coast Highway and Hermosa Avenue.
Downtown Culver City
Another community that stays connected, Culver City offers free WiFi throughout the Downtown area, from Media Park to City Hall.
Under the Sea - Culver City
Under the Sea is more than just a rollicking indoor playground; it's a rollicking indoor playground where Mom can get some work done. Free WiFi makes all the difference.
Beverly Center - West Hollywood
The somewhat swish, Beverly Hills-adjacent shopping mall has plenty of inviting places to sit, and all of them are covered by the mall's free WiFi.
The Grove - Mid-Wilshire
The folks at The Grove realized a few years back that there's value to sitting by the musical fountain with one's laptop switched on - which is doubtless why the wireless network at The Grove is not free. However, Wifi networks at the Apple Store and the Barnes & Noble are free; it's all a matter of choosing one's seat wisely.
Giggles 'n' Hugs - Century City, Canoga Park, & Glendale
Start with an indoor play zone. Add coffee, organic food, and wine or beer. Add free Wifi. The result is a place you can spend a whole lot of time - now at three different locations.
Pershing Square - Downtown
This open space in the heart of Downtown is home to a seasonal ice rink, holiday lights, concerts, room to run around, and free WiFi.
Disney Soda Fountain - Hollywood
If you're open to opening email at a place that will send young kids' pleasure meter through the roof, stop in for an ice cream smothered in Disney sauce at Disney's Soda Fountain at El Capitan on Hollywood Boulevard. Ariel would.