Forest Hills: Best Places for Kids to Play and Learn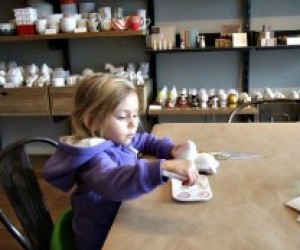 Our month-long focus on Forest Hills comes to a close with a look at our favorite places for kids to play and learn in the area, both indoors and out. Forest Park, which is the neighborhood's southern border, is the go-to green space and boasts playgrounds, ball fields and a historic carousel. But there are plenty of other places for kids to romp indoors as well as get creative, play sports, cook and so much more. Here are our top class and play spots for families in Forest Hills, Queens.
Outdoor Play
Forest Park
Myrtle Avenue and Union Turnpike to Park Lane South
There are lots of ways to play in this 544-acre green space. Stroll the hiking trails or go horseback riding with Lynne's Riding School. (The stable also offers pony ride in its indoor ring.) The western part of the park is where you'll find the basketball courts, baseball and football fields, and the band shell, which hosts free concerts in the warmer months. Plus there's a public golf course, tennis courts, seven playgrounds and a skate park. For lots of young kids, the historic Forest Park Carousel is the main attraction. After being closed for a number of years, it started spinning again in 2012 and is a great way to cap off a visit to the green space in spring or summer.

While it's true that Flushing Meadows Corona Park is Forest Hills' eastern border, it's tough to access from the neighborhood since you need to cross Grand Central Parkway. Plus, most of the green space's big attractions are located on the Corona side.
Drop-in Indoor Play
Forest Hills Library
108-19 71 Avenue between 108th and 110th Streets
The local library is always a great place to hang out and read a book or two. The Forest Hills branch of the Queens Library also offers regular programming for families like toddler storytime, Crafty Tuesdays and Zumba Fitness Fun for children ages 5 to 9.

Oliloli Studio
103-23 Metropolitan Avenue near 71st Drive
My daughter and I love this amazing and bright art space, which opened in 2013. Drop in during open studio hours to work on a variety of creative projects like paint your own pottery, glass fusing, jewelry making, painting on canvas, paper crafts, and other arts and crafts.

Plaster Party Place
96-09 Metropolitan Avenue near 69th Avenue and Selfridge Street
This popular birthday party spot also offers walk-in hours when families can drop by to paint a variety of plaster items. Party to-go kits are also available, and the spot also hosts camps and classes.
Members-only Indoor Play and Class Spots
Young Chefs Academy
108-10 72nd Avenue near Austin Street
For kids who like to mess around in the kitchen, Young Chefs offers age-appropriate cooking lessons with new themes every month. Membership gets you a discount on classes and special events, or you can opt to buy multi-pack sessions. Kids learn different recipes, cooking and baking techniques, proper food handling, food prep, kitchen safety, manners and etiquette, and table setting. Camps are also offered over school breaks.

The West Side Tennis Club
1 Tennis Place at Burns Street
Opened in 1892, this tennis club formerly hosted the U.S. Open and boasts 38 courts with four distinct surfaces. Membership gets you discounted rates although you don't need to join to take classes. Junior tennis and lessons for ages 8 and under and ages 9 and 10 are offered. Plus there's an Excel Program, tournament training and mini-camps. The club also has an outdoor pool that's open in summer and offers swimming lessons.

The Community House
15 Borage Place near Greenway North
This nonprofit center is only open to members. Facilities include a large gym/auditorium with a stage, game room, kitchen and a heated indoor swimming pool where families can take swimming lessons. There are also a variety of children's programs, many free with membership, like martial arts, hip-hop dance and Zumbatonics, plus an after-school program.

The Central Queens YMCA
67-09 108th Street between 67th Avenue and 67th Road
Like all NYC Ys, this outpost boasts lots of fun and affordable programs for members of all ages, from preschool and daycare, to after school, summer camps and a slew of kids' classes. Highlights include swimming, dance, health and fitness, sports leagues, and music and art. Plus there are classes for children with special needs courtesy of C.A.R.E.

Take Me to the Water Swim School
Forest Hills Jewish Center, 106-06 Queens Boulevard near 69th Road
Forest Hills 75th Road, 111-20 Queens Boulevard between 67th Road and 67th Avenue
This learn-to-swim program offers lessons at two Forest Hills locations. Programs include baby and me, private and semi-private lessons for kids and adults, and even pool parties.

Bamboo Moves
107-40 Queens Boulevard near 70th Road
This yoga studio holds mommy and me sessions on select weekdays. Call ahead to see if there is a spot for the drop-in class as the sessions are capped at eight adult-baby pairs. There is also a kids yoga class for children ages 4 to 7 and prenatal yoga.

Gymboree Play & Music
108-14 72nd Avenue between Queens Boulevard and Austin Street
The local outpost of the national kiddie chain offers the usual art, gym, sports and music classes for newborns to five-year-olds. Unlimited open playtime is included when you sign up for a semester. Summer camp and school skills help young kids segue to school.

Music for Aardvarks
All Star Studios, 108-21 72nd Avenue near Queens Boulevard
You can find these interactive music classes for preschoolers based on David Weinstone's NYC-centric songs all over the city. Each semester, participants get a new CD and the chance to sing, dance and jam with instruments with live musicians. The Forest Hills location moved to a new space with an elevator this past September. Email Allison for more info: info@MusicForQueens.com

Music Together
Forest Hills III/Church in the Gardens, 50 Ascan Avenue between Austin and Burns Streets
Forest Hills II/Reform Temple of Forest Hills, 71-11 112th Street near 71st Road
Another popular music program for preschoolers, Music Together has two Forest Hills locations where kids are exposed to multiple genres, folk, jazz, pop and more. Each class incorporates rhymes, finger play, activities and instruments. Families receive two CDs, a songbook and a parent guide DVD/booklet for the semester.

Read all of our posts about exploring Forest Hills, Queens with kids.