12 Christmas Traditions, Holiday Activities, and Zoom Ideas to Start at Home in 2020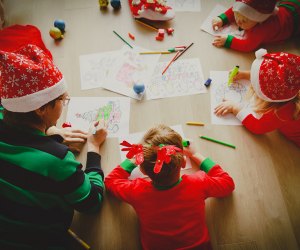 12/8/20
- By
Ally Noel
Planning holiday celebrations and activities might take some extra imagination this year. But doing things a little differently doesn't mean sacrificing any of the joy, traditions, or family memories that come with Christmas celebrations. In fact, let the limitations on travel and gatherings in 2020 spur your creativity to greater heights. From festive fun with grandparents to innovative ways to keep annual traditions going with friends, we have rounded-up our favorite socially distant ways to celebrate the season. With traditional gingerbread decorating, a newly imagined Christmas lights caravan, and even a Nailed It! challenge kids adore, these ideas are so crowd-pleasing, we bet a few become new family holiday traditions.
For more great ways to celebrate the season together, don't forget about these 10 fabulous any-day zoom activities for kids and grandparents, the most fun games kids can play virtually with friends, and all the best virtual holiday events for families!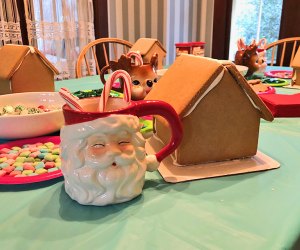 You don't have to be an expert baker or decorator to win an award in gingerbread house decorating.
1. Virtual Gingerbread Competition
The great thing about a virtual gingerbread competition is that it doesn't matter what your creation tastes like! To prepare, pick a date with family and friends to show off your sugary sculptures. Decide together on some rules for your challenge—it can be a free-for-all or perhaps there's a shopping list so everyone uses the same materials. A fun twist on the classic gingerbread house (no baking required) is to use recycled materials such as cardboard boxes and paper tubes to create upcycled "gingerbread" houses. On the final day, schedule a Zoom and show off these amazing creations. Kids can come up with an award for each entry, like "best in show," "most creative," or even "tastiest looking" house.
2. Outdoor Gift Exchange
Yes, "the weather outside is frightful, but the fire is so delightful". Take a hint from the classic Christmas song and embrace the outdoors by setting up an outdoor gift exchange. A porch, deck, backyard, or any outdoor space where there's room to spread out is the perfect backdrop for a little holiday fun. Set a festive scene with twinkle lights, fire pits, and LED lanterns. Bundle up in cozy and festive attire (don't forget face masks) and get gifting!
3. Christmas Light Caravan
Almost every town has "that house" or "that neighborhood" that goes all out with Christmas lights every year. Use a mapping service, like Google Maps, to create a Christmas Light Caravan throughout town and invite friends and family to join along. Make a thermos of hot cocoa, pick the perfect festive playlist, and maybe even wear Christmas jammies. Take this activity to the next level by asking everyone to decorate their car with lights and decorations.
4. Create a Family Recipe Book
Since it seems like the whole planet has suddenly become technologically savvy, it's the perfect time to use these skills and create a family recipe book. Create a family keepsake by preserving the recipes for grandma's brisket, Great-Aunt Betty's Christmas cookies, and even that newly perfected sourdough bread all in one place. Add a personal touch by asking family members to share photos of the recipes and the stories behind them. Handwritten hand-me-down recipes can also be scanned, instead of typing them up, for a truly personal touch.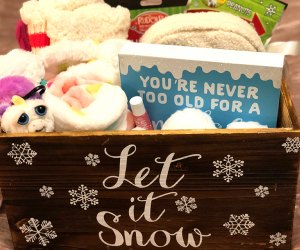 A Christmas Eve Box makes everyone feel connected, even when they can't be together in person.
5. Christmas Eve Box
This popular European custom can take on a whole new meaning for 2020. Traditionally, Christmas Eve Boxes kick off Christmas celebrations with a box filled with treats and small gifts. These boxes are a great way to help distract young children from the anticipation of Christmas Day with activities like coloring books and small gifts (like a carrot for Rudolph). Since large family Christmas Eve gatherings can't happen this year, this tradition can be a fun way to make Christmas Eve a little less lonely. Invite family members to contribute a small item or suggestion to a family Christmas Eve Box so that everyone can be together in spirit.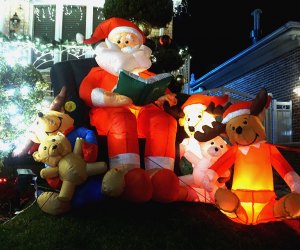 This house gets big kudos for amazing inflatables. Photo by Jody Mercier
6. Christmas Light Contest
Sometimes a little competition can be a good thing—especially when it involves Christmas lights! Get the whole neighborhood involved in a fun Christmas Light Contest. Keep it small and invite just a few homes, or go big and organize a contest for the whole neighborhood. Get creative juices flowing with different categories such as "best traditional light display" or "best use of inflatables." Finally, pick a date and time for everyone to turn the lights on and have neighbors vote by placing a ballot in each mailbox or setting up an online poll.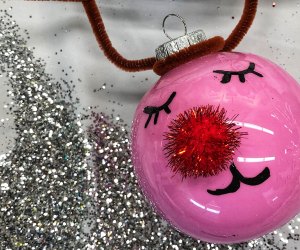 This cute reindeer is an easy and fun idea for beginning crafters.
7. Zoom Holiday Crafts
Make some memories while crafting this season. Pick a project, schedule a Zoom meeting, gather supplies, and make something together! Holiday crafts are one of my favorite things to do with friends and family during the holiday season, and this year is certainly no exception. Open-ended crafts that don't require a lot of direction work best for this activity. Projects like ornament making, wreath decorating, or making holiday cards work really well for this activity. Not feeling crafty? Check out Meri Cherry's holiday collection of downloadable classes and let the professionals handle all the planning.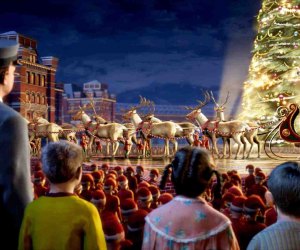 Gather friends and family to virtually screen a Christmas classic together. Photo courtesy of Warner Bros.
8. Christmas Movie Watch Party
"The best way to spread Christmas cheer" is to schedule an online watch party of your favorite Christmas Movies! (Shhhhh, don't tell Buddy we changed his saying.) Download a service like Teleparty (formerly Netflix Party) for free, and watch TV with friends and family online. This service synchronizes the video and has fun features like chat. Pop some popcorn, snuggle up on the couch, and binge-watch all your favorite movies with friends and family all over the world.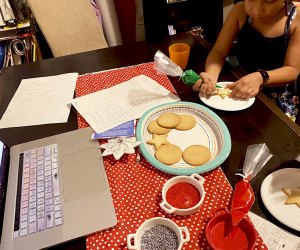 Make your own Zoom Nailed It! challenge at home. Photo by Jody Mercier
9. Nailed It! Challenge
Having tons of fun is the icing on the cake with this creative activity. Step 1: Get a little inspiration from Pinterest by searching "Nailed It! Christmas Baking" and choosing a baking project. Step 2: Figure out what supplies everyone will need to complete the challenge, and email or text a shopping list to all participants. Step 3: In preparation for the event, make sure the cakes (or cookies) are baked and fully cooled. Step 4: Invite everyone to decorate and frost their cakes together on Zoom. After the time is up, have everyone reveal their creations and see who "Nailed It!"
10. Holiday Bedtime Story
The children may be nestled all snug in their beds, but this year, before the visions of sugar plums comes Zooming with grandparents and loved ones. If cuddling with Grandma to listen to a holiday story is part of your family's holiday routine, consider keeping this tradition alive by hosting a Zoom holiday bedtime story. This activity works best if both households have a copy of the same book, so everyone can follow along and see the pictures.
11. Virtual Ugly Sweater Party
Ugly Sweaters are way too fantastic to leave in the drawer this year! Put on all that tacky goodness and schedule a time to meet with friends and family on any video conferencing platform. Since the photos are what make any ugly sweater party so memorable, send your guests these free printable Christmas Photobooth Props and pose for your screenshot. Make the party even more extra by challenging your guests to create their own ugly sweaters (or sweatshirts) with puffy paint, garland, and jingle bells.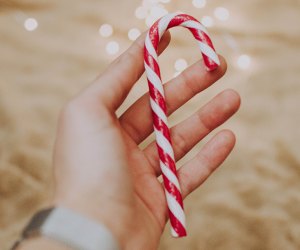 Who doesn't love a bundle of sweets at the end of a hunt? Photo by fotografierende/Unsplash
12. Candy Cane Hunt
A Candy Cane hunt is the perfect activity to get the kids outside in the winter and maintain social distance. Candy canes are the perfect shape to hang from tree branches, flower pots, tables, bird feeders, and so many other places. Hide loads of candy canes in the backyard or at a park, give each child in the family something to collect them in (like a basket or a bag), then see who can collect the most candy canes in a certain amount of time.
Unless noted, photos by the author