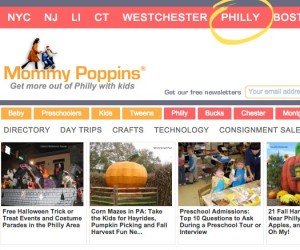 Big News! Mommy Poppins Launches in Philadelphia
There's been lots going on here at Mommy Poppins. This month, we completely upgraded our back end, and moved to a server that can better handle our growing site traffic. While we're still working out some bugs (thanks to those of you who alerted us to any issues you noticed), that didn't stop us from launching our newest site: Mommy Poppins Philadelphia. So tell all your Philly friends!

If you've been reading this site for any length of time during the last eight years we've been around, you know how hard we work to share carefully curated activity ideas with local families. Although we are a technology-based publication, we are not a start-up. Our goal is not to grow big fast and sell out. We love what we do and want to keep doing it. Over the past few years, we've added New Jersey, Long Island, Westchester, Connecticut, Boston and Los Angeles to our original NYC home base. We also started a Family Travel site a few years back featuring city guides and destination reviews all over the world.

The launch of Mommy Poppins Philadelphia is unique for us in that it marks the first time we are expanding by teaming up with an existing site. The family activity site, Playground Buzz, is joining the Mommy Poppins family to become Mommy Poppins Philadelphia. This partnership means we start off with a full directory of businesses and activities, a jam-packed calendar and an experienced team to run the site. We are thrilled to have Lori, Kristen and Amy from Playground Buzz with us now.

Mommy Poppins Philly will be just like all of our other sites with an Event Calendar, a Directory and editorial coverage. We will add our regular guides as we create more content (the Halloween Guide is already up and running). You can also sign up for the Mommy Poppins Philadelphia weekly activities newsletter.