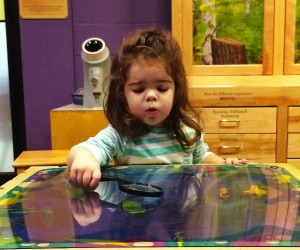 25 Toddler Approved Places in Fairfield County
When your child takes those first steps into toddlerhood, it becomes obvious that the game has changed. No more baby that sleeps soundly in a carrier, or is amused by being pushed around in a stroller. Toddlers hit the ground running and are ready for some hands-on interactive fun. Those loveable bundles of joy have endless energy and an unquenchable desire to explore their surroundings. That's why we've rounded up 25 places in Fairfield County we know toddlers will love, from active play options to animal fun to sweet treats. Many of the destinations on our list are free, and some of the activities also appeal to older siblings. And for some more indoor fun options check out our Indoor Fun Guide.
Check out our top 25 tot spots and if we missed any of your favorites, please add them in the comments.
1. Silverman's Farm
Easton
Pick fruit, pet the animals. One stop farm-fun shopping.

2. Devon's Place
Norwalk
This is inside Mathews Park, and includes a playground and splash pad. Its famous neighbor is our next entry.

3. Stepping Stones
Norwalk
The best children's museum for miles. Toddlers go batty for the water play area. Although most of the museum is intended for walkers, make sure you check out the pre-walker area of tot-town. This soft play areas provides a frequently sought after play space for the smallest museum patrons.

4. Earthplace, The Nature Discovery Center
Westport
This place is so cute, educational, and manageable with just enough animals to elicit squeals of joy. Earthplace offers an indoor museum filled with interactive areas and an animal hall. If the weather is cooperating, you can also enjoy their trails and outdoor Birds of Prey exhibit free of charge. Make sure you check their daily calendar for special events.

5. The Maritime Aquarium
Norwalk
A fantastic aquarium with plenty of hands-on opportunities for adventurous types. This is a popular Fairfield County destination offers something for everyone - including a soft play area for the youngest explorers.

6. Best Time Ever
Stamford
Mommy and Me art classes with really cute projects are a core part of the business here. Best Time Ever has an impressive collection of drop-in crafts that would spark just about anyone's imagination.

7. The Cookie Workshop
Trumbull
Drop in to this nut-free bakery to roll, decorate and bake together. Gluten-, egg- and dairy-free doughs available!

8. Boothe Memorial Park
Stratford
You kind of have to see it to believe the level of quirk here. Americana, architecture, playgrounds, room to roam. And free, too.

9. The Discovery Museum and Planetarium
Bridgeport
This made the list because it's generally quiet, and there's a lovely little gated play space devoted to toddlers. Check our your local library's museum pass program. Some offer a free trip to the Discovery Museum for up to four children!

10. The Giggling Pig
Shelton
This warm, friendly art studio takes tykes as young as two for drop-off.

11. Tumble Jungle
Newtown, Fairfield, Norwalk
A place for them to bounce off the walls. That is all. And enough!

12. Stamford Museum & Nature Center
Stamford
This wonderful place has all kinds of domestic animals and great rotating exhibits indoors. With a daily schedule of events, there is always something going on at the SMNC. Their festival weekends offer some hands on fun for the whole family.

13. Giant Steps
Fairfield
It's more than a retail location. There's an indoor play space, a Lego table, a train table, and a tiny stage for the musically inclined. Shop for any upcoming birthday parties, or come for one of its free classes.

14. Stew Leonard's
Danbury, Norwalk
The place if famous. And dare I say it's the closest thing you're gonna get to Disney World (or Chuck E. Cheese's) in Fairfield County. Singing barnyard animals, milk bottling and ice cream on-site.

15. Housatonic Valley Rail-Trail
Trumbull
Just over three relatively flat miles meandering along the Pequonneck River. Bring your stroller and get removed from the hustle and bustle of life. (Unless you have a town of Trumbull parking sticker, you'll have no choice but to park at the Tait Rd. trailhead, as opposed to the Old Mine Park end).

16. Beardsley Zoo
Bridgeport
A walk in the park with animals everywhere. What more could they want?!

17. Mead Memorial Park
New Canaan
A great playground with excellent (seasonal) concessions and lovely ponds where you can feed the ducks.

18. New Canaan Nature Center
New Canaan
Another great spot devoted to the great outdoors in this beautiful, all-American town. This FREE destination offers a variety of activities. Before you take a walk one of of their two miles of hiking trails, make sure you stop at the Visitors Center and grab one of their backpacks filled with activities to complete on the trail.

19. Webb Mountain Discovery Zone
Monroe
There's a proper hike to be had here—either super simple or a little more advanced. Grab the free scavenger hunt page to enhance your visit.

20. Jungle Gym at Olé Soccer
Fairfield
This brand-new indoor play space is clean, with plenty of seating, and water fountains and bathrooms in the same enclosure.

21. Ferris Acres Creamery
Newtown
A place parents will go crazy for, too. The ice cream is to die for.

22. The Beach
Pick the closest one!
One of the best parts of living in Fairfield County is the proximity to the shore line. Even in the cooler months, the beach is a great place to explore your natural surroundings

23. Insports
Trumbull
In addition to sports programs, there's a great open playtime.

24. Jones Family Farm
Shelton
Wonderful berry and pumpkin picking in a stunning hilltop setting.

25. Chip's
Trumbull, Fairfield
I'd dare you to show me a kid who doesn't love pancakes, but I've been to enough rodeos to know there's always ONE. Anyway, for the rest of us: here. Pancakes. Best around.