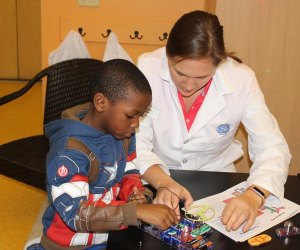 Winter Break Fun in CT
This winter break stay busy with one (or all) of the following activity ideas in your area. There are so many fun options to choose from that you'll be sure to find one that you and your family will enjoy.
Also don't forget to check out our Winter Guide of Activities.
This installation at the CT Children's Museum is a great way to get your kids into dinosaurs. Running approximately for eight months, kids can use interactive exhibits to learn about the Jurassic Period. Play with kinetic sand a dino footprints, try your luck at a dinosaur game show, and see real life "modern" dinosaurs.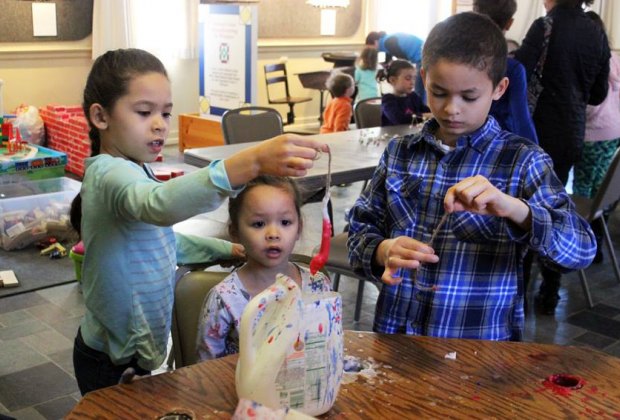 Candle Dipping at Windsor Historical Society - Windsor
Monday, February 19, 2018
Windsor's Historical Society offers a yearly candle-dipping event during February break. This popular event gives kids a chance to create a candle by dipping it in hot wax (with parent assistance of course). We held onto our candles for years after we took our kids to this event!
President's Day At Imagine Nation - Bristol
Monday, February 19, 2018
Celebrate President's Day at Imagine Nation. Kids will be able to create their very own Presidential coin. Take advantage of the other fun things that Imagine Nation offers such as the art studio, the Imagine Cafe, and stop by on Tuesday, February 20 to enjoy their Engineer Day as well.
Pottery Painting at Pottery Piazza - Plainville
​Friday, February 16 through Tuesday, February 20
During February break, you can come on down to Pottery Piazza and paint, no reservations required! Choose from over 1,500 precast ceramic pieces and add your own designs.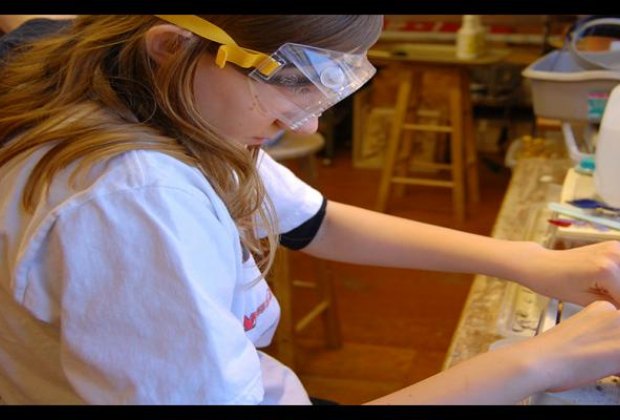 Vacation Science Camp at Talcott Mountain Science Academy - Avon
Monday, February 19 through Tuesday, February 20
Your kids can spend two days learning about everything STEM related. There are four courses offered: robotics and "sticky" science (K-3), and wildlife survival ad astronomy (4-8). Classes are small, hands-on, and go for two days from 9 am to 3 pm.
School Vacation History Camp at the Noah Webster House - West Hartford
Monday, February 19 through Tuesday, February 20
Check out the two-day offerings at Noah Webster house where your kids can learn about history. In this extremely affordable program, your children can stay for a whole day, or just half the day to learn about hearth-cookery, basket weaving and President's Day.
Connecticut Flower Show at the CT Convention Center - Hartford
Thursday, February 22 through Sunday, February 25
This annual event is a breath of fresh air (or maybe Spring) for families who need to see GREEN. There are dozens of vendors for everything outdoor-related from jacuzzis to shovels and picnic benches to seeds, plants, and greenhouses. But the best part of all are the amazing displays put together by the landscaping companies. You can wander through "backyards" which include fountains, gnome houses, and little critters.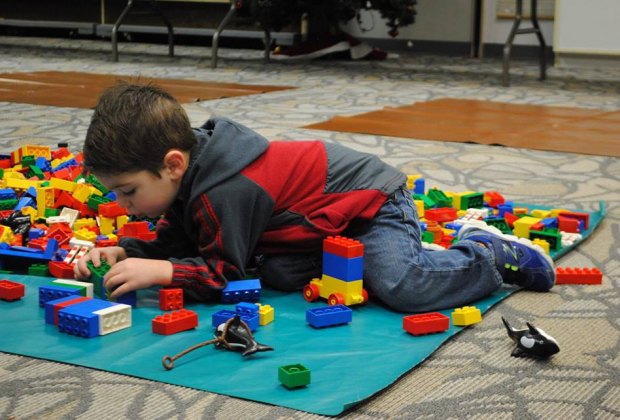 Vacation Week at New England Air Museum - Windsor Locks
Monday, February 19 through Friday, February 23, 2018
NEAM has a week full of exciting events planned to help keep the kids entertained during break. Your kids can participate in a Lego building contest or a balsa airplane building class. They can also learn about the science behind parachutes and frisbees. During the week the museum's Flight Sim Spot will be open for visitors to use state-of-the-art simulators to virtually fly any aircraft, anywhere using real cockpit controls.
In the Litchfield area:
Kids Play Family Fun Fair at Warner Theater - Torrington
Sunday, February 18, 2018
This is the 4th annual KidsPlay Kids Fair. From 11am to 4pm come check out the exhibits and learn about community supports for families. There will be face painting, caricatures, balloon twisting, the Shriner clowns, and free ID kits and eye exams.
White Memorial Conservation Center Free Week - Litchfield
Friday, February 16 through Thursday, February 22, 2018
The Laurel Ridge Foundation has made it possible to allow free entrance this week for kids up to 12 years old into the Center. Check out a life-sized beaver dam, live animals, a working honeybee hive, a fluorescent cave, and 40 miles of outdoor hiking trails. Don't forget to check out their Star Party on February 16!
Family Skate at the Gunnery - Washington
Sunday nights until March 4
Get your skates on and take to the ice at the Gunnery. The Rink is open to families on Sunday evenings.
In the Fairfield area:
The Science of Suds at Darien Library - Darien
Friday, February 23, 2018
Bring your kids to learn about the science behind bubbles. Why can't you have a square bubble? Learn about how bubbles work and make bubbles with different types of gases. Tickets will be issued 15 minutes prior to the assembly time.
CT Audubon Society in Fairfield - Fairfield
Friday, February 16, 2018
Bring you kids to check out reptiles, amphibians, and anything cold-blooded. They will be able to meet with Sally the Salamander, Tommy the Toad, and Toothless the Gecko. There will be hands-on activities and a craft.
Art and Science Exploration at the Bruce Museum - Greenwich
Monday, February 19, 2018
Come to the Bruce Museum on President's Day to participate in hands-on art and science programming based on their current art exhibits.
Harlem Globetrotters at the Webster Bank Arena - Bridgeport
Friday, February 16 and Monday, February 19, 2018
The Harlem Globetrotters are just so much fun. They will entertain you on the b-ball court with their tricks and skills. Stay after the game for an autograph session.
Asian New Year Celebration at the Beardsley Zoo - Bridgeport
Saturday, February 17, 2018
On Saturday from noon to 3 pm, come down to the zoo and celebrate the New Year. Celebrate the Year of the Dog with crafts, stories, a children's parade, and other fun things to do. The Snow date is Feb. 24.
Cookie Wars at Brookfield Library - Brookfield
Tuesday, February 20, 2018
Kids in grades 6 to 12, can come on down to the library to try and win the Cookie War title. Put on your inner artist to see how unique you can make your cookie.
In the New Haven area:
Two-Day Camp at Peabody Museum - New Haven
Monday, February 19 to Tuesday, February 20, 2018
Your kids will love to spend a couple of days at one of the best Museums in New England. Children in grades 3 through 6 are invited to register in advance for Peabody's vacation camp. Kids will learn about dinosaurs, mammals, try some science experiments, meet scientists and explore the museum. The program runs from 8:45 am to 4 pm.
Eagle Watching at the Shepaug Dam - Southbury
​Wednesday, January 17, 2019 to Sunday, March 31, 2018
Want to get outdoors? Check out the Shepaug Hydroelectric Station where the Bald Eagles are nesting during the winter. Visitors will patiently wait to view the eagles from a concealed blind. Individuals and groups are welcome. Admission is free but reservations are required.
Winter Break on the Farm at Stamford Nature Center - Stamford
Monday, February 19, 2018
Come out to Hecksher Farm and see what happens on the farm in the winter. Kids will be able to participate in a Farm Scavenger Hunt, check out the maple sugaring process, and try their hand at spinning wool. And then...make your own butter and vanilla ice cream! Yum!
In the Mystic area:
The Chocolate Olympics at Groton Library - Groton
Tuesday, February 20, 2018
From 3 to 5 pm, bring your teens down to the library and take part in the Chocolate Olympics! There will be chocolate challenges, relay races, and Pudding Pictionary contests. All teens are invited to participate. Please call ahead if your teen has food allergies.
Tropical Sunsation at the Mystic Aquarium - Mystic
Saturday February 17 through Sunday, February 25, 2018
Take a trip to the islands and come out to Mystic Aquarium. There will be live music, steel drum music, hula lessons, a beach party, and crafts. And of course, you can see the stellar collection of fish and other amazing sealife that Mystic is famous for. This specially themed event runs from 11 am to 3 pm.
Film Series at the Cos Cob Library - Cos Cob
Tuesday, February 13 through Friday, February 16, 2018
The library will be showing a different film each day including: Peter Pan, The Fox and the Hound, Captain Underpants, and The Incredibles.
By George Celebrate George Washington's Birthday at Mystic Seaport - Mystic
Thursday, February 22, 2018
Celebrate their first President's birthday at Mystic Seaport by eating some of the things cooked at the Buckingham-Hall House (including a birthday cake!).There will also be a reading of George's farewell address.
President's Day Story Time at Stepping Stones Museum - Norwalk
Monday, February 19, 2018
Come down to the museum for a special President's Day story time. The book "If I Ran for President" by Catherine Stier. There will also be an activity afterwards.
The Eagle Flyer Train at the Essex Steam Train - Essex
Saturday, February 17 through Sunday, February 25, 2018
This train ride is a two and a half hour train excursion and is centered on being able to view the Connecticut River and wildlife unhindered by foliage. The train makes three stops along the way and you can even eat a hot lunch while riding! There are two departure times: 11 am and 2 pm.