Expert Tips for Navigating Back to School Challenges and Tough Talks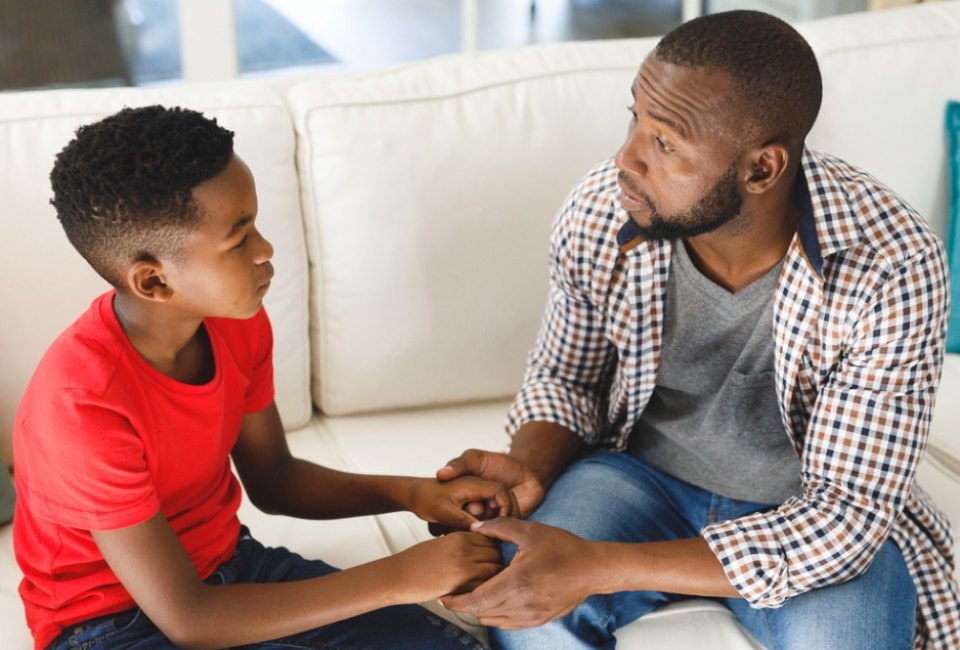 8/22/23
- By
Jessica Laird
The start of a new school year often comes with excitement, but it can also mean uncertainty, nerves, and tough conversations… To help with some of the challenges families may face this fall, we've partnered with Connecticut Children's to share guidance from their free 2023 Back to School Kit. As always, this year's toolkit provides straight-forward, age-appropriate, expert advice about the issues that could have a big impact on your child's health and happiness in the upcoming academic year.
Here are five common challenges and tough talks you may be taking on this school year, plus advice on how to navigate:
Tackle back to school butterflies and tummy troubles
When the bellyache complaints start rolling in, it can be tough to tell if it's back to school jitters or something more serious. But did you know research shows that kids are very unlikely to fake their symptoms? So, start by assuring your child that you believe their discomfort–without making assumptions about the cause–then work together to identify the problem.
How to know if your child should see a doctor for stomach pain
Talk to your teens about healthy relationships and dating safely
Navigating the wide world of dating isn't easy–especially as a teen first jumping in. When it comes to talking to you kids about relationships, approach the topic with an open mind and curiosity, and avoid judgemental statements. Showing your support and establishing safety rules is important, but so is offering your teen some space and independence.
Find out how to support your dating teen while respecting privacy
Have meaningful conversations about racial inequity and social justice
Skipping out on conversations about race, inequity, and social justice can actually lead to implicit biases in children and teens, so it's very important to prioritize these discussions at a young age. Of course, it can feel tricky to navigate difficult news stories and complex topics in an age-appropriate way. Luckily, the experts at Connecticut Children's have created clear guidelines and helpful talking points for parents of kids at every stage.
Advice on discussing racism and bias with children at each age
Support your LGBTQIA loved ones with open conversation
While social acceptance of the LGBTQIA community has progressed in recent years, old stereotypes and misconceptions can hugely affect the mental health of identifying kids and teens. This can be new territory for a lot of parents, so expert advice from the Connecticut Children's Diversity, Equity, and Inclusion Team is a great place to start.
Dos and don'ts for talking about sexual orientation and gender identity
Move away from a fear of failure and focus on a positive outlook
If you have a kid who's not a big fan of school or who seems to believe they're just not as smart as other children, you might be especially interested in the research done on mindset. While a fixed mindset is the belief that your intelligence and abilities are predetermined and can't be changed, a growth mindset means kids believe they can achieve their goals with hard work–and that's a huge asset.
Tips on how to help your child develop a growth mindset
Don't hesitate to reach out to your pediatrician for additional support
If you're concerned about your child's physical or mental health–or you'd like some additional resources–the start of the school year is a great reminder to schedule an appointment. If you're in need of a pediatrician, schedule a virtual video visit with an expert at Connecticut Children's or book an in-person appointment at the location closest to home.
For more timely health and safety tips, check out Connecticut Children's latest resource kit for families, the 2023 Back to School Kit. Connecticut Children's is the only health system in Connecticut 100% dedicated to children, providing more than 30 pediatric specialties. Kids and parents love our exceptional care offered at 40+ locations in three states, and through Video Visit. Our experts and community leaders are committed to breakthrough research and innovative partnerships which have won us multiple awards. We are Magnet recognized, a designation only 7% of hospitals achieve, and Women's Choice Award has recognized us as Best Children's Hospital and for best pediatric emergency care.
The contents of this article are for informational purposes only and not intended to be a substitute for professional medical advice, diagnosis, or treatment. Always seek the advice of your physician or other qualified health provider with any questions you may have regarding a medical condition.
Photo courtesy of Connecticut Children's
Places featured in this article:
Sign up for the Mommy Poppins Newsletter today!
i