Technology and Kids: Screen Time Limits, Social Media Safety, Cyberbullying, and More Expert Advice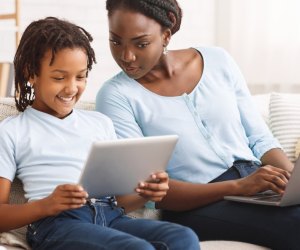 3/9/23
- By
Jessica Laird
Kids are growing up in an increasingly digital world filled with apps, games, and social media– and that means lots of new challenges for parents wanting to keep children safe and healthy. From screen time limits to cyberbullying, plus the ever-changing landscape of social media and online games, it can feel almost impossible to keep up.
Navigating the Digital World is an online parenting toolkit with clear and simple advice that addresses challenges like choosing appropriate apps and understanding parental controls on social media platforms. Developed by pediatric psychologists, sleep specialists, gaming specialists, and other experts at Connecticut Children's, you can feel confident that the information comes from a trusted source.
We've highlighted some of the key guidance below, but it's worth visiting the toolkit for more meaningful data and advice.
Keep phones, tablets, and computers in a common area
Portable devices and headphones make it surprisingly easy to lose track of exactly what your kids are doing on their tablets, phones, or computers! Make sure screen time is happening in a common area where you can easily keep an eye on things. Remember to regularly ask your children what they're playing or who they're chatting with, and openly look over their shoulders from time to time to see what they're up to. Honesty and communication are key.
See all 6 steps for social media safety
Take a look at your own screen time use–and consider scaling back
There's a lot of talk about limiting kids' screen time, but stepping back to look at our own relationships with our smartphones is also important. Consider whether you could stand to reduce the time you spend on your devices, and don't underestimate the power of modeling the screen time behavior you hope to see in your children. Dedicating dinner times or Saturday nights to some screen-free family fun can be hugely beneficial to kids and adults alike.
Learn 7 simple ways to reduce screen time
Be on the lookout for cyberbullying warning signs
If your child is old enough for social media, cyberbullying is a real concern. Watch for warning signs like a sudden or strange change in your kid's friend group, avoidance of school or poor academic performance, loss of interest in activities, and an increase in physical complaints about headaches, stomach aches, or fatigue. Remember that social media allows bullying to follow a child home from school, making it an unrelenting problem that's difficult to navigate. If possible, work with your child to create a cyberbullying action plan that can be put into place if needed.
Get 4 safety tips to protect against online bullying
Decide on a digital gaming goal
Not all games and apps are created equal, and many can be beneficial to kids when they align with meaningful goals. Sit down with your children to discuss whether you're looking for digital activities that expand creativity, promote learning, or offer relaxation, for example. Combined with considering age recommendations and reading trust-worthy reviews, finding games and apps that meet a predetermined goal can help your kids get the most out of their digital gaming adventures.
Learn 5 ways to introduce kids to the digital world
Get very familiar with the safety features on social media platforms
Did you know that after a series of congressional hearings, executives from some of the world's most popular social media platforms developed educational hubs where parents can learn about user safety? From Instagram's "Supervision Tool" to Snapchat's "Family Center," familiarize yourself with the parental controls available on each platform and use the available tools to monitor usage, set time limitations, receive notifications, and more.
Visit the parental controls on popular platforms
For more helpful tips, check out Connecticut Children's latest resource kit for families, the 2023 Navigating the Digital World Toolkit. Connecticut Children's is the only health system in Connecticut 100% dedicated to children, providing more than 30 pediatric specialties at multiple locations in three states, and through Video Visit. They are Magnet recognized, a designation only 7% of hospitals achieve, and U.S. News & World Report has named them one of the best children's hospitals in the nation.
The contents of this article are for informational purposes only and not intended to be a substitute for professional medical advice, diagnosis, or treatment. Always seek the advice of your physician or other qualified health provider with any questions you may have regarding a medical condition.