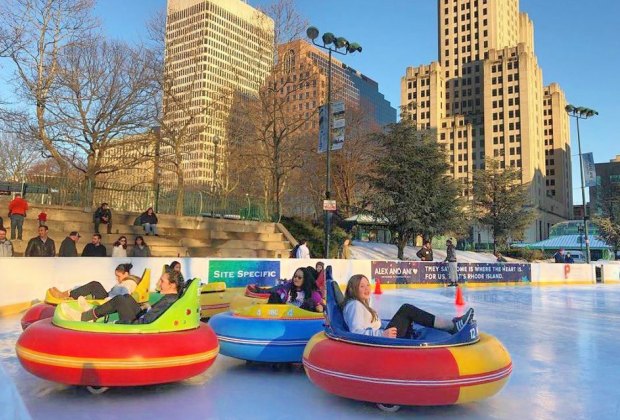 7 Winter Day Trips to Take with Connecticut Kids
When winter doldrums set in, day trips can provide the ideal escape for Connecticut families, without requiring reservations, pet-sitting arrangements, or an entire week worth of packing. Here are a few kid-friendly itinerary suggestions for a wonderfully easy local getaway, knowing that at the end of the day, you will cuddle up in your own bed. In some cases, even crossing the border into a neighboring state can still have you back home for (a late) dinner.
Check out our Mommy Poppins Day Trips Guide for more inspiration, along with 50 Fun Things To Do This Winter in Connecticut.
1. New Haven, CT
The best kind of learning is interactive and fun, so head to New Haven and spend the morning at the Yale Peabody Museum, one of the oldest and largest museums of natural history in the world. It is scheduled to close on July 1, 2020 for a major and exciting renovation, and you have only until December 31, 2019 to visit the Dinosaur and Mammal Halls. Before you leave the area, tour the Yale University campus and admire stunning architecture while perhaps inspiring college dreams. The Gothic-style Branford College and Bingham Hall, the Greek Revival-inspired Society of Book and Snake, or the modern Beinecke Library make for great conversation.
Because your quest for knowledge will likely leave you hungry, head to Frank Pepe Pizzeria Napoletana where you can brush up on your Italian while satisfying your taste buds (yes, there are now a few locations across the state, but the original one is still the best). Finish your day's intellectual pursuits at Atticus (hint: the chocolate croissant will be a nice addition to any book) and pick up something to read with the children for the long winter days ahead.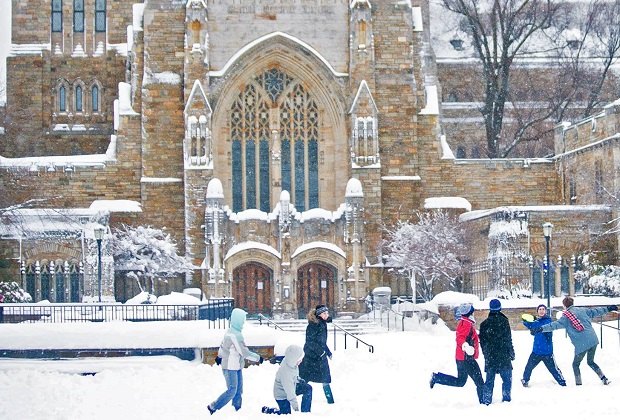 The architecture on the Yale University campus is especially charming in winter. Photo credit: Yale/Facebook.
2. Litchfield Hills, CT
Arguably Connecticut's most pristine area, Litchfield County is a great destination on a winter's day. Wonder the serene grounds of White Memorial Conservation Center, the largest wildlife refuge in Connecticut. Some 40 miles of trails are open year-round, including The Boardwalk, a family-favorite and easy 1.2-mile trail through wetlands. You can also cross-country ski, showshoe, or have a friendly snowball fight in the open vistas. The onsite Nature Museum is a hit with children who enjoy the murals, dioramas, live animals, and even a fluorescent rock cave.
When it's time to warm up and refuel, check out one of the eateries around the Litchfield Green (Ollie's Restaurant is a safe bet with kids who love pizza), and for dessert, head to Arethusa Farm Dairy in Bantam for homemade ice cream served in a freshly made waffle cone. If you're in the area on a Saturday, you can even meet the cows during a tour of the Arethusa Farm.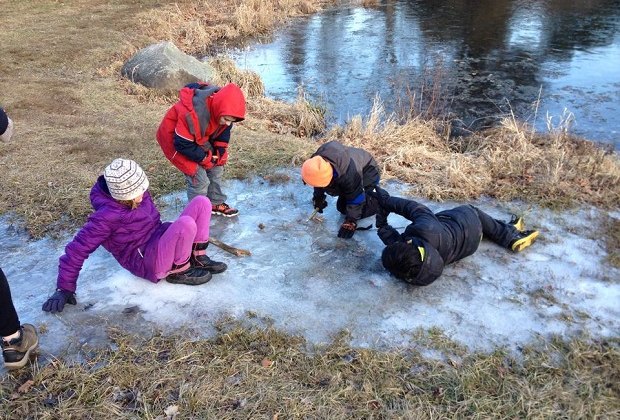 Kids and nature are made for each other and the White Memorial Conservation Center offers many opportunities for exploration. Photo credit: WMCC/Facebook.
3. South Windsor, CT
Looking for a day that will leave the kids ready for bed early? Head to Nomads Adventure Quest in South Windsor. This is an energy-burning, laughter-inducing attraction that grants children the opportunity to climb a rock wall, bounce, try miniature golf, drive bumper cars, and play arcade games. In the unlikely chance that the kids run out of entertainment, you can follow up with a visit to Bounce Town or stop by the Wood Memorial Library & Museum.
Food services are available on site at Nomads, so you really could spend the day here. But restaurants abound in the South Windsor/Manchester area, and feature many ethnic menus, including Villa of Lebanon, Sakura Garden Japanese Steakhouse, and Sawadee Thai Cuisine.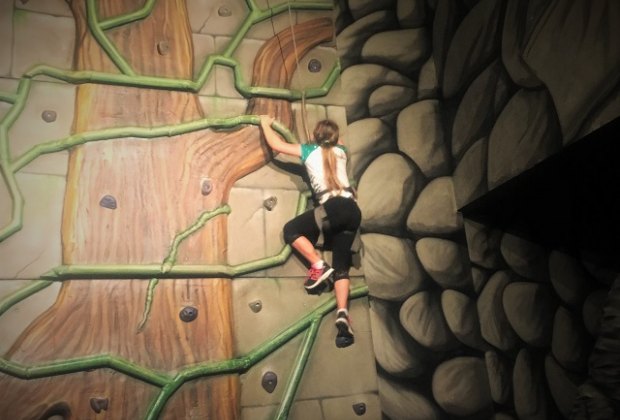 Rain, snow, or shine, the climbing wall inspired by ancient ruins is just one of the attractions at Nomads Adventure Quest. Photo courtesy of the author.
4. Hartford, CT
You will need more than a day to explore all that the state capital has to offer, but a day trip is a good start. Whether your child is interested in literature, science, history, or art, you can build a personal itinerary to meet preferences. Choose between the Mark Twain House, the Harriet Beecher Stowe House, the Connecticut Science Center, the Connecticut State House, or the Wadsworth Atheneum. No matter how you spend the time, and depending on your child's age, you can end it with a show at The Bushnell or the Hartford Stage, creating a day brimming with inspiration.
Of course, plenty of great restaurants are to be found in our state's capital, and the sandwiches at Salute are a sure and delicious lunch bet. For a sweet treat, the rum rolls at Mozzicato are tough to beat.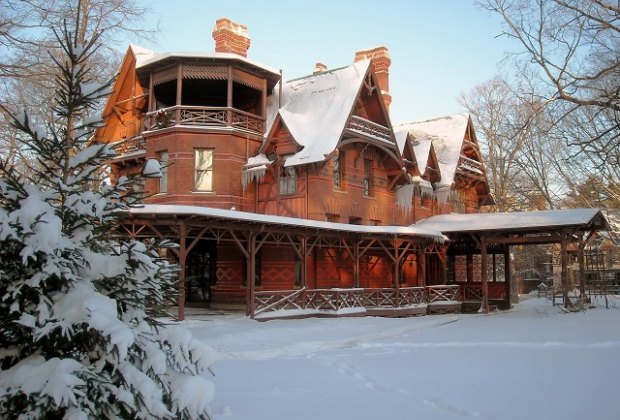 The Mark Twain House is just one of Hartford's many indoor attractions, making for a great winter destination. Photo credit: Mark Twain House/Facebook.

5. Springfield, MA
With the addition of the Amazing World of Dr. Seuss Museum, nearby Springfield has solidified its growing reputation as a special destination for kids. We think its a particularly great destination in the winter, when young hoops fans can also make a stop to the Naismith Memorial Basketball Hall of Fame and learn more about their favorite team (there's plenty of Celtics memorabilia). If it's the holiday season, definitely plan to top off the day with some fresh air (or a even just a drive-through) at Bright Nights at Forest Park, which is transformed into a winter wonderland every evening through the first week of January.
An easy, tasty spot for lunch or dinner is Red Rose Pizza, which serves up extra-large trays of pie and comforting pasta dishes. To satisfy a sweet tooth, nothing beats La Fiorentina Pastry Shop, a local favorite since 1946.
6. Providence, RI
Within a 2-hour drive from Hartford, this capital city of our southern seaside neighbor is accessible and brimming with opportunities for a day both educational and active. Divide your day between Roger Williams Park Zoo, where a new rainforest exhibit awaits, and the Providence Children's Museum, where the water play station and climbing maze are always a hit. Follow-up a day indoors by taking a twirl (or an ice bumper car!) around the BankNewport City Center ice rink, one of the best outdoor rinks in the region.
Chelo's Hometown Bar and Grill has an excellent kids' menu (try the "jr. chicken parm") and activities to keep them busy. Or, after a chilly day outdoors, warm the body and the soul with a hot drink and dessert at Pastiche.
7. New York City
Whether you choose to drive in or relax on a train ride, the city that never sleeps is sure to keep the family entertained from morning to night. Start your day on top - Top of the Rock that is. Enjoy the incredible views, spanning to The Empire State Building. Twirl on the Rink at Rockefeller Center and check out dozens of stores (including LEGO) and eateries. Spend the afternoon a couple of blocks away at the Museum of Modern Art (MoMA), home to cherished paintings by Vincent Van Gogh, Henri Mattise, Frida Kahlo, and Pablo Picasso. If you have time, check out the bustle of Times Square or the architecturally fabulous Grand Central Terminal. If energy levels still run high, finish the day with a Broadway show in the Theater District and expect sleepy children for the trip home.
For a special, memorable treat, take your hot chocolate "frozen" at the movie-famous Serendipity 3 on East 60th Street.