14 Winter Day Trips to Take in Connecticut with Kids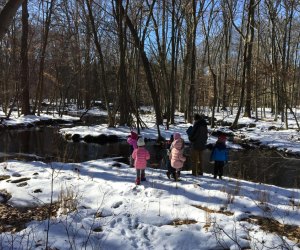 12/19/21
- By
Clementina Verge
It's all too easy to think the winter months mean an end to adventures outside the home, but it doesn't have to be that way—these winter day trips in Connecticut will keep things exciting in January, February, and March. While bears may stick to the confines of their residence until spring, if you try to follow suit, it's bound to lead to a serious case of cabin fever and some bearish moods. To keep that from happening, pack up the family and head out on one of these family-friendly winter day trips in Connecticut.
And for more cold-weather outings, see our roundup of Connecticut outdoor skating rinks and our favorite Northeast Ski Mountains for families.
Head to Bridgeport and Connecticut's only zoo, which stays open through the winter (with decidedly fewer crowds). Tigers, leopards, otters, owls, eagles, and more stay outside during the colder months, and are available for visitors. Afterwards, head to nearby Vinny's Pizza for a hot slice!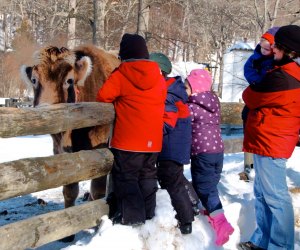 The cows don't mind the cold—and some love to be pet. Photo courtesy of the Stamford Museum and Nature Center
There are 80 miles of nature trails at the property to roam and get some much needed Vitamin D, lots of friendly barn animals to visit, and plenty of family programs happening throughout the year—from guided winter strolls (complete with warm cider) in early winter to maple sugaring programs (complete with treats) in early March. Grab a bite at Long Ridge Tavern afterwards, where you'll find yummy lunch options for both kids and adults.

Snowshoes and skis are often left out for kids to try at Earthplace in Westport. Photo courtesy of Earthplace
Home to 50 animals, Westport's Earthplace features an Animal Hall and Connecticut Birds of Prey exhibit that totally delight kids. Outdoor morning story time, which goes on in all but inclement weather, complete a visit. This 62-acre sanctuary includes a "nature's playground" to climb around. What's really exciting is snowshoes and skis are often left out for kids to try. Check the calendar for seasonal events as well, including a family campfire during winter solstice.
This beloved, mainly indoor science museum located in Hartford is open Wednesdays-Sundays from 10am-4pm. Along with the typical engaging exhibits and daily storytimes, the Connecticut Science Center is also offering a "STEM in a Box" package that includes 3 weeks of science projects to do at home with kids.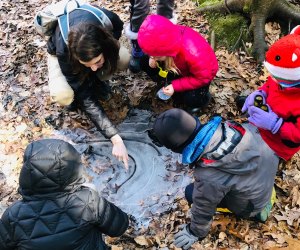 The Roaring Brook Nature Center wildlife sanctuary and educational facility is affiliated with the Children's Museum of West Hartford. Photo courtesy of the nature center
Fun, guided winter hikes for families fill Roaring Brook's calendar, but little visitors will also appreciate the indoor/outdoor animal exhibits, a beaver exhibit, a replica Native American longhouse, and more local natural history to explore at this nature center in Canton.
IT Adventure Ropes Course in New Haven is indoors, but has plenty of space for kids to keep socially distant while climbing and swinging on the various levels of obstacles—including a "Little IT and Zip IT" for small children. Receive a discount and avoid waiting in line by booking your visit online. Walk-in admission isn't guaranteed.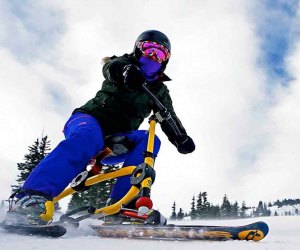 Snowbiking is a relaxing and enjoyable ride with four points of contact on the snow. Photo courtesy of Powder Ridge Park
Head to Middlefield for a fun-filled day at Powder Ridge Park. This is truly the place to get your winter chills and thrills on in Connecticut—kids can snow tube, snowbike, or hit the Kid's Snow Zone for mini tubing runs and snow play areas. Skiing is on the menu, too, and lessons are available for little beginners.

See the F-104C Starfighter, early flying machines, and more in Windsor Locks. Photo courtesy of ​New England Air Museum
This indoor/outdoor museum in Windsor Locks features over 100 aircrafts to observe, from early flying machines to supersonic jets. During the weekend, Flights of Fun Family programs include scavenger hunts, flight simulators, and open cockpit experiences. Build and Fly Challenges feature a different take-home activity each day.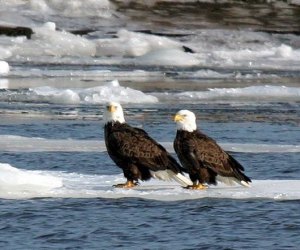 The Winter Wildlife Eagle Cruise passes by a few bald eagle nests along the Connecticut River. Photo courtesy of Visit CT
Bundle up and climb aboard to see eagles and other winter birds on an exhilarating, family-friendly cruise on the Connecticut River in Essex. Captains are full of interesting information about the majestic birds kids will see on the water.
Litchfield is the place to try your hand (feet?) at snowshoeing this winter. White Memorial Conservation Center has 35 miles of trails to explore via snowshoe or on foot. Check out the viewing platform on Apple Hill for great views, the Nature Museum for exploring different local habitats, and the calendar to keep tabs on family ice fishing lessons.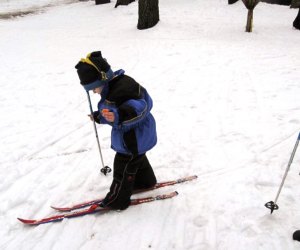 Winding Trails is a non-profit recreation center offers opportunities for families to enjoy many different winter sports. Photo courtesy of Winding Trails
This gem in Farmington is another great place to snowshoe, as well as or cross country ski, as it's equipped with a trail pass reservation system and all the rental gear you'd need. There are also sledding hills and a skating pond, making it a one-stop shop for outdoor winter exercise.
Known as "a park for all seasons," Brooksvale Park in Hamden has hiking trails and a barn where you can check out the animals. Download the trail map via the website, and keep an eye out for winter events including at the sugar shack.
Get some fresh air on the hiking trails, and then be rewarded with a view of the falls, which look stunning when frozen over. Afterwards, grab a bite to eat at the nearby Vernon Diner, or warm up with a hot cocoa from the Starbucks up the road.
Enjoy a fun-filled day at the aquarium and support sea research while you're at it! Mystic Aquarium has something for everyone. Check out African penguins, beluga whales, sea lions, sharks, and more. Note: Advance purchase of timed tickets is required.
Updated December 2021