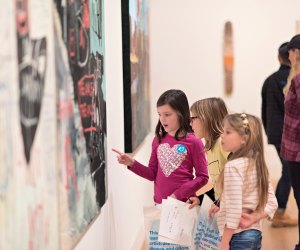 50 Free Indoor Activities in Connecticut for Kids
Let's be real here: keeping our kids busy often costs a small fortune. So, when this mother hears the word "free," her heart skips a beat or two. In that spirit, we've rounded up 50 of our very favorite free indoor activities to checkout across the state. We bet there's at least a handful of nearby events that are news to you—and which you should pass on to others!
For the latest in other cold- or wet-weather activities for Connecticut families that won't break the bank, see our Indoor Fun Guide and our Free Fun Guide!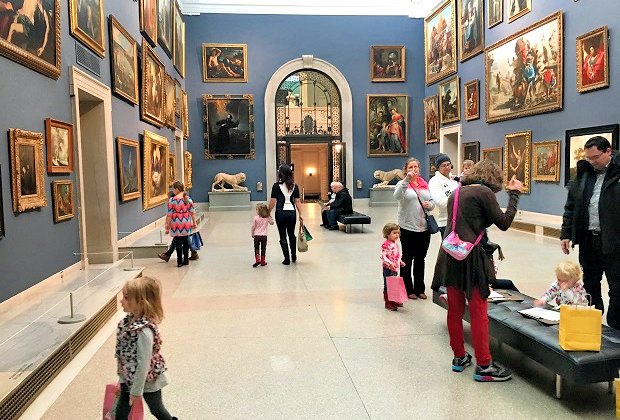 Gaze around at artistic treasures for free at the Wadsworth Atheneum on the second Saturday of each month. Photo by Clementina Verge
Free Things To Do Indoors around Hartford, CT
1. Arrive at the Wadsworth Atheneum Museum of Art between 10am and 1pm on the second Saturday of each month and enjoy free admission for the day. Hartford
2. Peruse portraits of governors, browse the Colt Firearms collection, study American coins from the 17th century to the present, and check out other important state souvenirs at the Museum of Connecticut History. Hartford
3. Learn, play, and visit animals in the Children's Studio at the New Britain Youth Museum. Children under 2 are free (over 2 is only $2.00). The museum focuses on the history, art, and cultural heritage of the diverse people of Central Connecticut. Activities include puppet theater, construction toys and games, and the Dinosaur Room. New Britain
4. Show kids where the industrial revolution boomed in Connecticut's "Hardware City" at the New Britain Industrial Museum. Tour exhibits packed with hundreds of nifty historical objects while you discuss invention ideas.
5. Enjoy free admission to the galleries at the Connecticut Historical Society during the first Saturday of every month and enjoy special family programs. Children under 5 are always free. Hartford
6. Take a free one-hour guided tour of the state capitol on Mondays through Fridays. Hartford
7. Spend some time at the ultra-quaint Wood Memorial Library in South Windsor. They have the Hartford Audubon collections of birds on the second floor and regular children's programming. South Windsor

Photo courtesy of Eli Whitney Museum
Free Things To Do Indoors around New Haven, CT
8. Head to the Leitner Family Observatory and Planetarium for the (mostly) free planetarium shows presented Tuesday nights at 7pm and 8pm. Entrance into the planetarium is on a first come basis and is free for kids age 13 and under. New Haven
9. Learn about the originator of the modern circus at the Barnum Museum. Open free to the public Thursdays and Fridays from 11 am to 3 pm. New Haven
10. Enjoy free crafts for kids each Saturday at Hamden's Lakeshore Learning from 11am to 3pm. Children age three an older are invited to participate. Hamden
11. Learn all about the American Flyer trains designed by A.C. Gilbert at the Eli Whitney Museum. Hamden
12. Your children will love to climb the spiral staircase to the lookout tower overlooking Long Island Sound at the Coastal Center at Milford Point. Immerse yourself in the area's delicate ecosystem and observe Osprey nests through the center's telescopes. Entrance to the center is free. Hours: Tuesday to Saturday, 10am-4pm; Sunday, 12pm-4pm. Milford
13. Located at Central Connecticut State University in New Britain, the Copernican Observatory and Planetarium offers amazing free shows that teach kids all about the stars and planets. New Britain
14. Along with a warm, welcoming indoor visitor's center with nature exhibits (including some animals), there are miles of trails and a beautiful newly-constructed playground at the Ansonia Nature Center. Ansonia
15. On Tuesdays, visit the Derby Neck Library for toddler science: Your kiddos will love experimenting and exploring the world around them through chemistry and physics. Derby
16. Check out the free exhibits, nature activities, and workshops at the Kellogg Environmental Center in Osbornedale State Park in Derby. The center offers special programming and events throughout the year. Check the calendar for details. Derby
17. Enjoy free daily admission to the
Yale University Art Gallery
. On the second Sunday of each month from September through May, the gallery hosts a family friendly "Stories and Art" program with plenty of hands-on art activities. Closed Mondays.
New Haven
18. Step back in time within the walls of this 6,000 square foot farmhouse. The
New Haven Museum and Pardee Morris House
is only open seasonally so check the website for full details. Admission is free for 12 and under.
New Haven
19. Often an overlooked museum in the Elm City, the
Knights of Columbus Museum
is dedicated to the history of Catholicism but additionally offers a rotating exhibit on its first floor. In January, it's
Christmas in Poland
.
New Haven

Bruce Museum. Photo by Carola Muis
Free Things To Do Indoors around Fairfield and Litchfield, CT
20.Take advantage of free admission on Tuesdays to enjoy the Bruce Museum's collections of art, textiles, science, history, and ethnology. Learn about changes in our land, life between the tides, the earth's minerals, and community connections. Children under 5 are always free. Stamford
21. Square off against your own kids or other families in Jenga, UNO, and more! On January 12th, Stamford Mill River Park is hosting a Family Game Day in the Carousel Pavilion, but this sunlit space is a great spot to hang out and play cards or read books any Saturday or Sunday (add a merry-go-round ride for just $2). Stamford
22. The National Helicopter Museum features photographs, multiple models, a helicopter simulator, and a model of the first helicopter flight in Stratford 75 years ago. Open Wednesday through Sunday. Stratford
23. Open to the public every Wednesday from 8pm to 10pm, if the skies are clear, The Observatory at the Westport Astronomical Society boasts the largest telescope available to the public in the state. Westport
24. Housed in the historic Holly House in Cove Island Park, the SoundWaters Coastal Education Center is devoted to the aquatic life of Long Island Sound. SoundWaters Coastal Education Center is home to hundreds of species with special tanks for horseshoe crabs and diamondback terrapins, a touch tank, a learning lab, and environmental displays. Stamford
25. Enjoy a FREE music program run by the Stamford Symphony. MusiKids is held every Saturday at 3pm. For children ages 5 to 12. Stamford
26.The Kids Calendar at the Westport Public Library is packed with programs for all ages. Ongoing programs including Toddler Mother Goose, Rhythm and Rhyme, and Storybook Art. The library also hosts a monthly Family Maker Art workshop, a Tinker Shop, and Friday films. Westport
27.Third Saturdays at The Aldrich are totally free for everyone, and include family workshops from 10am to 3pm. Children should be accompanied by an adult. Note: Children 18 and under are FREE at The Aldrich any day, with an admission-paying adult. Closed Tuesdays. Ridgefield
28. There is a ton to do at the Bridgeport Library. Learn how to code, join a parent/child book club, or learn chess in the chess club. Bridgeport
29. You will know for sure this wonderful little railway museum is open when you spot Thomas the Train outside its door. Run by volunteers, the Boothe Memorial Railway society hosts a monthly open house with scale model trains. This is worth setting a reminder for! Open the third Saturday of the month, from 1pm to 4pm. Stratford
30. Shelton Tweens and teens can explore their artistic side and learn new techniques while working on creative projects at this weekly free art drop-in at Life is Art at Plumb Memorial Library on Thursdays from 6pm to 7:30pm. Shelton
31. The Norwalk Public Library welcomes up to 80 kids and parents each Monday evening at 5 pm for a sweaty good time at Zumba for Kids & Parents. Shake it off and burn off some energy together. Bring water and check the calendar for library open times. Norwalk
32. Visit the discovery center and an impressive live birds of prey exhibit at the New Canaan Nature Center. New Canaan
33. Sit and sip an iced latte as your children investigate a new rain forest-themed Play Space at the Westfield Shopping Center. Trumbull
34. The Housatonic Museum of Art offers a perfect venue for the whole family to take in art at your own pace. Free and open to the public all year long, except weekends. Bridgeport
35. The Fairfield University Art Museum boasts free permanent rotating exhibitions spanning the globe and time. The museum is open Tuesday through Friday from 10 am to 4 pm. Fairfield
36. See a life-sized beaver lodge or a fluorescent rock cave at the White Memorial Conservation Center (adults have to pay admission, but children are free specific weeks, so check the website). Litchfield
37. The Fairfield University Bookstore often offers free children's programming with a story and simple craft for ages three and up on the weekends. Make a whole afternoon out of it and check out the nearby cafes and shops in downtown Fairfield. Fairfield

Photo courtesy of Northwest Park Nature Center
Free Things To Do Indoors in Eastern CT
38. Open every Sunday, 12pm to 3pm, the New England Civil War Museum was established by Civil War descendants who have donated personal wartime relics. Vernon
39. Open every day except Tuesday, the Submarine Force Library and Museum contains a comprehensive collection of submarine artifacts. As the only submarine museum operated by the United States Navy, it includes thousands of documents, photographs, and artifacts. The best part? Your kiddos can descend into the USS Nautilus and explore its many rooms. Groton
40. Come and play at Questers Way (smoothie optional). Mansfield
41. A trip to the Husky Heritage Sports Museum will make any UConn fan happy, with a collection of team photos and national championship logos as well as the National Champions Gallery. Storrs
42. The Fire and Ice Festival is a fun way to make winter memories, with food, ice carving and wood carving demonstrations. Old Saybrook
43. Located on the University of Connecticut campus, you can stop by the Ballard Institute and Museum of Puppetry to learn about the curious history of puppetry and enjoy free cutting-edge shows. Storrs
44. Located at one of the largest parks in Connecticut, the Northwest Park Nature Center offers visitors live turtles, places to play, a live bird-cam, books, and a gift shop. Windsor
45. Visit The Benton, a Connecticut State Art Museum open seven days a week with more than 6,500 works of art reflecting the 15th through the 21st centuries. The museum offers ongoing special events like Carefree Drawing, every Friday between noon and 2 pm. Storrs
Across Connecticut...
46. Lots and lots of Connecticut museums offer free admission days. Check out our complete list! Multiple locations
47. Head to your local library, a timeless center for free and educational children's programs from storytime to crafternoons to Lego clubs. Multiple locations
48. No one would turn down a free meal. We have collected a list of restaurants that offer kids free meals. Multiple locations
49. Got a bookworm? Barnes & Noble holds events throughout the year. Some are regularly scheduled story and craft times, while others are author visits and readings or book signings. Check the website for details. Multiple locations
50. On the first Saturday of the month, Home Depot offers free projects for kids at all locations. Your kids will love earning a new badge each month for every project they complete. Multiple locations
Originally published in 2017