25 Free Things To Do with Kids in Connecticut this Winter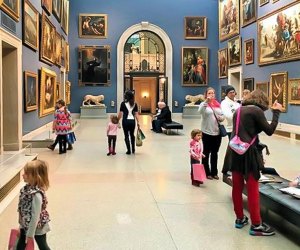 After the holidays, when the decorations are all put away, the cookies have been eaten, and the new toys have lost their novelty, moms and dads start looking for fun things to do with their kids. But what if they could find something fun and FREE? Look no further, because we have done all the footwork to collect a wide-ranging list of things for you do with your little artists, astronomers, and historians this winter.
To get more free fun at home and in your town delivered to your inbox, sign up for our newsletters—and discover all the free events and activities near you in our Connecticut Free Things To Do with Kids Guide.

Be sure to make a reservation first if you visit the Ballard Museum and Institute of Puppetry. Photo courtesy of the museum
1. Inspire creativity with a trip to a museum
Make a trip to the Wadsworth Atheneum Museum of Art or the Bellarmine Art Museum (reopening January 22, 2022) and expose your child to the vast world of modern and classical art. Not into art? There are lots of other types of free museums to explore like the Submarine Force Museum (U.S. Nautilus) or the Ballard Museum and Institute of Puppetry (make a reservation to visit). Some Connecticut museums are free for kids under 3 like the New Britain Youth Museum and the New England Air Museum.
2. Go beyond the backyard with nature
Not feeling the snow? It's ok. You can experience some nature indoors. The Bruce Museum has astounding galleries for paleontology, geology, woodland and ocean habitats, and more. Another option is visiting one of Connecticut's nature centers. While most are located on acres and acres, the centers themselves are chock full of displays, hands-on entertainment, and other interesting stuff. The New Canaan Nature Center and Northwest Park Nature Center are also great places to explore nature without actually stepping outside.
3. Learn about Nutmeg History
Learn all about Connecticut history. You can take a free 1-hour guided tour of the state capitol on Mondays through Fridays (virtual option also available). If your child is 5 and under, visit the Connecticut Historical Society for free and spend some time on the second floor with their hands-on educational exhibits. Lastly, admission is always free at the Conn. History Museum where you can see the famous Colt Firearms exhibit.
4. Utilize your local library
There are many very nice and modern public libraries in Connecticut. Many of these have items beyond books including puppets, games, and terrific programming.

Experience a curated shop with decades of toy and hobby expertise in Middletown. Photo courtesy of Amato's Toy and Hobby
5. Shop local at hobby and toy shops
Amazon doesn't have anything on these amazing local, and often long-running toy stores. Amato's has been in business for decades and decades and contains everything you'd need for a new train set or flying plane. Another one to spend some time in is Necker's Toyland. It's tiny, but packed with unique items. The other favorite toy and hobby destination is Time Machine, located in Manchester. This shop has several floors of toys and hobbies of all kinds.
6. Take a tour in space
Many planetariums are open with limited hours. Imagine looking up into the entire sky! The DuPont Planetarium is open to the public (masks required) for three shows each day and is free for children 5 and under. Also, check out the Star Party's at The Observatory at the Westport Astronomical Society which boasts the largest telescope available to the public in the state.
7. Get locally grown veggies at a farmer's market
While most farmer's markets are held outside and cease operations in late fall, there are a few who move inside and continue through the winter. Westport Farmer's Market is actually held in a large greenhouse. There you can purchase things like potatoes, mushrooms, fresh baked bagels, and greens. Another market held indoors is Stonington's, held at the Velvet Mill.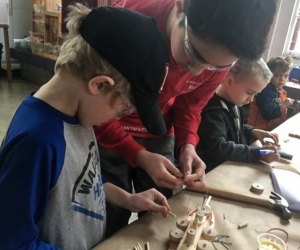 Explore the Eli Whitney Museum. Photo courtesy of Mommy Poppins
8. Bring your little engineers to a train exhibit
Eli Whitney's annual American Flyer exhibit of moving trains is open till January 16th, 2022 after taking a pandemic hiatus. Admission is always free to the Eli Whitney Museum. Another place to check out trains is the Boothe Memorial Railway Society which hosts a monthly open house with scale model trains.
9. Learn about historical Connecticut heroes
Are you a fan of the movie "The Greatest Showman"? Then learn all about P.T. Barnum, a Connecticut-native, at the Barnum Museum. Another place to learn about someone from Nutmeg history is at the Nathan Hale Homestead which reopens in the Spring 2022 and is free for children ages 6 amd under. The man known for his now famous dictionary, Noah Webster, also has a homestead in West Hartford which is free for children ages 5 and under.
10. Take your kids out to eat, for free
There are many restaurants that will offer something free to your kids with the purchase of an adult mean. Aunt Chilada's offers free ice cream with the purchase of a kids meal, Dish n Dat (fun rock and roll theme) offers one free drink refill. Lastly, at Bobby V's, kids eat free all the time.
11. Enjoy free storytimes at local booksellers
Book stores who take an interest in local kids often read the best books. Enjoy a short storytime at R.J. Julia Booksellers in either their Middletown or Madison locations. If you'd like to catch a story in pajamas, Barnes and Noble's now offers virtual storytimes.

Kids love exploring the Vintage Radio and Communications Museum. Photo courtesy of Mommy Poppins
12. Learn about the history of technology
Some Connecticut museums can teach you and your kids about how technology has advanced over the years. The Vintage Radio and Communications Museum will transport your tech-savvy kids back to the days of juke boxes and 1980's IBM computers, and so much more (free for ages 5 and under). And the New Britain Industrial Museum's "Hardware City" exhibit will show your kids how tools have changed over the last 100 years.
13. Dive into Civil War history Connecticut-style
The New England Civil War Museum in Vernon was established by Civil War descendants who have donated personal wartime relics to exhibit.
14. Tour the second-oldest town in Connecticut
Wethersfield has a historic section of town that is predominantly located on one main street, making it easy to tour. The town has provided a convenient website to follow including the Webb-Dean-Stephens home, the Buttolph-Williams house, and Comstock, Ferre & Co. which is now a cute cafe.

Go see farm animals for free! Photo courtesy of the UCONN Animal Barns
15. Visit the animals at UCONN
The UCONN animal barns are free to visit and packed with animals your kids will love seeing in person such as cows, horses, ewes, and poultry. Many of the animals are semi-indoors or in paddocks.
16. Explore Long Island Sound
Your children will love to climb the spiral staircase to the lookout tower at the Coastal Center at Milford Point. Observe osprey nests through the center's telescopes. Entrance to the center is free.
17. Touch a terrapin
SoundWaters Coastal Education Center is devoted to the aquatic life of Long Island Sound. It is home to hundreds of species with special tanks for horseshoe crabs and diamondback terrapins, a touch tank, a learning lab, and environmental displays.
18. Bring your kids to the mall...to play
If your kids need to burn off some bouncy energy, stop by the mall for a play time (just bring hand sanitizer). Take your pick form the following: a new rain forest-themed play space at the Westfield Shopping Center, the play area at the Shoppes at Buckland Mall, or the carousel at the Danbury Fair.
19. Go to the outdoors...indoors
Do you and your kids love animals, but not the cold biting winds? There's an amazing display of taxidermy animals in Cabela's in East Hartford. Set on a realistic mountainside, deer, elk, bear, and so many more reside in a natural looking environment. Around the back side of the mountain, walk under and see live fish. There are a few other very cool displays in the store, too.

See the Lucia Hierro installation. Photo courtesy of The Aldrich Contemporary Museum
20. Take your kids to the only Connecticut contemporary art museum
The third Saturdays at The Aldrich are totally free for everyone, and include family workshops from 10am to 3pm. Children 13 and under are free any day, with an admission-paying adult.
21. Stop in at Stew Leonard's for a little fun
Well, to be honest, you'll probably buy a donut or something else that's tasty. But, your kids will love seeing all the animatronics all over the store. Known as the "Disneyland of Dairy Stores," there is no where else like Stew Leonards (maybe it's the 6-foot tall asparagus?
There is always something going on at this great conservation center. And there is also an annual Museum Free week in December, too!

So much to see and so much to learn about the history of carousels. Photo courtesy of the New England Carousel Museum
23. Learn all about the history of carousels
There is no other place like the New England Carousel Museum. And for your child 2 and under, it's totally free.
24. Grab a pass from your local library
Most local libraries offer passes that greatly reduce or eliminate entry costs for many Connecticut destinations. Reserve a library pass from Simsbury Library, Waterbury Public Library, Groton Public Library, and so many others.
25. Get free art activities virtually
While the New Britain Museum of American Art costs an admission fee, they provide several at-home art projects you can take advantage of for free on their website.
Originally published in 2017
Updated December, 2021