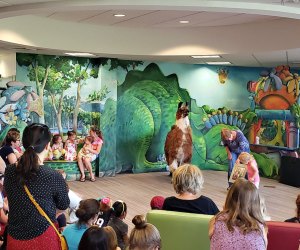 8 Connecticut Libraries With Great Play Spaces for Kids
Libraries are a great place to snuggle up with a book or listen to a good story, but for many families with young kids, they are also a destination for kids to socialize and get some energy out. We're grateful to these amazing public libraries in Connecticut that have recognized this need and created beautiful, free play spaces where toddlers, preschoolers, and young elementary school children can explore toys and interact with peers in between perusing books.
For more play zones that don't require a fee, see our post on Best Free Indoor Play Places for Connecticut Kids. Our guide to Connecticut Indoor Play Spaces highlights even more spots where kids can tinker, imagine, jump, climb, and run when the weather is wet or cold.
Best Library Play Spaces around Fairfield, CT
1. Westport Public Library - Westport
The children's department, located on the third floor, offers a stunning view of the Saugatuck River. Kids can enjoy imaginative play areas with trains, dollhouses, shelves of games to share, and even toys to check out. Supervising adults can choose from plenty of comfortable seating or grab a treat at the café. If you have vacation plans, the librarians will even put together custom travel kits for your kids based on their ages and your destination.
2. Danbury Library - Danbury
No inside voices are required at this library; well, not in the Recording Studio. Yes, this library offers audio and video recording services. Don't worry, the sound-proof recording booth means you and the kids can belt away. Audio features include microphones, FOCUSRITE Scarlett 2i2 sound card, and a Mac mini loaded with GarageBand and Logic Pro X. The video recording studio provides an HD video camcorder and tripod, studio lights, a green screen, and Mac loaded with Final Cut Pro and Black Magic. You can even check out an electric guitar and a mini production keyboard during your sessions. Reservations must be made in advance and require a state-issued photo ID and an active Connecticut library card in good standing.
​
Play tables are scattered across the expanse of Enfield's beloved library. Photo courtesy of Enfield Public Library
Best Library Play Spaces around Hartford, CT
3. Canton Public Library - Canton
The colorful and inviting children's section at this library features puzzles, interactive toys, and an adorable little kitchen area where children can play for hours pretending to run their own business while serving scrumptious treats, including interchangeable ice cream cones or pastries. If you have an American Girl-loving child in the family, check out the recently-established American Girl Book Club that meets twice a month on Fridays.
4. Noah Webster Library - West Hartford
An entire floor is dedicated to the children's department and includes areas for tweens, babies, and preschoolers. Children enjoy opportunities to be creative at train tables, dollhouses, with blocks, pretend food, and a beautiful puppet stage. The library also features plenty of quiet spaces for reading, relaxing, and getting homework done.
5. Avon Free Public Library - Avon
Adults will be comfortable the open play area (the entire second floor is dedicated to children and teens) that offers plenty of seating and tables, while children will enjoy the play house, puppet theater, magnetic toys, trains, reading alcoves, a nearly life-size wooden boat, and Open Art Studio on Wednesdays between 11am-12pm and 4:30pm-5:30pm.
6. Enfield Public Library - Enfield
Little ones will enjoy going on pretend adventures via the train table or engaging at other interactive play stations. Colorful murals stretch from the puppet theater area into a cozy reading area perfect for impromptu story times or alone reading time. Another bonus: the expansive and beautiful Enfield Rotary Accessible Playground tucked right behind the library. Pack a lunch and this destination can easily turn into a fun day out.
7. The Farmington Libraries - Farmington
An open area provides a great vantage point for parents or guardians to observe children at play in the Kids' Place. They can choose between a LEGO table, interactive sensory games affixed to walls, a small climbing structure for toddlers, child-friendly computer stations, an oversized puppet theater area, a vibrant fish tank, and bonus: a carousel horse. Tinker, a mechanical horse named after a much-beloved former librarian, is a huge hit with children. She can be ridden Mondays, Wednesdays, and Saturdays from 11am-12pm, Tuesdays and Thursdays from 7pm-8pm, and Fridays from 2pm-3pm.

Colchester is home to puzzles galore and a rotating array of activities. Photo courtesy of Cragin Memorial Library
Best Library Play Spaces in Eastern Connecticut
8. Craigin Memorial Library - Colchester
Children will enjoy building their own train layouts (no glued-down tracks at this train table), rotating activities (think LEGO and Little People), educational activities (such as tracing letters with a magnetic pen), being creative with large felt boards, child-friendly computer games, arts and crafts, and playing at the toddler activity table.