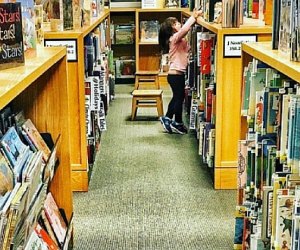 Ways to Prevent Summer Slide in Fairfield County
Slides are fun in playgrounds, in pools, and maybe even in your own backyard. However, the notorious "summer slide" is nothing to joke about. According to the National Summer Learning Association, "numerous studies have confirmed that children experience learning losses in math and reading without continued opportunities for skill building over the summer." The good news is, summer learning experiences surround us if you know where to look. Take advantage of all of our cultural institutions, nature centers, libraries, and museums by turning Fairfield County into a living classroom.
Some of my favorite "educational moments" happen way outside the classroom. Summer sets the perfect stage for exploration and adventures. Fairfield County offers engaging summer reading events at almost all the libraries, live theater performances, and hands on science and nature experiences. You can even take summer learning on the road and enjoy one of these Science, Machines, and Nature Museums in Fairfield County.
Science Opportunities
Hiking Trails at New Canaan Nature Center- New Canaan
Take advantage of the Discovery Packs at the New Canaan Nature Center. They are stocked with all sorts of educational goodies. From scavenger hunts, clipboards, crayons and colored pencils- these bags have it all! You can create leaf imprints, see what you can catch in one of the plastic observation containers, or just observe and sketch the landscape. They even have binoculars and nets available at the Visitors Center.
144 Oenoke Ridge, New Canaan, CT 06840
Astronomy Nights at Stamford Museum and Nature Center - Stamford
Visit the Stamford Museum and Nature Center on Friday nights for an out of this world experience. On select Friday nights, come to the Observatory for a real treat as you explore the night sky with talks on planets, stars, galaxies, and much more. This program is suitable for children ages 5 and up.
39 Scofieldtown Rd, Stamford, CT 06903
Backyard Explorers at Grace Farms - New Canaan
Stumble upon three "discovery stations" as you hike through Grace Farms' walking trails. Children and parents are invited reconnect with the natural world through hands-on encounters with native wildlife and wilderness skills demonstrations. Get your hands dirty and recharge, and refresh your connection with nature.
365 Lukes Wood Rd, New Canaan, CT 06840
STEAMing Ahead at the Westport Library - Westport
Westport Library is well known for brining the maker movement to Fairfield County. This summer, register to make a 3D drawing and your own glassed to view it with as part over their STEAMing Ahead program.
20 Jesup Rd, Westport, CT 06880
Literacy Opportunities
Summer Reading at the Libraries
According to Scholastic, "Many children, especially struggling readers, forget some of what they've learned or slip out of practice during the summer months….Research shows that reading just six books during the summer may keep a struggling reader from regressing. When choosing the six, be sure that they are just right — not too hard and not too easy. Take advantage of your local library" Fairfield County has some fabulous libraries with fantastic summer reading programs. Check out your local library's web page to learn more.
Book Buddies at the Ferguson Library - Stamford
Reading is so much more fun with a friend. Let a Ferguson Book Buddy read with your young child this summer. College interns with the Stamford accounting firm KPMG will help young readers become champions. Look for the Book Buddy Table in the first floor children's department.
1 Public Library Plaza, Stamford, CT 06901
Mutt-i-grees at Stepping Stones - Norwalk
Meet a real live dog from PAWS, The Pet Animal Welfare Society, and learn about the uniqueness and desirability of shelter dogs. We also make a pet-themed craft. Space is limited.Visit the website or call for more info.
303 West Ave, Norwalk, CT 06850

Read to a Dog at the Danbury Library- Danbury
The best way to spend the dog days of summer is, well - with a dog! Families with children are invited to sign up for a 10 minute session to read to a dog. Foster or Cooper, one of of two beautiful Australian Shepherds will be visiting the library once a month, and will listen patiently while each child practices their reading.
170 Main St, Danbury, CT 06810
Arts Opportunities
Afternoon Studios at the Aldrich Museum - Wilton
Get inspired by Aldrich artists with various media and methods in this weekly series.
258 Main St, Ridgefield, CT 06877
Take Part in Art at Weir Farm- Wilton
Discover your inner artist while sketching outside with art supplies provided on site, whether graphite pencils, colored pencils, or chalk pastels. All ages and experience levels are welcome.
735 Nod Hill Rd, Wilton, CT 06897
Shakespeare on the Sound- Rowayton
To be or not to be in Pinkney Park on a warm summer evening. That is the question! Enjoy this classic production of Hamlet which is made accessible to kids of all ages with a kids corner tent, which offers children's activities from 4:30-7:15 pm, as well as a special "Hamlet for Kids" each night at 6:30 pm.
33 Highland Ave, Norwalk, CT 06853
Bruce Beginnings at the Bruce Museum - Greenwich
Explore the museum collections and exhibitions through picture books and hands-on activities. Topics change weekly so you can keep coming back for more.
1 Museum Dr, Greenwich, CT 06830