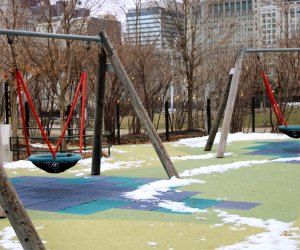 Playgrounds Can Reopen in Chicago!
Woo hoo! After 11 long months, playgrounds in Chicago have finally been given the go-ahead to reopen. Chicago Park District announced Tuesday that after closing in March of 2020, the city's lakefront, playgrounds, and indoor aquatics centers are cleared to reopen. Which playgrounds? And when? Read on for all the details.
Yes, it's the middle of winter, but as the mercury crawls above freezing, the snow fades (so long sledding, skiing, and tubing), and the ice melts (goodbye, until next year, ice skating rinks), it's time to take those kids outside to play!
What is opening first? The lakefront, its parking lots, and public access points leading to park property east of Lake Shore Drive are being reopened by Park District crews already. Why start here? Well, crews have their work cut out for them, digging lakefront parks out from the 40 inches of snow that fell in the past month. So, there is some serious work to be done. But the city hopes to have parks cleared out and opened in time for warmer weather.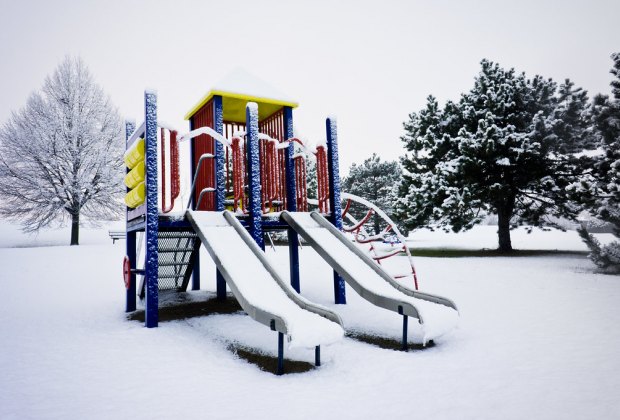 Snowy playgrounds are fun, too. Photo by Benson Kua/CC BY 2.0
Which playgrounds will be next? A timeline isn't yet available for the reopening of all city playgrounds.
According to the Park District press release, "During the upcoming weeks, the Chicago Park District will also unlock gates and prepare all 500+ outdoor playgrounds and nature play spaces to reopen."
So it seems like the city is at least expect recreation centers and parking lots to be open by April, because spring registration for Park District activities begins March 8. Events, activities, and even "limited aquatics programming" are expected to be offered. The programs will run from April 5 to June 13.
The Park District is reminding all families visiting parks and playgrounds of the following rules:
Lakefront parks will be open during normal operating hours.
Parking fees will be required and enforced.
Families and caregivers are urged to practice safety guidance, including mandatory mask-wearing, social distancing, and frequent washing of hands.
The high-traffic areas are not sanitized but can be enjoyed safely by following the guidance on the signage installed at each location.
Large gatherings are strictly prohibited.
Park-specific information can be found on the Park District website.