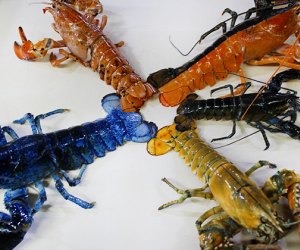 New at the Aquarium: A Cornucopia of Lobsters and Shark Science
Want to thrill your kid or wow an out-of-towner? The New England Aquarium, just maybe the crown jewel of our many awesome downtown attractions, seems to produce more oohs and aahs than just about any other tourist spot in town. That may be because its regular highlights are living creatures who age, change, and shift positions depending on the day; or perhaps because the scientists there are regularly adding new, interesting species into the mix. Case in point: the new, exceedingly rare yellow American Lobster, whose arrival makes for a seasonally appropriate cornucopia of crustaceans in the suddenly colorful Northern Waters Gallery on the Aquariums third floor.
This is no fish tale: A few weeks back, Bill Porter, a lobsterman out of Marblehead, netted a lobster that stood out from the other muddy-colored raw species in its company. Noting its pale yellow color, Patriots Seafood of Salem chose to donate the critter to the New England Aquarium.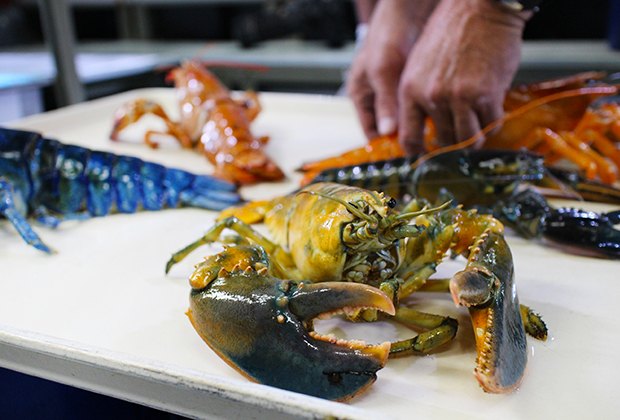 Aquarium scientists were overjoyed: yellow lobsters have an incidence of just 1 in 30 million in the wild. Additionally, it adds to a growing collection of rare, jewel-colored lobsters that the New England Aquarium has collected in recent years. Along with the new addition, which will be on display this fall as soon as it receives a full health check, visitors have a chance to see lobsters that are blue, deep orangey-red, and a half-orange-half-brown "Halloween" shade.
This lobster cornucopia might be worth a trip to the Aquarium itself, but there's lots more to see this fall on the waterfront. As part of the new "Science of Sharks" exhibit, kids can learn about the many species—some 500!—of shark, and reach out and stroke some epaulette, coral cat, and bullhead sharks in the first-floor touch tank. Other current highlights are the spooky sea jellies, majestic sea dragons, and spiky sea urchins in the edge-of-the-sea touch tank on the second floor. We think fall is the perfect time to pay these sea creatures a visit—before winter and spring's field trip season brings crowds—but anytime is a fun time to visit the Aquarium.
Photos courtesy of The New England Aquarium