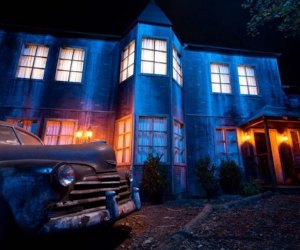 Halloween Thrills and Chills: Haunted Theme Parks Near Boston
Sure, a haunted trail is spooky, a nighttime hayride is eerie, and a haunted castle is even better. However, if your kids have been there and done that, they might be looking for a more extreme adventure this Halloween. New England's theme parks, including the eerie new Ravenwood Haunted Farm north of the city, go all out for the most frightful holiday, mixing the thrills of the rides with chilling theatrics and special effects. Too scary? No worries: Our Halloween Guide is packed with seasonal parades, crafts, and other activities that are just plain fun.
Ravenwood Haunted Farm—Haverhill
A 200-acre working farm on the banks of the Merrimack River is home to the area's newest haunted attraction, Ravenwood. Brave visitors take a hayride to a haunted trail and corn field, encountering some 70 actors in realistically scary settings, including a 12-foot Venus flytrap and other scary oddities. It's not recommended for kids younger than 13, but the attraction's creators leave parents to decide whether it's suitable for their children (its Facebook page gives a real flavor for the horror-movie feel of the place).
Screeemfest at Canobie Lake Park—Salem
Take your younger children in the daytime to the petting zoo at the Magic Seed area, storytelling and children's dance parties in the Pumpkin House, and on the kiddie rides. For teens, the thrills really begin in the evening, during Screeemfest, when everything from the rides to the midway becomes part of a spooky web of chilling tales. Whether you're in one of the haunted houses or not, creepy characters are always lurking in the darkness. The haunted attractions are designed for all five of the senses, with walls literally pushing against visitors and foul odors being pumped into the houses.
Fright Fest at Six Flags New England—Agawam
During the daytime, Six Flags offers relatively mild thrills for the Halloween season. There's a family show with a mad scientist theme, a Trick-or-Treat Trail for younger children to find great prizes & sweets, and a Spooktacular Street party where you can get your ghoulish groove on and a monstrous singing revue. The spooky displays around the park are prime photo spots. At night, the park is transformed into Fright Fest, a mix of haunted attractions (some you have to pay extra for), shows that range from silly to disturbing and potential scares around every corner. Even waiting in line for a ride is risky business. You're the best judge of what's appropriate for your kids, but I would think twice about bringing anyone under the age of 13.
Witch's Woods—Westford
Nashoba Valley Ski Area turns dark in the fall, with Witch's Woods cropping up to scare the bejeezus out of Massachusetts 'tweens, teens, and grown-ups. Kids can take a haunted hayride and also visit a scary "screampark." At Witch's Woods, guests are confronted by witches, zombies, vampires, and werewolves, among other ghoulish characters.
Haunted Graveyard at Lake Compounce—Bristol, CT
This spine-chilling walk-thru maze is set up inside Lake Compounce amusement park, and for a separate fee it keeps the screams coming with over 150 live actors and animatronic scenes. Open at dusk on Fridays, Saturdays, and Sundays through October 30.
Originally published October 2014