15 Cutest Matching Family Christmas Pajamas for the Holidays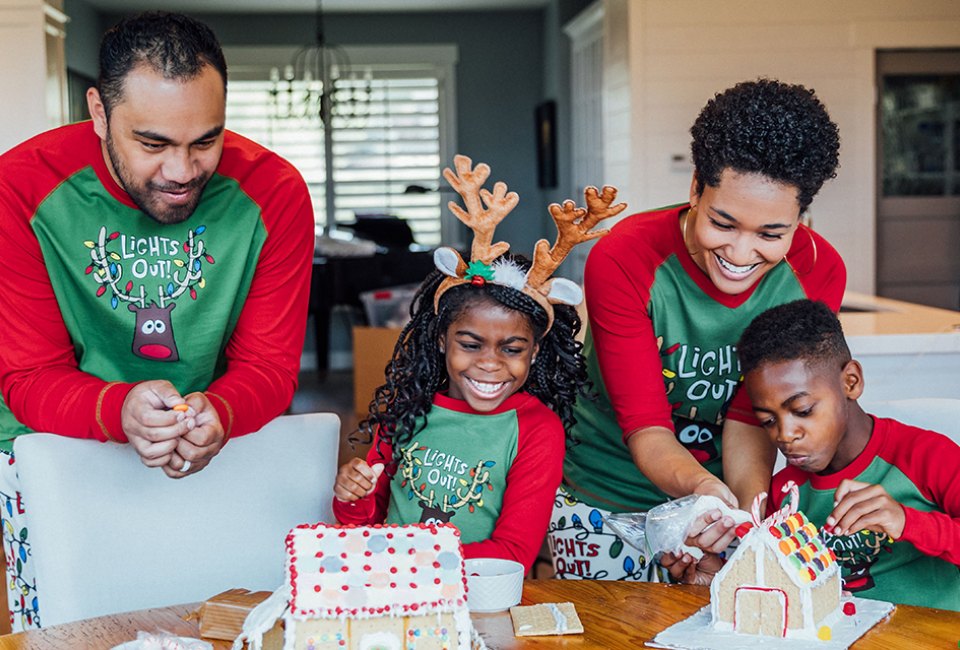 12/7/21
- By
Danielle Smith
During the holiday season, families and jammies go together like milk and cookies. Not only are matching family pajamas great for memorable photos, but there's something about waiting for Santa in family Christmas pajamas that helps the time pass a little bit faster.
So keep your family cozy and coordinated with one of our picks from the best matching family Christmas pajamas sets of 2021. For more ways to make sure your tribe catches all the holiday vibes, check out cool (under $10) stocking stuffers, the best Christmas cookie recipes, and the funniest Elf on the Shelf antics.
It's not often that parents can pull off the exact same outfits as their children! Classic plaids, Fair Isle, and buffalo check patterns have all made our list of the cutest matching family Christmas pajamas, alongside some more modern styles. We even found options for the family pet or a favorite doll. We've picked a mix of PJs you can order online, and ones you can run to the mall to buy if you happen to wait until the last minute...
The Cutest Matching Family Christmas Pajamas of 2021
Make sure everyone knows you're related–and proud of it–in this unisex matching collection from The Children's Place. This set also might be the best chance you have to dress your family like the Kardashians, who collaborated with the brand on the design. The prices are among the least expensive we could find, so you may as well throw the Santa slippers in the cart, too.
RELATED: 101 Christmas Activities for Kids

Hanna Andersson pajamas are so well made, you can save them for your kids' kids.
Good luck trying not to break into song every time your family puts these on. Rainbows, wreaths, and some well-known Christmas carol lyrics adorn these matching family pajamas that will make everyone feel merry and bright.
Primary does family basics exceedingly well, and their matching family Christmas pajamas don't disappoint. We love these modern trees that can be mixed and matched with stripes for mom, dad, kids, and Fido.
What Force could be stronger than family? For Star Wars enthusiasts, Baby Yoda wearing Santa hats and earmuffs is about as festive as family Christmas pajamas can get. Also, seriously cute overload.
A play on words and cute Christmas gnomes will make these matching family pajamas a hit with the entire household. The tops come in three different colors to add a little variety, and extended sizes are available for men and women. For the furriest family members, add the matching pet bandana.
He's a mean one, but the Grinch's cold heart will keep your family happy and warm in these pajamas from Pottery Barn Kids. Options for adults and children come in flannel or organic cotton.
RELATED: Best Christmas Cookie Recipes to Bake with Kids

Ever seen a pup in a tux? That's a great way to ring in the New Year!
These pajamas are technically meant to be worn a week after Christmas, but you can always get the party started early and welcome 2022 with New Year's family jammies from perennial favorite Old Navy. These make a great outfit for family holiday photo cards!
No family Christmas pajamas list would be complete without a Fair Isle pattern, and we really like this one from Target that features a family of bears in the print.
While some families dream of a white Christmas, others prefer Santa in the sun. These pajamas are perfect for those spending the holidays in warmer climates or enjoying a warm-weather vacation.
RELATED: Inexpensive and Cool Stocking Stuffers for Kids

We love the real buttons that hold up this "tailgate."
If there's something cuter than baby bums in butt flaps, let us know. The Lazy One store has matching family pajamas in multiple options with rear flapjacks attached by buttons—we're partial to the classic buffalo check design in black and white.
Hooded family jammies that come with a set of antlers? Sign us up! Your family can go full-on Rudolph in these reindeer-inspired onesies that come in four different colors.
RELATED: Best Kids' Christmas Movies to Watch this Holiday Season

Your Christmas crew will be dressed to the nines on Christmas morning in this Sleepyheads set.
Dress like matching candy canes in these red and green striped pajamas from Sleepyheads. If your child has a favorite doll that joins in all the family fun, nab the matching doll dress so that no toy is left out. And yes, this set has a bandana for four-legged family members as well.
For just a hint of holiday fun, this milk and cookies print is just right for baking cookies for Santa with kids on Christmas Eve.
RELATED: 50 Fun and Easy Elf on the Shelf Ideas

Hanukkah pajamas are great for all eight nights!
An adorable repeating pattern of little menorahs can be worn for all eight crazy nights ... and beyond. Choose from the unisex option or different fits for men and women, in addition to babies, kids, and even pets!
Peace, love, and plaid. It's hard to think of a better (or cuter) combination for lounging around the house with the fam during the holidays.
This article contains some affiliate links, which means we might earn a small commission if you make a purchase. There is no extra cost to the reader. We only recommend products and services that we have personally used or have thoroughly researched.
Photos courtesy of the manufacturers
Click Here to Sign Up!