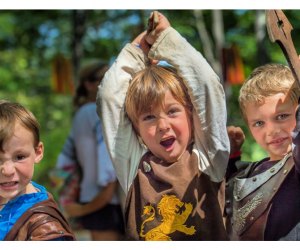 Labor Day Weekend Fun for Westchester Kids: Festivals, Corn Maze, Concerts
It's hard to believe Labor Day Weekend is already upon us (sniff, sniff). If you, too, are feeling a bit nostalgic about another summer gone by, don't start singing the blues just yet. There are lots of great ways for families to celebrate the unofficial end of summer in Westchester and the Hudson Valley.
The headline event is the return of CORNucopia, loaded with corn-y fun of assorted varieties; and, for alternatives to the customary barbecue, ways to honor Labor Day include the West Point Band's Labor Day Concert, replete with fireworks and a cannon firing. Soak up some of the summer's remaining outdoor concerts and films, including Worldfest, featuring the Viva Brazil Dancers. Families can also support a good cause and work off that summer ice cream at the Labor Day Race/Walk & Kids Fun Run, or browse the wares and meet the artisans at the annual Woodstock–New Paltz Art & Crafts Fair.
These are just a few of our top picks—read on for all this and more. Be sure to check out our Event Calendar for more fun activities, and follow us on Facebook! Have a fun Labor Day Weekend!