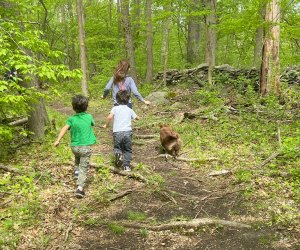 Ultimate Summer Staycation Planner for Westchester Kids: 50 Things to Do in Summer 2020
While summer 2020 is bound to look different than years past, Westchester and Hudson Valley families needn't sacrifice fun. As proof, we've rounded up 50 fun summer activities for kids throughout the region. With a little creativity, local families can still enjoy scrapbook-worthy summer activities without straying too far from home.
Below we've rounded tons of things to do with Westchester kids. Whether you're looking to get out of the house or host DIY camp in your backyard, we've got the goods—from drive-in theaters to Independence Day celebrations, backyard science experiments, and more summer fun.
If this jam-packed list isn't enough, we've got tons more seasonal fun in our Summer Fun Guide plus tons of resources in our Stay-at-Home Guide, and plenty of online classes and virtual camps on our Poppins@Home microsite.
Summer Activities for Kids to Celebrate the Fourth of July
1. While Fourth of July fireworks are not widely planned this year, the Palisades Credit Union Park, home of the New York Boulders, hosts drive-in fireworks displays on Friday, July 3 and Saturday, July 4. In Dutchess County, there are drive-thru fireworks displays planned in Wappingers Falls, Rhinebeck, and Amenia.
2. A scaled-back version of Milltown's annual Independence Day festivities is planned, with a slew of virtual events planned to mark the holiday.
3. For stay-at-home fun, grab an idea from our list of fireworks-free ways to celebrate the Fourth of July. You'll find recipes, craft ideas, and other ways to pay homage to the good ol' red, white, and blue.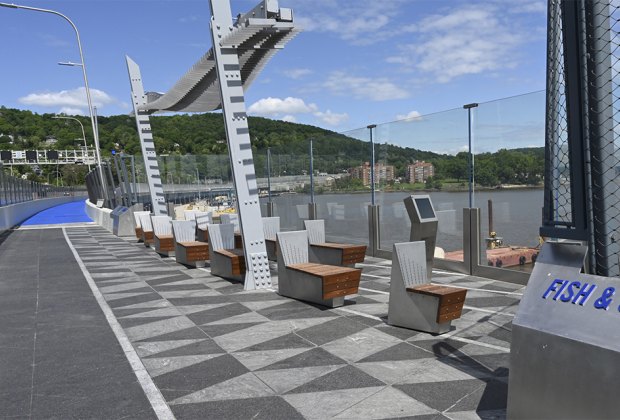 Enjoy 3.6-miles of shared bicycle and pedestrian paths on the Governor Mario M. Cuomo Bridge. Photo courtesy of the governor's office
Outdoor Entertainment and Things To Do for Westchester Families
4. Be one of the first people to traverse the brand-new bike and pedestrian path along the Mario M. Cuomo Bridge.
5. Everything old is new again at these longstanding drive-in movie theaters, which are reliving their heyday during the pandemic.
6. Catch a pop-up drive-in showing of Wonder Park at Kensico Dam on Friday, August 14.
7. While Playland will not open this year, theme parks in New Jersey are opening for your entertainment along with a slew of other attractions in the Garden State.
8. Caramoor has several lawn concerts planned for the season, and the garden setting alone is worth the visit.
9. Summer wouldn't be complete without at least one round of mini-golf, right?
10. Take your adventures to new heights as you navigate the treetop courses of Boundless Adventures.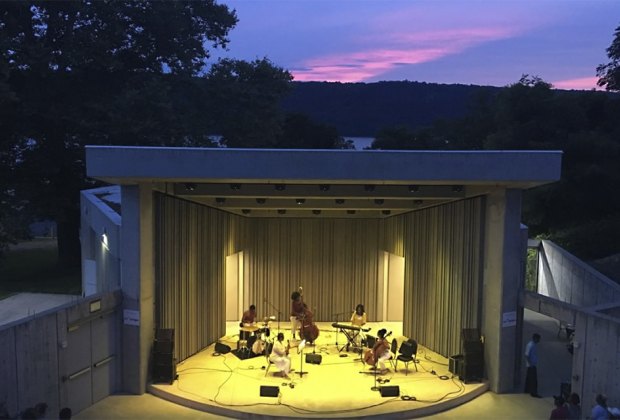 The Hudson River Museum Amphitheater is organizing a series of outdoor programs and performances, from live astronomy shows to concerts under the stars. Photo courtesy of the museum
11. The Hudson River Museum Amphitheater is currently planning to host its outdoor summer program of assorted entertainment with limited-capacity seating. While the lineup has not yet been announced, in years past, the program has featured dance, theater, and concerts. FREE
12. Grab your ride because Bicycle Sundays have been expanded into the summer, allowing more opportunities for cyclists, joggers, pedestrians, and scooters to take over the Bronx River Parkway.
13. Looking to cycle one of the other days of the week? Hit one of these Westchester bike paths.
14. Explore one of these family-friendly hikes.
15. Practice social distancing while getting away by sleeping in a tent at a local campground.
16. If that's too rustic, pretend like you're a summer camper with a visit to these family camps with cabin camping.
17. Dine alfresco at one of these kid-friendly restaurants.
18. Cool down with a scoop or shake from one of these Westchester ice-cream shops.
19. Dining isn't all that's alfresco these days. Grab a to-go kit from D.I.Y. Slime, and reserve an outdoor table to work your gooey magic!
RELATED: 100 Things To Do in New York State With Kids Before They Grow Up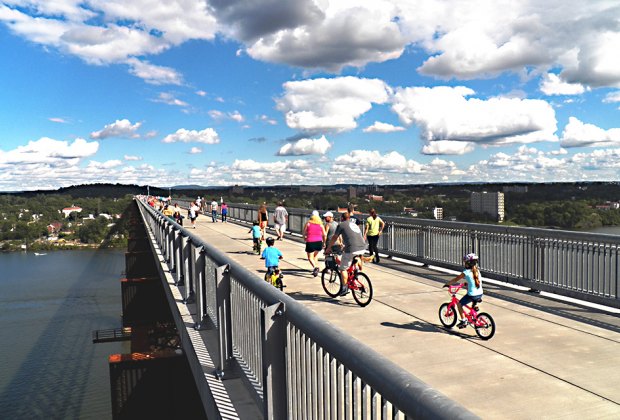 Walk or ride across the Walkway Over the Hudson. Photo by Fred Schaeffer
Summer Activities for Kids in Westchester's Parks and Gardens
20. Bike, skate, stroll, and explore these nearby New York State parks, which remain open. Our favorite is the Walkway Over The Hudson, a 1.28-mile-long pedestrian bridge hailed as the world's longest elevated park.
21. Book a guided tour of Untermyer Gardens. These small group-sessions last 90 minutes and run on weekends.
22. Bear Mountain State Park is a lovely day trip destination with plenty of trails and scenic views.
RELATED: Westchester County Parks and Playgrounds Guide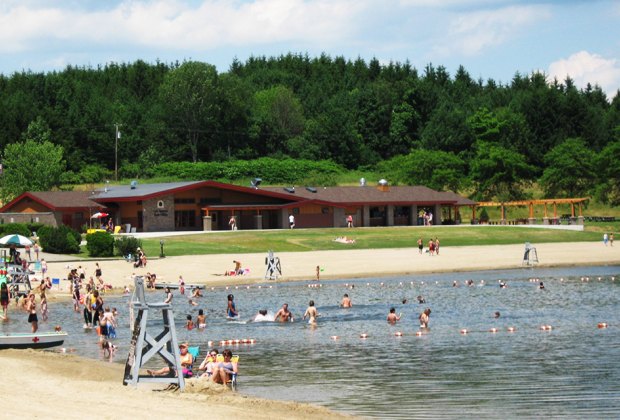 Lake Taghkanic offers swimming, a playground, a picnic area, and a concession stand. Photo courtesy of NY Parks
Things To Do With Westchester Kids to Beat the Heat
23. Cool off at one of these local spraygrounds.
24. Take a dip in a county swimming pool.
25. Or enjoy the great outdoors and swim in one of these local lakes.
26. You can also hit the shore in Westchester, or further afield in Long Island, NYC, or the Jersey Shore.
27. Whip up a refreshing summer popsicle with one of these recipes.
28. Hit the water in your own vessel with these local boat rentals.
RELATED: 64 Easy Science Experiments for Kids to Do at Home

Sign up now for Greenburgh Nature Center's Back to Nature series with topics ranging from beekeeping and birds of prey to night hikes and goat walks. Photo courtesy of the center
Summer Activities at Farms and Nature Centers in Westchester
29. Play farmer for a day and pick your own fruits and vegetables.
30. Attend Teatown's in-person Raptor Roundup on Sunday, July 12, and learn about these fascinating birds.
31. Take your family on a night hike, or enjoy another nature program at the Greenburgh Nature Center.
32. Sign your family up to be citizen scientists at home as part of Sheldrake Environmental Center's Backyard Bioblitz 2020, from July 12-18. FREE
RELATED: 5 Summer Cocktail Recipes With Matching Mocktails for Kids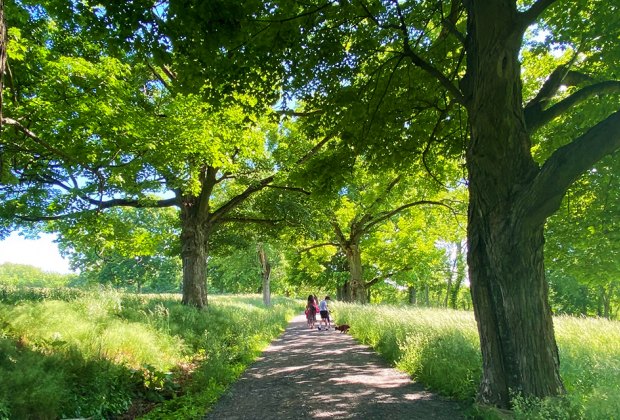 Rockefeller State Park Preserve offers miles of trails for long strolls. Photo by Sara M.
Summer Day Trips for Westchester Families
33. Pile in the car and try out this list of tri-state area day trips.
34. Work your way along the Hudson River as you conquer our list of what to do in the Rivertowns.
35. Another can't-miss day trip destination is New Paltz.
36. Pack up the family station wagon for a wild safari at Six Flags in New Jersey. You might even be able to score tickets to the theme park, which reopens for reservations on July 4.
37. Head to Long Island's eastern end to explore the Hamptons and the North Fork.
38. Pop into NYC for a day and explore some of our favorite playgrounds and spraygrounds.
39. If you really need to get away, consider one of these epic East Coast road trips.
RELATED: Best Summer Books for Kids: Age-by-Age Lists for Summer Reading

Backyards offer plenty of possibilities for summer fun. Photo by Rose Gordon Sala
Stay-at-Home Summer Activities for Westchester Families
40. If an IRL trip to a national park is out of the question this year, enjoy a virtual visit courtesy of California State University Northridge, which is taking viewers on live virtual tours.
41. Register your kid for a session of Apple Camp, which is entirely FREE and bound to sell out fast.
42. Explore this list of educational to-dos; don't worry, they're plenty of fun, too.
43. Put on your creative hat and craft one of these awesome artsy projects.
44. Attend summer camp from home with these virtual camp programs.
45. Beat the summer slide with our list of backyard science experiments for fun STEM enrichment.
46. Get in the kitchen and whip up one of these famous restaurant eats.
47. Suit up and cool down with these backyard water games.
48. Hop up-and-down or in the water with one of these bounce houses, kiddie pools, and more inflatable backyard fun.
49. Explore the virtual activities on our Poppins@Home microsite, which range from FREE dance lessons to language classes, birthday entertainers, and more.
50. Short on ideas? Need an emergency diversion? You can't go wrong with our list of 100 things to do at home with your kids!