50 Things We Can't Wait To Do This Summer With Westchester Kids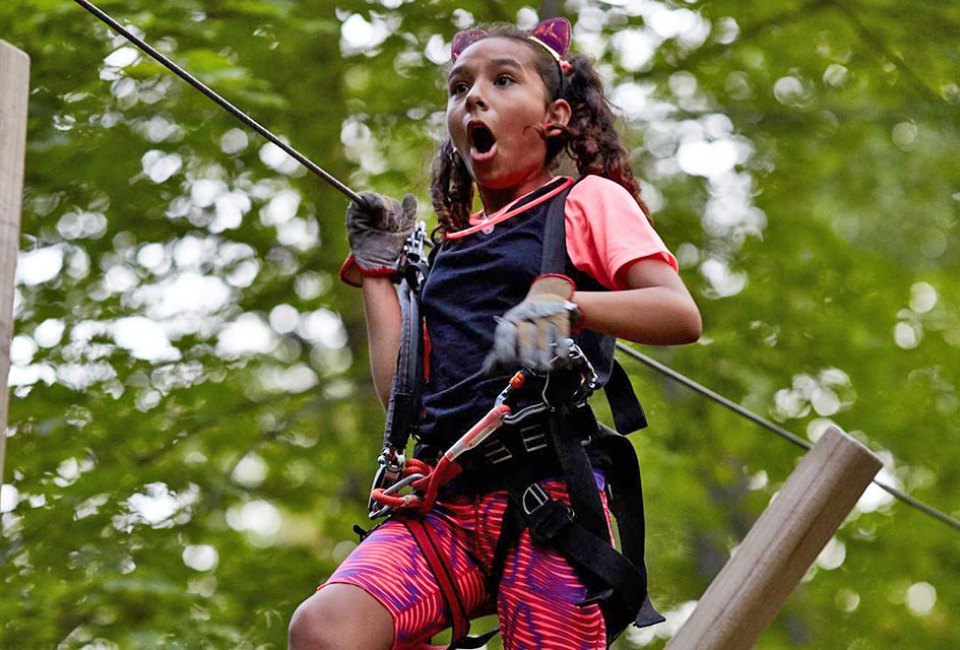 6/20/21
- By
Susan Miele
Summer 2021 is upon us, and it's going to be hopping. From outdoor adventures to special events, we've rounded up more than 50 fun things to do with kids in Westchester and the Hudson Valley. Bookmark this summer bucket list as a guide to planning scrapbook-worthy summer excursions.
If this jam-packed resource isn't enough, there's even more seasonal fun to choose from in our Summer Fun Guide and our Activity Calendar, which is constantly updated.
2. Tune in to a Drive-in Movie
Everything old is new again at these longstanding drive-in movie theaters, which are reliving their heyday thanks to the pandemic.
3. Pile on the Fun at Playland
Back in business for 2021, Playland Park offers sure-fire fun with carnival rides and games. This year, the season opens Saturday, June 26. Season passes are available.
4. Get Cultured
Take in a performance at Caramoor, where high-quality concerts take place in a bucolic setting—among them the Jazz Festival (developed with Jazz at Lincoln Center) and the American Roots Music Festival.
5. Tee Up
Choose your course (and a colorful ball) for a round of mini golf.
6. Climb a Tree
Take your adventures to new heights as you navigate the treetop courses at Boundless Adventures. Glow-in-the-dark sessions are one of the offerings.
RELATED: Splash Pads and Spraygrounds in Westchester and Hudson Valley

Hike or stroll through Rockefeller State Park. Photo by Sara Marentette
7. Take a Hike!
Embark on a family-friendly hike. We've found trails that are suited to all ages and fitness levels, and we've also found the best hikes for toddlers.

Take a family bike ride. Photo courtesy of the Westchester Polie Department
8. Take a Ride
Helmet up for a ride on Bicycle Sundays or one of these Westchester bike paths.
9. Rough It
Sleep under the stars at one of these local campgrounds.
10. Dine Out(doors)
Dine alfresco at one of these kid-friendly restaurants.

Ride High above the Hudson. Photo courtesy of Historic Hudson Valley
11. Get High (Above the Hudson River)
Bike, skate, or stroll the Mario M. Cuomo Bridge or Walkway Over The Hudson, a 1.28-mile-long pedestrian bridge considered the world's longest elevated park.
12. Climb a Mountain
Enjoy the views, visit the zoo, and more at Bear Mountain State Park.
RELATED: 35 Things To Do with Kids in the Hudson Valley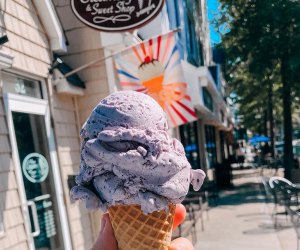 Grab a cone at the Village Ice Cream & Sweet Shop in Valhalla. Photo courtesy of the shop
13. Cool Down With a Cone
Savor the tastes of summer with a scoop or shake from one of our favorite Westchester ice cream shops.
14. Cool Off at a Sprayground
Drop by one of these local splash pads and spraygrounds. All are situated within parks that offer additional attractions.
15. Rent a Boat
Hit the water in your own vessel with these local boat rentals.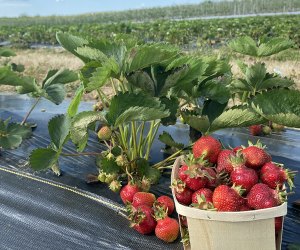 Get fresh berries at Fishkill Farms. Photo courtesy of the farm
16. Pick Your Own Produce
Play farmer for a day and pick your own fruits and vegetables.
17. See the Trucks
All aboard for Big Truck Day at the FASNY Museum of Firefighting—itself well worth a tour.
RELATED: Summer Fairs and Festivals in Westchester and the Hudson Valley in 2021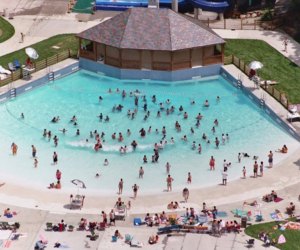 The zero-depth entry at Willson's Waves makes it a perfect pool for tots. Photo courtesy of Willson's Waves
18. Swim at a County Pool
Take a dip in a county swimming pool, most of which offer added attractions beyond the splash factor.
19. Take a Day Trip
Pile in the car and try out this list of day trips near NYC.
20. Explore the Rivertowns
Work your way along the Hudson River as you conquer our list of what to do in the Rivertowns. Both riverfront and downtown fun await along this slew of cute towns and villages.
21. Visit New Paltz
Spend the day in New Paltz, exploring parkland, farms, and quaint shops with a groovy vibe.
22. Splurge on Mohonk Mountain House
Whether going all-in on an overnight stay or purchasing a day pass, you'll find plenty of family fun at this elegantly rustic locale.
23. Put on Your Dancing Flip-Flops
Boogie on down to an outdoor summer concert.
24. Visit the New Legoland
Head to the newly opened, highly anticipated Legoland New York in the Hudson Valley.
RELATED: Best Beaches Near Westchester: Family Fun at the Shore

The Dinosaur Garden offers a short walk, fun dino sightings, and educational, easy-to-read signs. Photo by Marisa Iallonardo
25. Romp with the Dinosaurs in the Gardens
A visit to Lasdon Park affords both a stroll among the beautiful gardens and a chance to visit dinosaurs.
26. Get to Know Untermyer Park & Gardens
Roam the tranquil gardens or join one of the events at Untermyer Park & Gardens, like a family adventure tour, outdoor yoga, or story time.
27. Soak Up the Summer Fairs and Festivals
Feasting, rides, games, music, animals, and other joys are on the agenda at these summer fairs and festivals, including the 175th Dutchess County Fair and the amusing New York Renaissance Faire.
28. Get Creative
Let the mess be made somewhere other than your house at a drop-in art center!
29. Score a Strike
Head indoors for a day (or night) of family bowling.
30. Splash Up, Down, and All-Around
Suit up and spend a day (or more) at an area water theme park, including one right here in the Hudson Valley.
RELATED: 35 Classic Backyard Games for Kids to Play Outside This Summer

Spend a day at the beautiful Minnewaska State Park. Photo courtesy NYS Parks
31. Visit Minnewaska State Park
Can't make it to a national park? Enjoy swimming, hiking, picnicking, and more at Minnewaska State Park.
32. Play Indoors
Rain, rain…don't go away! We could always have fun (and burn off some steam) at one of these indoor play spaces.
33. Play a Summer Reading Game
Every year, Westchester libraries provide incentives for children (and adults) to keep reading throughout the summer with activities, prizes, giveaways, and more. Sign up to reap the benefits—both literary and fun!
34. Celebrate Free Comic Book Day
Participating comic book stores in Westchester join the annual Free Comic Book Day festivities.
35. Step Back in Time
Visit a historic village at Historic Huguenot Street or Museum Village.
RELATED: Best Swimming Pools for Families in Westchester and the Hudson Valley

Check out the marine life in the aquariums at the Marine Education Center. Photo by the author
36. PlayMarine Biologist
Get to know the Marine Education Center, which is FREE to visit and offers hands-on STEM programs in crabbing, seining, and more.
37. Visit a Castle
From Beacon or Newburgh, visit Bannerman Castle on Pollepel Island. Getting there by boat is half the fun!
38. Attend a Minor League Baseball Game
Root, root, root for a local minor league baseball team—whether the Hudson Valley Renegades or the New York Boulders.
39. See a Show
Catch the 2021 season of the Hudson Valley Shakespeare Festival, held under the tent on the grounds of Boscobel. After this year, the company changes venues.
RELATED: Top Swimming Lakes and Rivers Ready to Welcome Westchester Families in 2021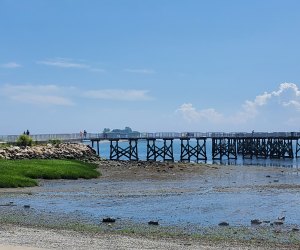 Explore Calf Pasture Beach or one of Westchester's beaches. Photo by Marisa Iallonardo
40. Catch Some Rays
Bask in the sun, play in the sand, and splash in the water at one of Westchester's area beaches.
41. Try a Different Playground
Make a checklist of these destination playgrounds and visit them all.
42. Look to the Stars
Time your visit to the Hudson River Museum to catch the Outdoor Science and Astro Show.
43. Be a Citizen Scientist
In honor of National Pollinator Week, join a FREE bioblitz to study the natural world.
RELATED: Amusement Park and Water Park Discounts: How to Score Ticket Deals at Theme Parks Near NYC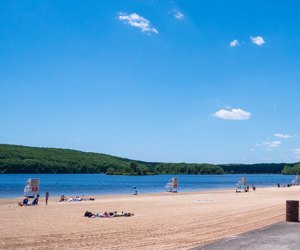 Lake Welch is the larger of the two public beaches in Harriman State Park. Photo courtesy of the park
44. Jump in a Lake!
Enjoy the great outdoors and swim in one of these local lakes.
45. Explore the Nature Center
Visit the frog pond, play in the nature-themed playground, visit the outdoor animal exhibits, and more at the Greenburgh Nature Center.
46. Celebrate a Grand Reopening
Mark your calendars for the much-anticipated reopening of the Westchester Children's Museum, where indoor play and exploration resumes.
47. Check Out Cool Vehicles
Gawk at more than 300 stylish cars from various eras at this car show on the grounds of Locust Grove Estate.
RELATED: Best Water Theme Parks Near NYC for Families in 2021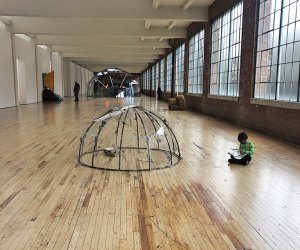 Dia Beacon offers more than 240,000-square-feet of light-drenched gallery space for its larger-than-life masterpieces. Photo by Diana Kim
48. Roam a Quaint Town
Spend the day in Beacon, exploring shops, restaurants, and the Dia Beacon gallery.
49. Explore Outdoor Art
We've found various outdoor art exhibits worthy of a dedicated visit in the Hudson Valley and beyond.
50. Head to the City
Looking for more? Summer is the season of FREE in NYC, and we've found 100 free things to do within the five boroughs!
This post has been updated for 2021.