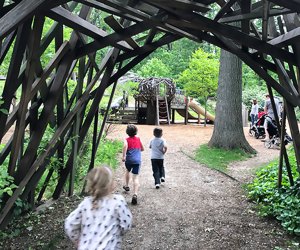 Scarsdale With Kids: 20 Family-Friendly Things To Do
The Village of Scarsdale is located in lower Westchester County, surrounded by Eastchester, Hartsdale, and Mamaroneck. Easily accessible via the Bronx and Hutchinson River Parkways, as well as a Metro-North Harlem Line, it's known for its affluence and excellent public school system, making it a highly desirable neighborhood for families.
Its amenities don't disappoint. From sweet shops to family-friendly outdoor eats, and great parks and playgrounds to explore, we've rounded up 20 of our favorite haunts in this Westchester enclave.
Subscribe to our newsletters to get stories like this delivered directly to your inbox.
1. Visit The Golden Horseshoe
Located on the Scarsdale/New Rochelle border, this shopping center is a favorite hangout for local teens. Designed in the Tudor-type architecture of the Village of Scarsdale, the center features a wide range of shops and restaurants.
OUR LATEST VIDEOS
2. Grab a Sweet Treat at Martine's Fine Bake Shoppe
There are plenty of freshly baked goods for sweet tooths of all ages at Martine's Fine Bake Shoppe, but locals know there's also a nice breakfast and lunch menu stocked with delicious soups, salads, sandwiches, quiche, and more.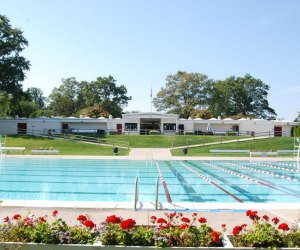 Spend a day at the Scarsdale Municipal Pool Complex.
3. Go for a Dip
With summer upon us, now is the time for your family to cool down at the Scarsdale Municipal Pool Complex. And if one of your kids is having a birthday party, treat them to a 90-minute pool party, complete with games, activities, special T-shirts, and, of course, lots of swimming.
4. See the Trains Cruise By
If your kids are anything like mine, they'll be thrilled to go train-spotting from the upper level of the beautiful Scarsdale Train Station, built in 1904 in the Tudor Revival style.
5. Enjoy Pizza and Brew
A venerable family favorite, Pizza and Brew has been serving classic Italian favorites for more than 40 years. New additions include an oversized garden sidewalk patio for outdoor dining and family-style portions to satisfy everyone's appetite.
6. Visit the Greenburgh Nature Center
Explore the wonders of nature at the Greenburgh Nature Center, where you and your kids can enjoy forest trails, organic gardens, a barnyard, live animals, a Native American Replica Village, and more. Inside the Manor House, see more live animals, a greenhouse, and other related exhibits.
RELATED: Top Playgrounds in Westchester and the Hudson Valley

Meet some of the 40 resident animals at the Weinberg Nature Center.
7. Host a Nature Party
Host an animal-themed birthday party at the Weinberg Nature Center, where your kids can experience more than 40 animals, from cuddly chinchillas and rabbits to scary snakes and tarantulas.
8. Visit the Scoop Shop
Treat your kids to frozen yogurt and ice cream with candy and other assorted toppings at the Scoop Shop. If you're planning a party, it also offers personalized gift items, clothing, water bottles, bags, and more.
9. Catch a Ride at Boulder Brook Equestrian Center
This full-service riding facility offers a wide range of services and a unique lesson program tailored to meet each individual rider's needs.
10. Unleash Your Little Dancer at Central Park Dance
Let your little dancer try a FREE trial class at this studio, where classes are available in a wide range of dance styles, including jazz, ballet, hip hop, tap, and more.
11. Visit the Scarsdale Public Library
In addition to books, your kids can enjoy take-and-make crafts, concerts for kids, and a teen room where kids can study, play games, or just hang out at the Scarsdale Public Library. When they work up an appetite, enjoy a snack at the Apiary Cafe.
RELATED: Mamaroneck's Marine Education Center: STEM Fun on the Long Island Sound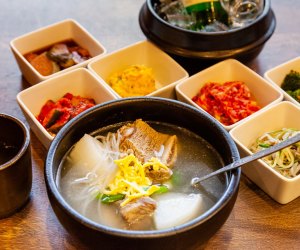 Try a delicious bowl with fresh flavors at Yeomiji Korean BBQ.
12. Grab a Meal at Yeomiji Korean BBQ
Tired of the same old restaurant and takeout fare? Treat your family to something new and delicious at Yeomiji Korean BBQ. Enjoy authentic dishes like bibimbap, a rice bowl topped with beef or fish, veggies, and an egg, sunny side up. Kid-friendly picks include wings, dumplings, and Korean tacos.
13. Enroll in Lessons at the Crestwood Music Education Center
Foster your child's musical abilities at the Crestwood Music Education Center, which offers private and group lessons in a wide range of musical styles, including orchestra, chamber, and jazz for all instruments. Music lovers ages 3+ are welcome no matter their experience.
14. Take up Tae Kwon Do
Give your child a positive outlet for their energy at Achieve Martial Arts. Here kids ages 3 years and up can learn Tae Kwon Do and other disciplines in classes organized by age.
15. Get Outfitted at Denny's Kids
Find your kid's wardrobe for back to school or any other season at Denny's Kids. While you're there, shop for toys, home goods, cosmetics, and more.
RELATED: Moving Guide for Westchester Families

Fill a bag with sweet treats at Imagine Candy.
16. Set Kids Loose at Imagine Candy
You won't need an excuse to stop by this shop to enjoy artisan chocolates, truffles, and fun confections. It also hosts chocolate-themed children's birthday parties, corporate events, and even cocktail parties with wine and chocolate tastings.
17. Get in the Game With Kids in Sports
Children from 12 months-12 years can get their game on with classes at Kids in Sports. In addition to athletics, kids enhance their health, fitness, life, and socialization skills.
18. Spoil 'em at Learning Express
Kids flip for a visit to Learning Express, a real, old-fashioned neighborhood toy store. Bring the kids in to browse, watch product demos, and engage in some "hands-on" play.
19. Stage a Spa Day
Treat your little ones to a mani/pedi at Nu Mint Nail & Spa, which features nail packages for children of all ages. While there, don't forget to pamper yourself with its wide range of spa services.
20. Explore Corell Park
There are two playgrounds for your kids at Corell Park, one for smaller children and one for older children. There's also a basketball court and a small ball field.
Photos courtesy of the venues