A Dozen New Dessert Spots for Westchester Families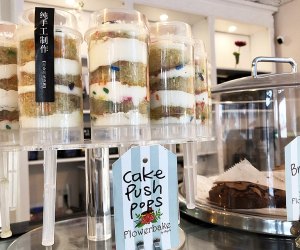 8/12/18
- By
Susan Miele
Sweet news: a host of new sweet spots have opened in Westchester recently, and we've rounded them up below. (We also conducted a few taste tests—strictly in the interest of research, of course.)
Our list includes several new ice-cream parlors, three spots for trendy Thai rolled ice cream, and a few eateries offering acai bowls, juices, and smoothies. There's also new fro-yo, as well as a new bakery that hosts classes and parties.
Read on to get the skinny on these dessert destinations—and be sure you're signed up for our newsletter and following us on Facebook to stay in the know about news (and more) of interest to Westchester families!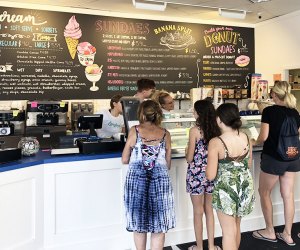 Longford's Ice Cream has an extensive and inventive menu.
Traditional Ice Cream and Frozen Yogurt
Longford's Ice Cream – Larchmont
This corner scoop shop on Palmer Avenue has returned for a second run, after closing in 2008. A second location has long been a mainstay in Rye. The shop carries its own brand, with an extensive selection of flavors and traditional frozen drinks and sundaes. But it's the inventiveness that raises eyebrows: build-your-own donut sundaes; the Cake Batter Dip (ice cream dipped in a cake-batter topping); Oreo sugar cones; and Cookie Monster ice cream (prepare for a blue tongue). Frozen yogurt, waffle sundaes, and crepes are also available. Pair a visit here with a trip to The Voracious Reader, the children's bookstore down the block.
Mikey Dubb's Frozen Custard – New Rochelle
Located next door to Deanna's Pizzeria in Quaker Ridge, Mikey Dubb's offers a menu featuring triple-scoop sundaes, shakes, malts, floats, freezes, and Boylan soda. The Concrete is a blended concoction that combines frozen custard with toppings of your choice—essentially a melded sundae. Vegan frozen custard is available. Ices are also a fixture here—served "straight up" or "layered up" with custard.
RELATED: The Best Local Ice Cream Shops in Westchester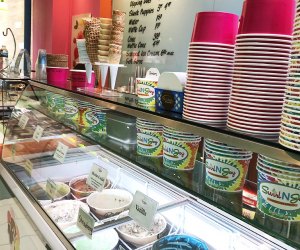 Tuckahoe-based Swirl and Joy recently opened a second location in Scarsdale.
Swirl N Joy – Scarsdale
The fro-yo shop that has been a popular spot in Tuckahoe, has opened a second location on Garth Road in Scarsdale. This replaces Go Greenly, which also offered self-serve frozen yogurt. The Scarsdale location is smaller than the Tuckahoe site and offers fewer flavors, but there's also hard ice cream and candy available. Be sure to request a loyalty card.
Scoop Shop – Scarsdale
Located in the Golden Horseshoe shopping center, the Scoop Shop offers ice cream, candy, and self-serve frozen yogurt. On the menu are 16 flavors of A La Mode ice cream, which is devoid of egg, sesame, and nuts. Additional flavors are reported to be on their way.
Coming soon! Chef Nick DiBona's Bona Bona Ice Cream is due to open in Port Chester around late August. The shop will be a dessert restaurant with an ever-changing collection of homemade ice creams. We can't wait to try the milkshake bar, perhaps with Rainbow Cookie ice cream or Nutella Smores. A party room called "The Sprinkle Room," outdoor seating, and adult beverages will add to the perks.
RELATED: Best Places for Frozen Yogurt with Kids in Lower Westchester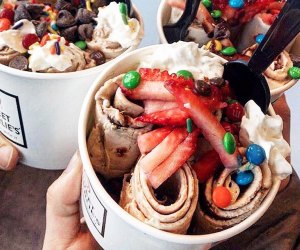 Sweet Chalie's Thai rolled ice cream is a masterpiece! Photo courtesy of the shop
Thai Rolled Ice Cream
The latest dessert craze is Thai rolled ice cream, which has been sprouting up in other cities but has now worked its way to Westchester at Sweet Charlie's in Mamaroneck, I-CE-NY in The Galleria Mall in White Plains, and at YUM Ice Cream inside New Rochelle's New Roc City (where kids can also enjoy bowling, an arcade, laser tag, and other fun). Whereas traditional ice cream requires churning and hours in the freezer, this confection is made for each customer in a few minutes. Choose a base (the basic flavor) and add-ins, and watch as your server pours this onto a sub-zero metal plate and rapidly chops away. This solidifies in a thin sheet and is then sliced and rolled, with several upturned spirals making their way into a cup. The process itself is fun to watch (and a good workout for the server!). While the offerings at each shop are similar, YUM Ice Cream also serves Bubble Tea; I-CE-NY is known for its Mango Sticky RI-CE; and Sweet Charlie's puts us over the edge with its "Tall Charlie"—served hot-dog style, with rolls of ice cream on a split-open donut bun. Heads-up: Sweet Charlie's doesn't open till 1pm on weekends and 1:30pm on weekdays.
RELATED: 15 Kid-Friendly Restaurants in Westchester with Outdoor Dining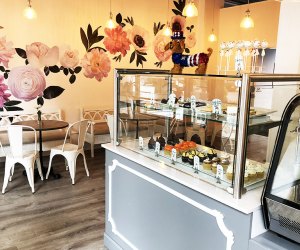 Flowerbake by Angela is a sweet little shop with tasty treats and coffee.
Bakery
Flowerbake by Angela – Pelham
Beyond a traditional storefront bakery, Flowerbake offers culinary experiences, with classes, camps, and parties all available in its brightly decorated shop. While the selection of baked goods is on the small side, each cupcake, brownie, and cake truffle is high-quality and artfully made. On my next visit, I'll try the cookies-n-cream cake bar and a cake push-pop. Custom cakes are showcase-style, and a well-populated cake gallery presents unicorn and other designs for kids' birthday parties and other occasions. Some seating is available inside and out, as are coffee beverages for the adults.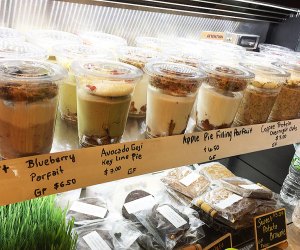 Root and Vine serves up healthy desserts.
Bowls, Juices, and Smoothies
Even if you haven't yet mastered the pronunciation of acai, you've probably noticed the burgeoning popularity of this superfood . Three newly opened shops serve acai bowls, along with fresh-pressed juices, oatmeal bowls, and the like: In Bronxville, both Playa Bowls and Root & Vine Juice Bar opened recently. The latter also serves assorted baked goods and desserts with a healthy edge, such as chia pudding and chocolate-avocado cookies. In Scarsdale, Bango Bowls (which also serves savory poke bowls) has similar fare, with bowls and drinks.
Closed
We've also learned that Sugar Mama by Kim, whose opening we announced in 2015, has closed its Larchmont storefront; however, custom designer cookie orders are still available. The Chester Heights Bakery, a staple in Eastchester for decades, has also closed.
Unless noted, photos by the author.