How To Get Toddlers To Play By Themselves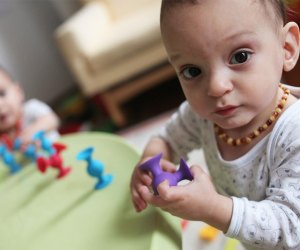 6/1/20
- By
Rosalind Muggeridge
It may be the holy grail of parenthood: Your toddler playing alone on the rug while you work on your laptop, chat with a friend, or just sip coffee. If you have a little one at home, you know what a dream this is (emphasis on the word "dream"). Getting kids to play independently is important for your sanity and for their development too. YOu can encourage toddlers to learn to play on their own. By developing the skills needed for independent play, they'll be able to access those skills throughout the day.
We polled parents, caught up with some of our favorite pediatric blogs, and came away with these seven tried-and-true ways to encourage toddlers to play independently. Our Big List To Keep Kids Busy While Mom and Dad Work and 30+ Toddler Activities to Keep Little Ones Busy (and Happy) at Home are full of more ideas for keeping kids busy while you are, too.
1. Don't ask toddlers to play "by themselves."
This is a trap I have fallen into many times, even though I know that it rarely has the desired effect. Kids have a way of sliding into solo play in their own way, and being reminded that it's "by themselves" can backfire. (It's not even entirely accurate, as it's important for safety's sake that parents are nearby when young children are playing "alone.") Set toddlers up for success with the tips below and let the independent play unfold.

Start with 5 minutes or so of solo play and gradually increase time from there. Photo by Mommy Poppins
2. Can toddlers play alone? Yes, but start small.
Rome wasn't built in a day and neither is a toddler's capacity to play by herself. Even though five minutes may seem like no time at all, it's a great place to set your initial expectations. Parent and pediatrician consensus is that toddlers may need to stick to five-minute windows for a while before they need support; older children may be able to extend their quiet time more quickly.
"If your child hasn't had much opportunity to play independently, this will be a gradual transition," Laura Markham, Ph.D., explains in a Psychology Today blog post about independent play. "Over time, you'll notice that your child no longer needs you to play deeply, because she's her own play muse."

Keep toys in bins for easy rotation.
3. Rotate toddlers' toys every couple weeks.
Notice how kids' eyes light up when they enter nursery school or a friend's house and see an array of new playthings? "Strewing" is a trendy term that child psychologists use to describe the art of placing toys in an interesting way about a space to attract children's attention. But it's not all about having the latest and most expensive toys. Put your wallet away and get creative with what you have.
First, make sure all your toys aren't all out and available for play. If possible, find a hidden area in your house to box up some of your toys. Every couple weeks or whenever you feel a child's interest is waning, pull some toys out from storage and replace them with the toys that are currently in the play area. Next, set up some suggested areas of open play like wooden blocks, magnetic tiles, a few cardboard boxes, or some small tactile bins with things like marbles, kinetic sand, or dried beans. Throw in some scoopers or small jars and see what happens. If you have any outdoor space, filling some containers with water and some cups and ladles is a surefire way to catch toddlers interest. If possible, embrace the mess!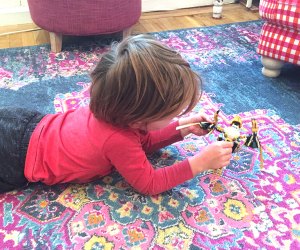 Consistency is key.
4. Set and encourage independent playtime routines.
Consider where your child's quiet time will happen each day. Ideally, you should pick a spot and stick to it. It can be in the living room, in his bedroom, or wherever there is space for him to spread out and get creative. Also, try to stick to the same time every day and set a timer (for your own reference), starting with five minutes and getting longer over time. The more consistency you can bring to this time, the better.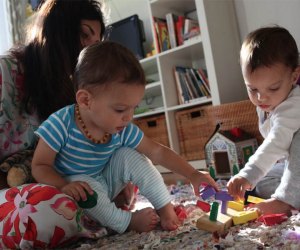 Set aside some uninterrupted playtime. Photo by Sara Marentette
5. Schedule time when you are playing with your toddler—and stick to it.
I find this step to be key! Carve out at least 15 minutes each day that's dedicated to uninterrupted play time with your little one. Put your phone away, get down on the floor, let the child choose the game, and explain that this is your special time together. I know this sounds like a no-brainer, but it can actually be a struggle for me, especially when it comes to any kind of imaginative play. Sometimes it also works to start playing a game with children and then slowly back out to let them continue on their own.
6. Try not to interrupt a great solo play session.
As much as we want our kids to play by themselves, it's tempting to rush in to help when a child is frustrated with a toy or to simply offer praise or commentary on her game. Try to resist the impulse! Studies by researchers at the University of Missouri show that children whose moms are prone to interfering with and interrupting their solo play become less engaged when playing alone over time.
7. Be patient when toddlers cling.
I know, it's one of those general pieces of advice like "don't get stressed" that can be maddening to read, but there will inevitably be good and bad days along the road to independent play. If your child feels like there is palpable pressure on him to "complete" his quiet time for a set amount of time every day, it may hamper all the effort you've been making to encourage him. Offer positive feedback when he nails it, but when he's struggling, pull the plug on playing alone for that day and start again fresh the next day.
"There are times when toddlers still need to cling, some more than others," famed pediatrician Bill Sears, M.D., reminds us in his Ask Dr. Sears blog. "Refuel his connectedness 'tank' with some time together, and he'll be off on his own again soon."
Unless noted, photos by the author