Working From Home with Kids: A Big List of Activities To Keep Kids Busy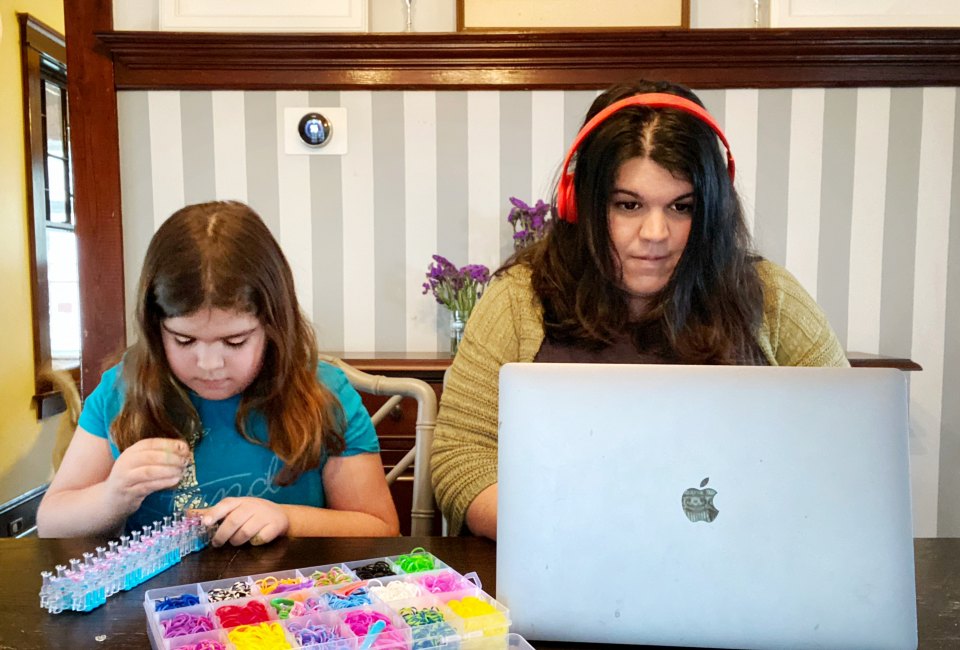 3/29/20
- By
Ally Noel
Almost overnight, many parents have begun working from home due to the COVID-19 pandemic. Juggling the challenges of keeping our families' homeschool education on track while maintaining our work schedule from home is not an easy task.
The Mommy Poppins team are seasoned WFH pros. With a handy set of noise-canceling headphones, we can work in almost any situation. When the sign on the door that states "Working:Do Not Enter" stops ...well... working, this list of independent play activities should keep everyone engaged and entertained. Some of these activities require a little bit of set-up depending on your child's age. Take one tip from this pro: save screen time for the end of the day. It's the perfect activity to wrap up your workday or respond to a few last emails.
Activities for Kids While Working From Home
1. Build a Fort
Grab some chip clips, a sheet, a few chairs, some sofa cushions, and whatever else you can think of to encourage your children to build the most epic fort of all time.​ See if they have what it take to survive a few hours in the wilderness of your living room.
2. Make a Paper Chain
Ask your child, "How long can you make your chain before mommy gets off her call?"
3. Rainbow Loom
For around $10, this toy can entertain kids for hours. Learn new patterns by watching instructional videos on YouTube (with headphones of course!).
4. Learn to Code
Learn how to think like a programmer while completing online modules on various free coding websites.
RELATED: 20+ (Mostly Free) Online Learning Resources, Apps, and Games

Photo by Ally Noel
5. Sidewalk Chalk
Set-up painters tape to create an abstract design on the ground and let your kids color each section a different color. When they are finished, remove the tape and reveal a wonderful work of art.
6. Play With Slime
Making slime may require parent supervision, but playing with it invokes a self-soothing, autonomous sensory meridian response—or ASMR as the "slimers" say.
7. Tutoring and Homework Help
How about setting them up with some free tutoring or homework help from Columbia University students at Hearts over Hands?
8. Puzzles
Puzzles are the perfect distraction for kids of about any age. Older kids can challenge themselves to assemble more complicated 1,000 piece designs.
9. Science Report
Set up a few simple science experiments like the "walking rainbow" and "coffee filter chromatology," and maybe even have your scientist write a report on mixing colors.
10. Magnet Tiles
Magnetic tiles let kids build in different ways from traditional building blocks. Set some out and let imaginations run wild.
11. Snapology Playdate
Gather some friends together (remotely, of course) for a STEAM-based session of learning through LEGO play, by setting up one of Snapology's virtual playdates.
12. Bubbles
Set up a large bucket of bubble solution with a few different bubble blowers, and let the fun begin! Bubbledad has tips for making the best bubble solution.
13. Solitaire
Forget the screen version; teach your kids to play in real life with a deck of actual cards. This game is a time-tested boredom buster.
14. Build a Tall Tower
Set up a simple building challenge with a variety of materials (cardboard boxes, LEGOS or Duplos, blocks, paper towel tubes, etc…) and watch how high the tower gets. Maybe even choose a picture of a familiar building to try to recreate.
15. Yoga Class
Introduce kids to the joys of yoga in a free virtual Growga class, or YogiKids live interactive yoga class.
16. Pipe Cleaners
Even the littlest of fingers can tinker with pipe cleaners. Work on those fine motor skills while constructing bracelets or buildings.
17. Sugar Cube Buildings
Engineer intricate structures like houses or Sugar Cube Igloos .
18. Coloring
Whether it's coloring books, coloring sheets, or blank paper, coloring is a go-to classic for a reason.
19. Q-Tip Painting
Independently create stunning works of pointillist style art using a little paint and the tip of a cotton swab.
20. Teddy Bear Tea Party
Perfect for a lunch meeting! Pre-make some tea sandwiches, cookies, and other special treats and let your child invite all his fuzzy friends for a teddy bear tea party.
RELATED: Best Virtual Events, Classes, Concerts, and Storytimes To Stream from Home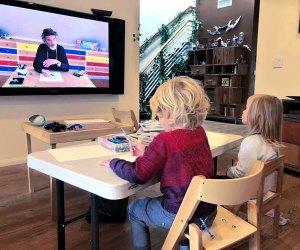 Photo by Amy Boyle
21. Doodle with Mo Willems
Every day, celebrated children's author, Mo Willems has been hosting Lunch Doodle with Mo Willems. Let them read one of his books, then set kids up with a doodle pad and watch them learn to draw.
22. Watch a Documentary
Not all screen time is created equal: Netflix, Disney+, and Prime are loaded with tons of educational documentaries from penguins to Paris.
23. Finger Crocheting
Once you master finger crocheting, pick a project and crochet the day away.
24. Paper Airplanes
A few simple folds in a sheet of white paper can provide endless fun. Watch a few YouTube videos to get inspiration beyond the obvious.
25. Learn Spanish with 123 Andres
This Latin American Grammy-winning duo is offering free concerts that help little kids learn in Spanish and English.
26. Origami
YouTube origami tutorials are the perfect way to learn the gratifying Japanese art of paper folding.
27. Playdough
Playdough is good for long periods of open-ended play. You can easily extend this activity using playdough tools like rollers and cookie cutters.
28. Invisible Ink
Set them up to watch this quick video and then let them write each other secret messages in invisible ink. It could even be the start of a mysterious Easter egg hunt!
29. Baking Soda Science
A little baking soda, vinegar, and food coloring can open up a world of fun to tiny scientists. With a little bit of prep you can set up this station to play and explore while you get your work done.
30. Busy Books
Busy books are usually geared for toddlers. The felt pages can entertain young kids with simple learning activities. Learn how to make one of your own.
31.Sensory Bin
Typically, sensory bins are plastic containers filled with a variety of materials and are great at keeping pre-schoolers occupied for long periods of time. Get some inspiration to get the ball rolling.
32. Beading
A big bin filled with a variety of beads encourages kids to get creative. Beading is an activity that kids can do independently once they're past the choking hazard age.
33. FaceTime Grandma
Like a virtual babysitter, pre-arrange a FaceTime hangout with Grandma, Grandpa, an aunt, or even a friend.
34. Cardboard Box City
Take all those delivery boxes that have been piling up and build a cardboard box city. A pair of scissors, some tape, and a little paint can make this project last all day.
35. LEGO Challenge
Watch an episode of LEGO Masters on Hulu, then conduct your own brick building challenge.
36. Contact Paper Collage
A sheet of sticky paper is one of our favorite open-ended art projects. Find out how to set one up, and watch the creativity kick in.
37. Stickers Activities
Set up a couple of sticker activities from Busy Toddler.
38. Water Play
As the weather gets warmer, take your work outside and set up a water play station for kids. A simple bucket filled with sponges and containers will keep toddlers entertained for a while.
39. Watch a Show or Movie
There's nothing wrong with buying some work time with TV or a movie—but make it something good! Check out some of our favorite shows to stream right now.
40. Listen to a Podcast
Grab a pair of headphones and check out one of our favorite podcasts.
41. Rest
Yes, rest. Learning how to relax your body for 20-30 minute stretches is an important skill. Use guided meditation podcasts to encourage your little one to chill. Our family's favorite is Ahway Island.