Sunnyside & Woodside Family-Friendly Restaurants: Awesome International Eats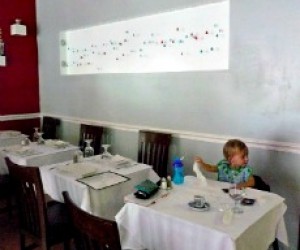 One of the things I love most about living on the border of Sunnyside and Woodside is that we have an incredible variety of restaurants dishing out cuisine from all over the world. In fact, some of Queens' top family-friendly eateries happen to be in Sunny/Wood.

While we certainly have spots serving standard kid pleasers like pizza and burgers, this area of Queens is well known for its ethnic eats. When rounding up my family's favorite spots, I was impressed anew by all of our choices: Turkish, Thai, Mexican, Filipino, Romanian, New American and a slew of kid-friendly Irish pubs. We finish up our month-long focus on Sunnyside and Woodside with a list of my family's go-to local restaurants. Our area has so many wonderful kid-friendly eateries, it was tough to pare down the post to 13!
Turkish Grill
42-03 Queens Boulevard at 42nd Street
After being remodeled a few years back, this Turkish spot looks like a swanky Manhattan restaurant! But don't let that deter you: The staff is super friendly and happy to accommodate kids. The lunch special is tasty and a great deal. If you want to go traditional, ask for bulgar instead of rice with your dish. The soups, salads and spiced meats are all delicious, and you can never go wrong with a plate of cold appetizers like babaganush, humus and tabuleh to share.

Salt & Fat
41-16 Queens Boulevard between 41st and 42nd Streets
While you might not automatically think of this upscale New American restaurant as kid-friendly, Salt & Fat has an eclectic, tapas-style dinner menu, so you can get different things to share. I highly recommend the Korean BBQ wraps, BLT Buns and the Yellowtail tartare. Save room for the exotic desserts like lychee panna cotta with yuzu buttermilk sorbet.

Romanian Garden
43-06 43rd Avenue near 61st Street
Enjoy traditional Romanian home cooking like eggplant salad and smoked sausage at this casual spot. In nice weather you can grab an outdoor table right in front of the restaurant on wide 43rd Avenue.

The Dog and Duck
45-20 Skillman Avenue at 46th Street
You'll find excellent brunch, bar and kids' menus at this family-friendly Irish gastropub. The offerings for children are pretty standard: burgers, chicken fingers and grilled cheese. Better to expand their culinary horizons with pork bangers and scallion mash, carrot ginger soup and moules frites. There's a nice backyard and sidewalk tables, plus live Irish music on some evenings.

WilliamsBurger
36-17 Greenpoint Avenue between 36th and 37th Streets
A recent addition to the neighborhood, this mini chain originated in Williamsburg, Brooklyn. The Sunnyside outpost is a bit out of the way by the entrance to the LIE. But that hasn't stopped locals from flocking to the spot for fabulous burgers, shakes and wings.

Sunnyside Pizza
40-01 Queens Boulevard between 40th and 41st Streets
This pizzeria makes several specialty pies that are to die for, all with its signature sesame seed crust. My family loves the chicken Parmesan, the spicy buffalo chicken and veggie. The place is tiny with just one table for two, a few stools and standing areas. Best to get your meal to go and eat in a nearby park: Lou Lodati Playground and Lance Corporal Thomas P. Noonan Jr. Playground are both a few blocks away.

SriPraPhai
64-13 39th Avenue between 64th and 65th Streets
One of the best Thai restaurants in NYC, hands-down. We're big fans of the mango salad with chicken, squid and shrimp, and all of the curries. There are wonderful vegetarian options here, and a lovely garden out back. The staff even doles out small portions and plastic utensils for young children.

De Mole
45-02 48th Avenue at 45th Street
This Mexican spot has been so successful, the owners opened a second location in Astoria. In addition to standard ethnic fare like enchiladas, tacos and burritos, you'll find less well known traditional dishes like quesadillas de huitlacoche (mushrooms that grow on corn) and quesadillas de flor de calabaza (squash blossom flowers).

La Flor
53-02 Roosevelt Avenue at 53rd Street
Mexican, French and Italian fusion, La Flor is best at breakfast, which is served until 2pm on weekdays. Try bourbon vanilla French toast or scrambled tostada with refried beans and string cheese. On the weekends, brunch comes with champagne and mimosas. The desserts are also excellent.
I Love Paraguay
43-16 Greenpoint Avenue between 43rd and 44th Streets
Enjoy fabulous Paraguayan eats at this homey bakery. There's a huge selection of meat, cheese and veggie-filled empanadas—baked, fried and even yucca dough—perfect for little hands, as well as soups, burgers and fries for less adventurous eaters. My kids and I have had many a lunch date here, all successful.
Suki Thai Shabu
60-15 Woodside Avenue between Roosevelt Avenue and 61st Street
This small hip restaurant has built-in cookers at the tables so diners can prepare their own soup. Choose the build-your-own soup option and select one of three broths, meat or fish, and veggies. Kids dig picking the ingredients and doing the cooking, just like a grown-up. There's also a sauce bar so you can add all kinds of exotic flavors. Not into soup? No problem: There's also a standard Thai menu of rice and noodle dishes, plus a wide selection of bubble teas.
Krystal's Cafe & Pastry Shop
69-02 Roosevelt Avenue at 69th Street
Sample delicious traditional Filipino dishes at this bakery/restaurant. Pancit (rice noodles with veggies and choice of meat) and chicken adobo served with rice are my family's go-to choices. Since the second floor dining area is spacious and offers karaoke for all ages, it's a great place for groups or special celebrations. The crowd is always friendly and cheers others on. People sing in groups, alone and in different languages, too. There is no cover charge for karaoke so just head upstairs, get a table and order yummy appetizers like lupiangs (spring rolls).

Fresca La Crêpe
39-82 61st Street near Queens Boulevard
Enjoy sweet and savory crepes in this cozy spot. The owner is friendly and displays artwork from her youngest customers on the walls. The S'mores Crepe is out of this world.


Read all of our posts about exploring Sunnyside & Woodside with kids.