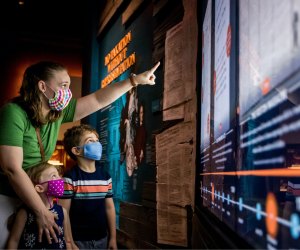 Virus Restrictions Eased: Here's What You Can Do in Philly Indoors Right Now
Mitigation efforts to fight COVID-19 were put into place throughout Pennsylvania in mid-December, closing indoor locations including museums. Most of those restrictions now have been lifted and our favorite spots are beginning to reopen.
Mommy Poppins Philadelphia has rounded up some locations that are open or plan to open soon. Because restrictions and policies change quickly, be sure to check directly with each venue before visiting. Guests still must wear masks and maintain social distancing at all locations. Many offer timed tickets that must be purchased in advance. So find your masks, grab some hand sanitizer, and explore our list.
Please keep your family and others safe by wearing masks and maintaining social distancing measures. If an event appears too crowded, try using the "nearby" search feature on our event calendar to find something else to do.
If you are still uneasy about going out in public, consider a Poppins@home class. Options include dance, architecture, movies, and more.
Museums and Indoor Play Spaces Open in Philadelphia Now
Reopening Friday, January 8, 2021
The Academy of Natural Sciences welcomes visitors back inside the museum to view the exhibits and displays. Guests can enjoy the long-awaited exhibit Permian Monsters, which was supposed to open in November. Visitors can experience creatures that roamed the Earth 290 million years ago, before the time of the dinosaurs. The museum is open Fridays through Sundays, 10am-5pm.
Reopening Friday, January 8, 2021
Aviation aficionados can again explore the American Helicopter Museum. Featuring more than 35 aircraft, visitors can expect to view helicopters and drones as well as discover the importance of torque via the Torque Exhibit, while also experiencing a flight simulator. The museum is open to the public Fridays through Sundays, noon-4pm.
Reopened Monday, January 4, 2021
This historic gem welcomes visitors back inside to learn about the woman who created our nation's first flag. Located in the heart of Old City, the Betsy Ross House is open Fridays through Mondays,10am-5pm. Tickets can be purchased in advance. Guests must wear masks and maintain social distancing. The number of visitors will be limited and admitted at different intervals. For safety, interactive exhibits are not currently available.
Reopened Monday, January 4, 2021
Children can delight in the trains and dollhouse at the Brandywine River Museum. The museum has extended both the Brandywine Railroad and Ann Wyeth McCoy dollhouse displays through the end of January 2021. Visitors must reserve timed tickets in advance. Winter hours are Wednesdays through Mondays, 10am- 4pm. The museum is closed Tuesdays.
Reopened Wednesday, January 6, 2021
Get your crayons ready and unleash your creativity at Crayola Experience! Both the attraction and store are now open weekly Wednesdays through Sundays, 10am-4pm. Tickets must be purchased in advance online to maintain a limited capacity. Upon arrival, guests can expect temperature checks, cashless transactions via cards or app, and a clear bag policy for contactless security checks.
Scheduled to reopen March 2021
This historic and famous prison was home to many notorious criminals, including Al Capone. In fact, visitors can view his actual cell Displays include exhibits on incarceration rates and what today's prisons are like. Day and nighttime tours are available. Eastern State Penitentiary reopens in the spring and hours will be announced at that time.
RELATED: Philly Museums Families Can Visit for Free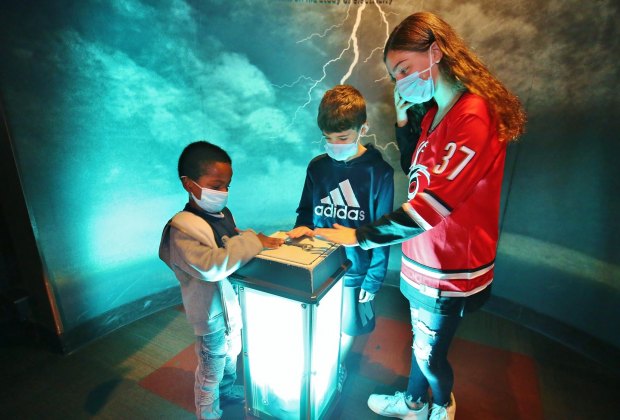 Get your science on at the Franklin Institute. Photo courtesy of the institute
Reopened Wednesday, January 6, 2021
Science rules at the Franklin Institute. Guests can walk through the beating heart, see live science shows, and view the stars in the planetarium. In addition, visitors can experience the new exhibit, Now/Next: Artificial Intelligence, which showcases ways AI helps us in everyday life such as facial recognition and data processing. Note that face coverings must be worn and temperature checks are required for visitors 3 and older. While indoor eating is not permitted, there are picnic tables in the Science Park outdoors. The museum is open Wednesdays through Fridays,10am-5pm and Saturdays and Sundays, 10am-6pm.
Indoor offerings reopened Monday, January 4, 2021
Since November, Longwood Gardens has presented its annual holiday display, A Longwood Christmas. Restrictions prevented guests from viewing the conservatory, Peirce duPont House, Webb House, and other indoor spots, but now these locations can be enjoyed by visitors. Longwood has extended its holiday experience through January 17, 2021.
Mercer Museum reopened Monday, January 4, 2021. Fonthill Castle reopens on Saturday, January 9, 2021
Go back in time with a visit to Mercer Museum & Fonthill Castle, which celebrate the legacy of Henry Chapman Mercer. Located in Bucks County, the museum features traveling and local exhibits as well as a collection of pre-industrial tools from a variety of crafts and trades. Fonthill Castle boasts 44 rooms with 18 fireplaces and magnificent furnishings. Families can participate in scavenger hunts while visiting in person or do crossword puzzles and games from home.
Reopens on Friday, January 8, 2021
Learn about the stories that brought forth our country at the Museum of the American Revolution. Of particular interest is the exhibit, When Women Lost the Vote: A Revolutionary Story, on view until April 2021. Guests can expect rigorous safety measures, including advance ticket sales, social distancing measures, and increased sanitization throughout the museum. The museum is open Fridays through Sundays, 10am-5pm. Those interested in experiencing offerings at home can participate in virtual programs available.
Reopens on Friday, January 8, 2021
Guests can return to explore the galleries at Penn Museum beginning January 8. Timed tickets are available online and are offered at a $2 discount. Admissions are kept at a limited capacity, so be sure to secure tickets in advance. Upon arrival, guests are given a complimentary single-use stylus to engage in the touchscreens throughout the Museum. Guests can also expect a one-way path through the galleries, increased cleaning, and hand sanitization stations throughout. The new exhibit, Invisible Beauty: The Art of Archaeological Science, opens on January 16, 2021.
Scheduled to reopen Thursday, January 21, 2021
While there are many featured pieces of art at the Pennsylvania Academy of the Fine Arts, its newest world-premiere exhibits include Roll, Press, Pull, which features contemporary prints; Only Tony, which includes 25 paintings by Philadelphia artist Gilbert Lewis; and Taking Space, which focuses on women artists and their use of space and repetition. The museum is open Thrusdays and Fridays, 10am- 4pm, and Saturdays and Sundays, 11am- 5pm.
RELATED: Philly Museums You've Probably Never Heard Of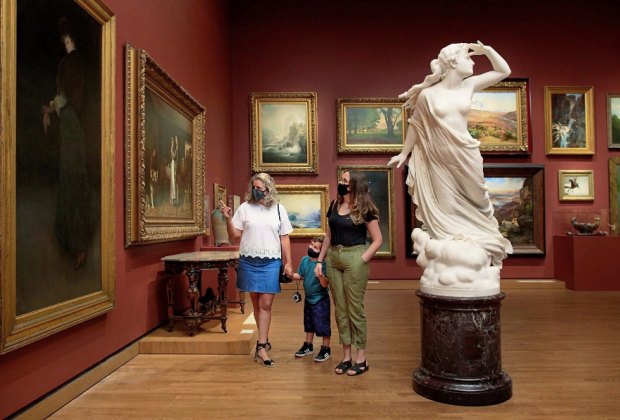 The landmark Philadelphia Museum of Art has reopened. Photo by Elizabeth Leitzell
Reopening Friday, January 8, 2021
Be inspired by the works of art at the Philadelphia Museum of Art. View the golden statue of Diana, see paintings by Renoir and Monet in the New European Galleries, check out the Sculpture Garden, and even see horses' armor in the Arms and Armor Gallery. The museum is open Fridays through Mondays, 10am-5pm. On Fridays, the museum stays open until 8:45pm. Be sure to check out the Pay What You Wish days offered throughout the year.
Reopened Monday, January 4, 2021
Take off your shoes, put on your grippy socks, and jump the day away at Sky Zone. There are multiple locations throughout the region. Locations might offer promotions, so be sure to check directly with each site.
Reopening Friday, January 8, 2021
Explore the galleries at the Barnes. Visitors can expect one-way traffic flow, extra sanitization, contactless payment transactions, and decreased capacity. Purchase tickets online in advance. Guests are welcome Fridays through Mondays ,11am- 5pm. Members can gain access starting at 10am.