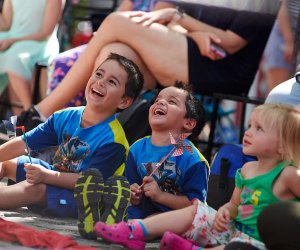 Father's Day Weekend Fun for Philly Kids: FatherFest, Airplane Day, Flag Fest June 15-16
Philly families are sure to notice that this weekend's events calendar is filled with fun focused on Dad. After all, he helps Philly kids out in so many ways such as assisting with homework, teaching how to throw a curve ball, and driving the kiddos to extracurricular activities. Is he adventuresome? Musical? Outdoorsy? History Buff? Economical? No matter what kind of Dad you've got, we've got some fun in store for you.
Impress Dad with a helicopter ride at the American Helicopter Museum during FatherFest or watch the planes take off and land during Fort Mifflin's Airplane Day. Those who like music can listen to the sweet sounds of the Kimmel Center organ or rock out to a little Grateful Dead at Ardmore Music Hall. Dads who like nature can check out the piggies at Ross Mill Farm, participate in a nature scavenger hunt at Norristown Farm Park, or camp out at Riverbend Environmental Education Center. Be sure to visit Historic Philadelphia and take part in its Flag Fest festivities including Stars and Stripes Saturday. And, don't miss free fun such as Public Archaeology Day at Newlin Grist Mill and Father's Day Read-a-Thon at the Community Education Center. Plus, Dad gets in free at Diggerland and the Academy of Natural Sciences. See, Dad, we are saving you money!
Mommy Poppins Philadelphia wishes all of the Philly guys out there a great Father's Day weekend.