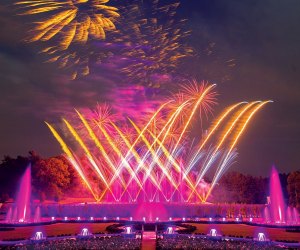 4th of July Fireworks in Philly, the Suburbs, and at the Jersey Shore
Many Philly families celebrate the Fourth of July by watching the nighttime sky as bursts of red, white, and blue glitter against the dark heavens. We've rounded up our favorite fireworks shows, including the big Wawa show and concert at Eakins Oval and along Benjamin Franklin Parkway. Gather along the Delaware River at either the Philly or Jersey side to see Independence Day fireworks burst above the water.
If your crew prefers suburban fireworks, there are plenty of options. Some Fourth of July festivals include parades, while others boast live entertainment. Heading down to the Jersey shore for the Fourth of July? We have you covered with fireworks at the beach.
No matter where you watch the fireworks, be sure to bring a blanket, lawn chair, and some snacks. Then, sit back to be mesmerized. Happy Fourth!
For more summertime fun, browse our Summer Activity Guide, which is filled with great ways to spend these hazy, hot, and humid days.