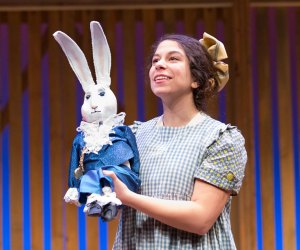 A Lesson of Love: The Miraculous Journey of Edward Tulane at People's Light
The Miraculous Journey of Edward Tulane at the People's Light in Malvern is a life-affirming, rollicking adventure that both kids and parents will love. Dancing, live music, shadow puppetry, and a much-loved toy rabbit invite kids' interest, while the superb acting and heart-touching life lessons make the story one the whole family won't soon forget.
Based on the book by Newbery Award recipient Kate DiCamillo, whose other books include Because of Winn-Dixie and The Tale of Despereaux, this Philadelphia premiere adaptation of The Miraculous Journey of Edward Tulane features a cast four actors playing a wide variety of characters. But the star of the show is Edward Tulane, a china rabbit doll and his consciousness, voiced by one of the actors.
What it means to love something or someone isn't easy to teach. Through the course of the play Edward Tulane learns about love and how to love. He learns that love is a feeling, an action, and a way of behaving.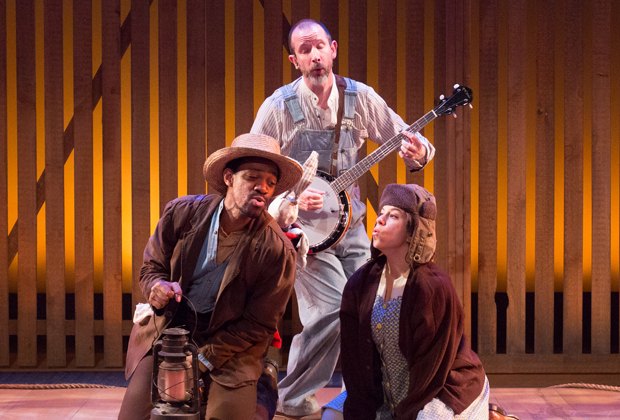 A musical number where a suitcase was used as a drum.
It starts with a jam session, a twangy, country song played on harmonica, banjo, guitar, and a suitcase used as a drum, transporting viewers to the 1930s. A little girl, Abilene is delighted to receive a beautiful gift from her grandmother- an exquisitely crafted china rabbit with a full wardrobe of fancy clothes. She adores the rabbit, but he's just not that into her, as we hear from Edward's thoughts. He's mostly concerned with himself and how he looks. He's a vain, selfish doll. After a disagreement about how selfish he is, Edward ends up in the ocean. Throughout his adventure, he encounters many new families who teach him kindness and compassion.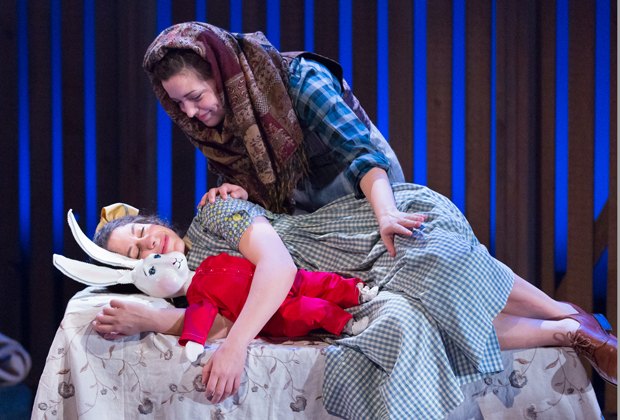 Abilene, her grandmother, and Edward Tulane.
The play is about 90-minutes without an intermission, so some children may have difficulty sitting through it. A couple of times, the lights suddenly went out and a loud noise boomed. One of my daughters grabbed my hand, scared, but the other hardly noticed. In a couple scenes, shadow puppetry conveys parts of the story. Having never seen that before, my kids loved it. There's no audience participation, and this isn't a musical, but there is music and dancing in a few of the scenes that had my more musical daughter and myself tapping our toes and bouncing our knees. After the play, for those who wish to stay, the actors have a question and answer period.
The themes of the play are definitely for children who are school aged and older (the theater recommends the show for ages 8 and up). Some of the themes of the play are definitely hard for younger kids to grasp. For example, in one life, Edward is renamed Susanna and is treated like a child by a mother who tells of the death of her five year old son. I cringed a bit and thought my daughters' ears would perk up at that, but it hardly registered. In another scene, Edward comforts a young girl dying of tuberculosis. Although both scenes are done tenderly, if a child tends to be anxious about death or it's just not something you've talked about yet, you might want to discuss it a bit before you go. There was also some cruelty and violence, in the form of a cop kicking a hobo and throwing his beloved doll off the train. After the show, I spoke with my daughters about who was kind and who wasn't.
Of my daughters, both age five, one loved the play and the other wasn't as interested, but sat through it. Because of some of the more serious themes, I would agree with the theatre's age recommendation of 8 and up. When I went, there were a handful of kids in the audience, and of those who were in attendance, most were around ten to twelve.
Things to know:
If you arrive early or stay a few minutes after, in the lobby, there's an area where children can create their own shadow puppet show with paper cut-outs and flashlights.
The Miraculous Journey of Edward Tulane runs from April 29 until June 4. Tickets can be purchased online.
There is a special performance for those with Autism, ADD, ADHD, and sensory-issues on May 28 at 2 PM with lower sound levels, less startling light effects, open space, and quiet space.
The play is 90-minutes with no intermission, so have kids use the restroom before the show starts.
It's best enjoyed by ages 8 and up as some of the stories involve death and serious illness.
People's Light is located at 39 Conestoga Road, Malvern, PA. Catch The Miraculous Journey of Edward Tulane April 29 - June 4, 2017.
Top photo: Dana Omar playing Abilene. All photos are by Mark Garvin, courtesy of People's Light.