Curtain Call: Theater Classes for Kids in Philadelphia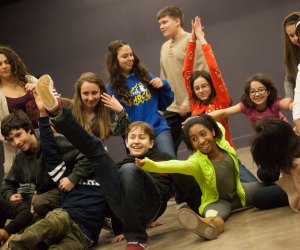 Does your kid love to entertain? Whether you want to tap into your child's creativity, channel new energies or emotions, encourage confidence in public speaking, or just love the idea of seeing your little one up on stage, theater classes are a great option! And with such a strong influence on the arts in our city of brotherly love, you can be sure to find high-quality programming and training for your young thespian. If acting isn't really up your kid's alley, but they still like the idea of being up on stage, check out these local dance classes as well!
The Arden's theatre program begins at age 2 with classes centered around acting out stories, and progresses up through high school. Taught by some of the top professionals in the city, Arden places an emphasis "on growing confidence and skills at each grade level with greater performance opportunities provided for middle and high school students."
Cost: $100-$120 for 6 and 8-week sessions
The Actor's Center offers students aged 8 to 18 the following classes that focus on specific skills: Improvisation, Acting, On camera, Voice Over, Dance Movement, Stage Combat, and Musical.
Cost: 7-week classes typically run $75
Providing introductory classes for children (8-17) and adults, classes teach the fundamentals of staging, acting, and overall performance. Older kids also gain lessons on improv. Each session ends in a showcase for friends and family.
Cost: $200 for 8-week sessions
Offering performance classes for kids, this program formerly was housed in Plays and Players, but they just moved to a new space on 12th and Spruce. Classes start at 6 months (which is more of a musical/dance dance-themed time) up through teen.
Cost: $350-375 for 13-week sessions
Core classes focus on physical awareness and self-expression, tapping into your kid's imagination and building life-long skills of collaboration and creative problem solving. Classes are broken into age groups: 5-7, 8-10, 11-13.
Cost: $275 for 8-week sessions
PACK is dedicated to teaching theatre arts, with creative dramatic classes beginning for kids aged 3-5, and themed classes that range up through to adults. Kids are kept in appropriate age groups and learn everything from movement to acting techniques.The PACK theater company consists of 150 children ages 4-13, so those who shine in classes have a chance to take their skills to performance!
Cost: $400-$1050 depending on the number of hours enrolled a week (1-4), $240 for classes geared specifically for the 3-5 age group
With nearly 1,200 students enrolling each year, this is one of the go-to theatre schools in the area. Children aged 5-17, including special classes for children on the autism spectrum, can expect dynamic classes from high-caliber theatre professionals. Sessions run seasonally.
Cost: $230 for 10-week sessions
Photo courtesy of The Arden Theatre via Facebook.