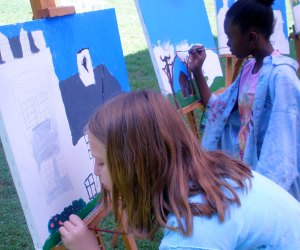 Summer Art Camps for Philly Area Kids
Summer will be here before we know it, and many parents are starting to think about camps. If you have a budding young artist in your family, there is no shortage of camp options available for you in the Philadelphia area. From museums and neighborhood art leagues to paint-your-own ceramic studios, we have assembled a list to fit all levels of artistic ability. So, if your children have created enough crafts at home this winter and are ready for a new learning experience, read on for our ideas.
Be sure to browse our Camp Directory for even more ideas!
Chester County Art Association—West Chester
Weekly summer camp sessions are available for children from preschool to late teens at CCAA, June 10–August 23, 2019. Morning, afternoon, and after camp care options are available. Camp is offered in weekly sessions, and weekly themes include superheroes, modern art, acrylic painting, tie-dye techniques, and abstract art.
Community Arts Center—Wallingford
During Summer Spree, campers take a deep dive into "Metamorphosis," exploring the magical transformations occurring in nature. Weekly sessions run from June 24–August 16, 2019. Ages 4-11 have the option of full- or half-day camp and ages 12 and up can attend afternoon studios.
Darlington Arts Center—Garnet Valley
Full and half day camps are offered for young artists ages 3–12, and Art Intensive camps are offered for ages 5–14. Weekly sessions from June 3– August 29, 2019 expose students to a variety of visual and performing arts with different themes each week.
Week-long camp sessions run from June 24–August 23, 2019. Children learn basic
art techniques
in the morning and work on hands-on projects in the afternoon. This camp is open to ages 6–12 and runs weekdays from 10 AM–2 PM. On Fridays, the week-long camp concludes with an art show and reception for parents, grandparents, and caregivers.
Handwork Studios
—
Narbeth and Philadelphia
At the Narberth location, sessions revolve around learning handcrafts such as knitting, crochet, and sewing.
Handwork Day Camp
is for ages 5–15 and will challenge your child's creativity June 10–August 30, 2019. In
Philadelphia
, a limited camp is offered June 17- July 26, 2019.
Lavner Camps
, for children ages 6-12, specialize in full, half-day, and extended care offerings at various locations in the Philadelphia Metro region. In addition to sport and technology-themed programs, they offer several art-enrichment camps including Fashion Design Camp, Digital Fashion Design Camp, Hand Sewing Camp, Filmmaking Camp, Jewelry Design Camp, Graphic Design Camp, Photography Camp, Theater Camp, Acting Camp, and Creative Writing Camp. Camp dates range from June 10- August 23, 2019 and vary by location. Area locations include Germantown Academy, Gwynedd Mercy University, and Malvern Preparatory School.
Main Line Art Center
—
Haverford
Campers learn alongside professional artists in week-long sessions, running June 10–August 23, 2019. Each
session
offers a different theme, and engages children ages 4–12 in areas such as ceramics, drawing, painting, jewelry-making, and digital photography. A Teen Studio for ages 13–18 is also offered. The Art Center camps offer full days, half days, and extended care.
Michener Museum
—
Doylestown
Morning and afternoon camp sessions are offered for children ages 5 through Grade 12 weekly from June 24–August 16, 2019.
Programs
include comic book design, drawing, painting, stained glass, and mosaics. Museum members receive discounts on weekly sessions.
Pennsylvania Academy of the Fine Arts—Philadelphia
Summer Art Camp at PAFA is offered in weekly sessions from June 24–August 9, 2019. Children learn various art mediums and are influenced by the many artists on display right in the museum. Weekly sessions are offered in age-appropriate groups for children ages 4–15.
Philly Art Center—Philadelphia
Weekly camp sessions are available for ages 4–14 from June 10–August 16, 2019, with full-day, half-day, and extra care options. Themes vary by week and each day includes some outside play time. Camp locations include Queen Village, Fairmount, and Cherry Hill, NJ. Pre-registering for multiple weeks may have benefits, including discounts.
Wayne Art Center—Wayne
This camp runs for 12 weeks from June 3–August 23, 2019 in weekly sessions. The theme "Nature and Art: Connecting with Our World" is explored in each program and includes drawing and painting, ceramics, photography, fashion design, and jewelry.
Photo courtesy of Abington Art Center.
Updated for 2019.