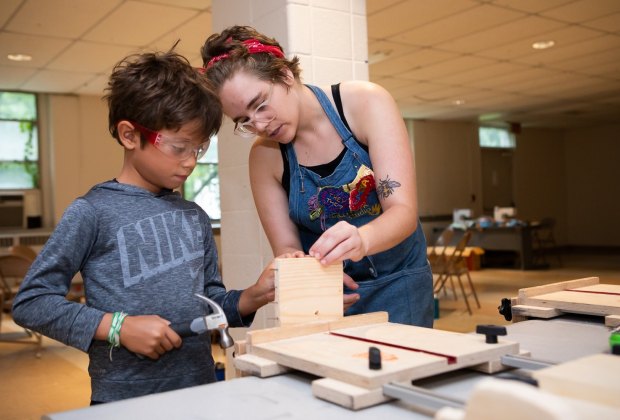 STEM Summer Camps for Philadelphia Area Kids
The importance of STEM (Science, Technology, Engineering, and Mathematics) education is becoming more and more apparent in our children's lives. Technology is everywhere, including here in Philly, and STEM fields provide some of the most in-demand career opportunities (these careers are growing twice as fast as non-STEM ones!). But even if your kids are years away from that stage of life, STEM activities provide value and stimulation right now. They boost brain power, creative thinking, and problem solving. Plus, kids can learn to design video games, build LEGO robots, or even dissect a squid! How cool is that?
Fun and engaging summer camp programs in science and technology are plentiful in the Philadelphia area. All this is sure to make summer science anything but boring.
Visit the Mommy Poppins Philadelphia Camp Guide for even more great summer programs or search our Camp Directory by interest, age, or area.
Sponsored by GSK (GlaxoSmithKline) and administered by the Franklin Institute through local libraries, this free program gives kids entering grades 2–6 fun, hands-on lessons in one of several STEM topics. Previous sessions were for one hour per day over four days. Traditionally, information about the program is posted to the website in early April. Registration opens May 4, 2020. We encourage you to check with your library ahead of time. Because this program is so popular, some libraries hold lotteries or first-come, first-served sign-ups.
You might not think of this as your typical STEM camp, but for children aged 8–14 Sew-Tech Camp creates an integration between fabric and technology. For younger children, there is also Junior Robotics & Coding. This unique blend of art and science is great for the kid who wants to explore their skills in a completely unexpected way.
If your children love to tinker and build, this creative inventors' camp could be for them. Kindergartners through sixth-graders can register for week-long sessions being held at over a dozen schools across the Delaware Valley. Campers engage in creative problem solving, a design studio, and entrepreneurial planning to bring their products to life. Sessions generally run from 9:15 AM–3:30 PM. Before and aftercare is available.
Digital Media Academy has camps in 3D modeling and design, robotics and engineering, programming, and game design for kids aged 6–12 and teens aged 12–17. Full camps are available at the University of Pennsylvania. Extended care and lunch plans are available.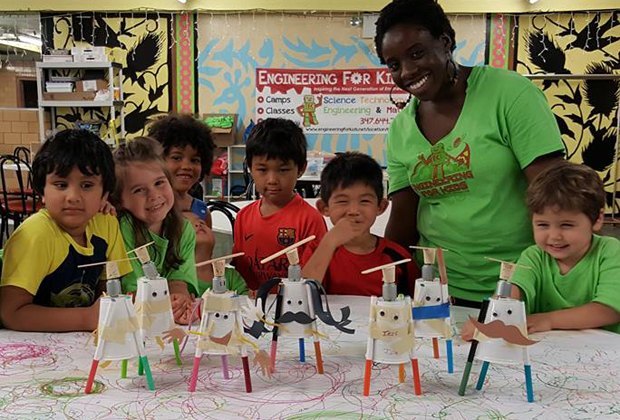 Kids have fun with wiggle bots! Photo from Engineering for Kids
This organization offers STEM-related programs for kids aged 3–13 through schools and township recreation departments in Montgomery County, the Main Line, Central Bucks, and Centennial School Districts. Topics include Space Pioneer, Inventors Workshop, Lego Robotics, Hardware Engineering, and Twisted Fairytales.
With multiple locations and a focus on learning code, designing games, and doing it all while growing friendships, Game Camp Nation teaches through hands-on projects. Kids aged 7–17 can learn skills like 3D programming, eSports, Virtual Reality, game design, and leadership
iD Tech hosts summer computer camps for kids ranging in ages from 7–18 at Villanova University, West Chester University, Arcadia University, and the University of Pennsylvania as well as an all-girls program at Bryn Mawr College. Campers can develop skills in courses such as programming, web design, robotics, and video game design. There are all-day and overnight options available.
Lavner runs a wide variety of sports, arts, and science camps at schools in the Philly area. Some of their science and technology offerings include (but definitely are not limited to): Exploration Day Camp, Minecraft, Science Discovery, Coding, Programming with Java, Robotics with Legos, and Game Design with Apps. Camp costs vary depending on the theme and scheduling options chosen.
With Center City and Main Line location options, this is a STEM-lovers dream for kids 10 and over. LocoSummer provides campers with a truly modern experience, with real-world coding, robotics, sensors, 3D design, physics, and statistics.
Many parents may already be familiar with Science Explorers' after-school programs, but they also offer week-long day camps all over the Delaware Valley. Programs are held at schools, museums, libraries and recreation departments throughout the summer. Families can choose morning, afternoon, or full-day options making topics such as marine biology, astronomy, physics, and chemistry fun to learn. Programs are grouped by ages 4–6 or 7–11. Early bird registration and discount available.
Delaware Valley University hosts ages 5 up to 18 for week-long specialty programs and experiences in themes such as Entrepreneurship and Innovation, Science and Engineering, Digital Media, Arts and Industry, Game Design, and more. Children will master STEAM activities led by faculty, educators and industry specialists at the Doylestown campus.
In addition to classic camp experiences, Valley Forge hosts STEAM camps, including the Science of Roller Coaster and Minecraft, Robotics, and intro to 3D. Designed for children entering grades 4-9.
This post was updated for 2020.