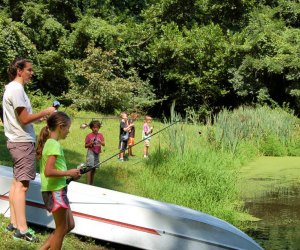 20 Affordable Summer Camps for Philadelphia Families
With socialization and activity options for kids still limited by safety concerns and Philadelphia-area COVID restrictions, summer camps with good safety plans are essential resources for Philly families. Finding a place for kids to experience enrichment and friendships has never been more important, especially for families with two working parents and the possibility of going back to the office soon.
Another major problem with summer camp? The hit to a family's budget. We've rounded up a list of local camps that ring up at $350 (or less) per week.
To help you make a selection, we've rounded up a great list of free or affordable summer camps that will keep your kids entertained and engaged all summer long. Most camp registrations are on a week-to-week basis. For more ideas, check out our Camp Guide.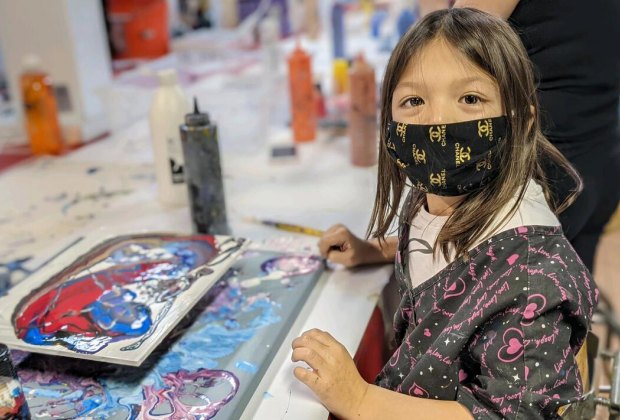 Indulge your child's inner artist at summer camp at Portside Arts Center. Photo courtesy of Portside Arts Center
Dates: June 21-August 20, 2021
Ages: 4-6 (Minnows), 7-9 (Sharks), and 10-13 (Pirates)
Hours: $325 per week. Payment plans, tuition assistance, and scholarships for students residing in the Penn Treat Special Services District are available.
Price: 8am-5pm or 8:30am to 5:30pm depending on age group
Portside offers a summer art camp experience using a combination of materials and skills. Campers learn techniques in drawing, painting, printmaking, clay sculpture, mosaic, collage, and fiber arts. Each day children will play at Cione Rec Center, plus a weekly cultural field trip to places such as Smith Playground and Insectarium. Older children will also get to swim on Fridays and the little minnows enjoy weekly dance parties.
Dates: June 14-August 20, 2021
Ages: 3 to 12
Hours: 9am-3:30pm
Price: $315 members/$350 nonmembers for programs for ages 6-9. Ages 3-5 and ages 10-12 are $360 members/$400 nonmembers per week.Give your kids the gift of nature without ever leaving the city limits with camp at the Schuylkill Center for Environmental Education. Campers explore and learn about nature and environmentalism through topics such as water, weather, insects, and more. Some weeks offer a field trip, for an additional $25 fee. Both before and after-care are available.
Dates: June 10-August 30, 2019
Ages: 4-12
Hours: Vary by program
Price: Starts at $275 per week
Half-day camps, full-day camps, and overnight camps are all available at Briar Bush Nature Center. Many fit into an "affordable" category at less than $350 for the week, but the overnight and older kid camps may be over that price point. Younger campers (ages 2-4) must register with an adult.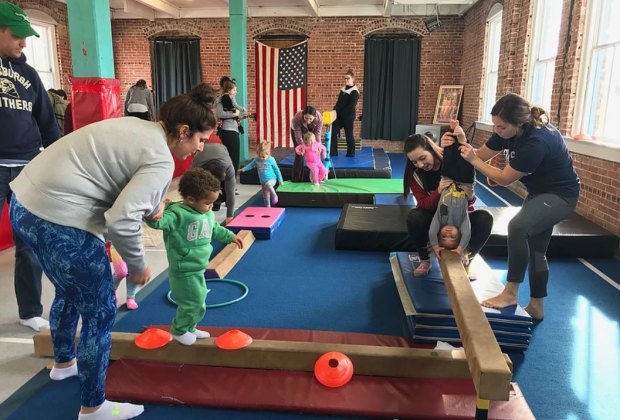 Enjoy a gymnastics-themed camp experience at Flip Out Productions. Photo courtesy of Flip Out Productions
Dates: June 14-August 2021
Ages: 6-16
Hours: 9am-3pm; extended care available
Price: $350 per week (multiple-week discount, sibling discount, and early bird discount available)
Flip Out focuses on gymnastics, yoga, arts and crafts, and more; campers are sure to come home tired and with some new skills to share.
Dates: This camp was canceled in 2020 with no update yet for 2021
Ages: 6-12
Hours: 9am- 3pm
Price: Early bird $330 per week, $355 after May 1. Discounts are available for museum members
You children will learn about the history of the Philadelphia waterways during these themed weekly camps. Some single day camps are available during the week of July 4th. The museum offers teen camp opportunities as well.
Dates: Weekly sessions August 10-28, 2021
Ages: K-4, and 5-8 grades
Hours: 9am-1pm
Price: $150-195 per week depending on age
Each week provides a chance to gain hands-on art experience, with the goal of a project created within the week. The Middle School program is extra special, creating a movie each week with Poet Lindo.

Dates: TBD
Ages: 5-18
Hours: Half and full-day options are available.
Price: $180-$350 per week
This camp offers many options for children. From themed art for younger kids to figure drawing for older ones, classes provide a place for imagination and creativity.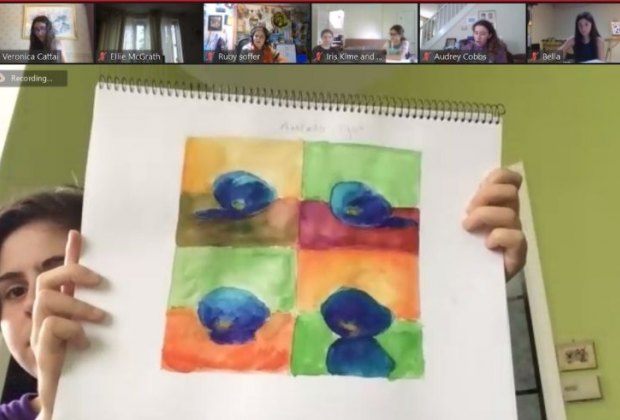 Stay engaged at home at Virtual Art Camp. Photo courtesy of Pennsylvania Academy of the Fine Arts
Dates: June 21- August 13, 2021
Ages: 6-14
Hours: 9am-3pm
Price: $300 per week with discounts for members
PAFA summer camp includes hands-on art experiences as well as field trips to studios within the school and around the city. Sessions are designed for all skill levels. After-care is available on a daily or weekly basis for an additional fee.
Dates: 2021 status TBD
Ages: Grades 1-5
Hours: 9:30am- 4:30pm
Price: $350 per week; discount offered for additional weeks
Arden offers one- and two-week camps for children in grades 1-5. Additional weeks are offered at a discount. There are five different themes each week as well as specialty camps for musical theater, comedy, dance, and design.
Dates: June 21-August 27, 2021
Ages: Entering grades 1 through 8 for the 2021-22 school year
Hours: 9am-3pm (before-care 8am-9am; after-care 3pm-5:30pm)
Price: $300-$320. School-age children will enjoy summer fun and learning through Penn Museum's world-renowned collections. Each week features an exciting theme with hands-on workshops, expert talks, and gallery exploration. Campers will remain in their pods for the entire camp week for all workshops, activities, and gallery experiences. There will be limited interactivity between groups during outdoor activities, such as recess, lunch breaks, and special workshops. All counselors and campers will be required to wear a face mask.
Dates: Camps were canceled in 2020; status for 2021 TBD
Ages: 7-13
Hours: 9am- 3pm
Price: $320
Kids from kindergarten to fourth grade participate in Imagination Camp, a summer performing arts camp specifically designed for younger students by laying a foundation for effective collaboration. For those entering grades 5 through 8, students will participate in acting, dance/movement, visual arts, storytelling/playwriting, all of which will be on display in a final performance created, produced, and performed by the campers.
Dates: Session 1 "Around the World with Newlin" June 28-July 2; Session 2 "Colonial Kids" July 19-23; Session 3 "Full STEAM Ahead":August 2-6
Ages: 4-12
Hours: 8:30am-12:30pm daily
Price: $150; nonmembers $200 per session
On any given day, campers might be looking for frogs, building a sculpture of recycled materials, baking cookies from an 18th-century recipe, or experimenting with unbreakable bubbles. There is no end to the fun adventures that can be had. Camp leaders have worked hard to meet today's challenges and adapt lesson plans accordingly. Groups will be small and self-contained, and masks will be required. Your camper's health and safety is our top priority.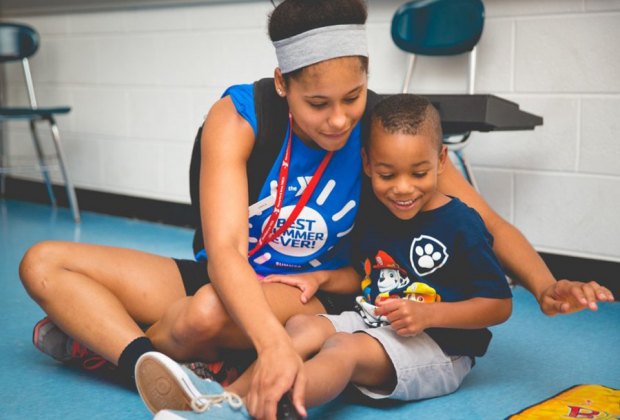 Keep your young one engaged at an area summer camp.
Dates: Dates TBD
Ages: Entering grades 1-8
Hours: 9am-1pm
Price: $140-200
The mission of the program is for students to feel a sense of environmental responsibility and campers get a chance to participate in hands-on, outdoor play, and exploration. Membership is included with registration if you are not already a member.
Dates: Camps were canceled in 2020; status for 2021 TBD
Ages: 3-7
Hours: 9am- 3pm
Price: $200-$300
ZoomDance Camp really burns off the energy in your fun-loving young kids. Kids experience music and dance classes, and also yoga, art projects, and a chance to visit local playgrounds and pools. Register by the day or by the week, and save when you register before April 30.
Dates: Camps were canceled in 2020; status for 2021 TBD
Ages: 7-12 (GuitarStars) or 12-17 (Rock*A*delphia)
Hours: 9 AM- 4 PM
Price: $250; free for low income
Kids learn or develop music skills with camps designed to inspire. Instruments are provided for students to learn guitar, drums, bass, or keyboard. Camp ends when student-formed bands present live for families and friends. Rock to the Future Summer Music Camps are free for low-income Philadelphia youth. (A scholarship application must be filled out and approved.) Early dropoff and late pickup are available. Registration is open to the first 40 applicants.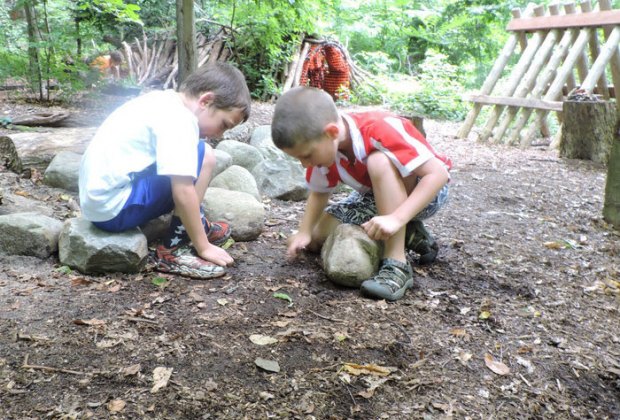 Unearth the natural world at a Briar Bush Nature Center camp. Photo courtesy of Briar Bush Nature Center
Dates: Vary by location throughout the entire summer
Ages: 4 and up
Hours: Varies by location and age
Price: Vary by location
With multiple locations throughout the Philadelphia region, there are YMCA summer camps to fit many interests and budgets. YMCA camp programs focus on social, emotional, physical, intellectual, and spiritual development. All campers must be current Y members but you can register for membership when you sign up for camps. Check your local listings for more details..
Dates: Vary by location, 2021 dates TBD
Ages: 8-12
Hours: Vary by location
Price: Free
Apple offers free day camps at different Apple store locations in the Delaware Valley, allowing students to create characters and compose music, make stories in motion with iMovie, or code games, and program robots. Be sure to check availability at your local Apple store and register early as these events fill up fast.
Dates: Vary by location, schedule to be released later in the spring
Ages: Grades 2-6
Hours: Vary by location
Price: Free
Free certainly fits the affordability factor. GSK offers this summer camp for kids who are entering grades 2-6. Space is limited and camps fill up quickly, so be sure to contact your local venue to see how they handle registration. More information will be available in April.
Dates: Vary by location
Ages: 4-12
Hours: Vary by location
Price: $25 and up
Located at parks and rec departments across the city, more than 100 neighborhood day camps are available at affordable rates. Use the department's finder tool to locate a summer program near you and contact your chosen rec center for dates, ages, costs, and availability..
Dates: June14-August 20, 2021
Ages: 5-8
Hours: 9am-3pm; after-care available from 3pm to 6pm
Cost: $335-$355 with discounts available for multiple weeks; after-care is $20 per day
Camp Beehive is a literature-inspired storytelling camp with themes, activities, and adventures based around an anchor book each week. Children will participate in read-alouds, free play, craft time, neighborhood walks, and playground time.
This post was updated for 2021.