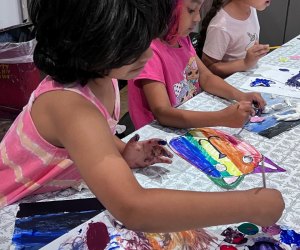 Pennsylvania Academy of the Fine Arts
Pennsylvania Academy of the Fine Arts (PAFA), the oldest art museum and art school in the United States, is renowned for its collections of American Art. PAFA offers a wide variety of programming for its youth and family audiences, including but not limited to Free Family Arts Academy Sunday workshops, Virtual Afterschool Art Club, Young Artist Academy classes for kids 10-14, and its award-winning Summer Art Camp, which offers an array of opportunities for young artists (ages 5-14) and their families to learn about, create, and celebrate art. 
Summer Art Camp is back to its full schedule for 2023 at PAFA's historic landmark building and studios!
Every week is a new artistic adventure and celebration of creativity and friendship at PAFA's Summer Art Camp. Designed for all skill levels and interests, activities may include drawing, painting, sculpture, print-making, comics, gallery exploration, and more. Campers develop their confidence and creative thinking skills by exploring innovative ideas, materials, and approaches to art making. Small group sizes ensure that campers receive high quality instruction and individual attention from their teachers while working on exciting, hands-on art projects, making friends, and building their self-confidence and creative problem-solving skills.
Registration is open for classes and for summer camp. For more information visit pafa.org/families, email artcamp@pafa.org, or call 215-972-2054.
---
Pennsylvania Academy of the Fine Arts
---
Pennsylvania Academy of the Fine Arts
Reviews