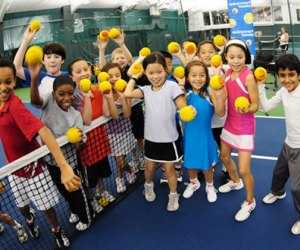 Play Better at These Philly-Area Sports Camps
With summer just a few short months away, it's time to figure out where the kids will go to camp. Depending on their interests, there's STEM camps, theater camps, arts camps, and sports camps. Read on for a list of the favorite sports camps in and around the Philadelphia area, and check out our summer camp guide for more inspiration.
ESF Sports Camp— Various locations
ESF has camps for all interests. In the sports division, there are is a general Sports Camp, Tennis Camp, Eagles Football Academy and the Eagles Dance and Cheer Academy, Union Soccer School, and Philly Baseball Academy. Each is offered at different locations throughout Pennsylvania, New Jersey, and Delaware. Kids ages 6-14 are eligible for all camps except for tennis, where participants must be 6-18 years old.
Julian Krinsky Camp— Haverford, PA; Villanova, PA
For the golfers and tennis players, there's no camp more well-respected than the Julian Krinsky School of Golf or School of Tennis. Located on the beautiful Haverford College campus, campers will learn the ins and outs of tennis in a program based on 39 years of teaching experience. Children ages 4-8 can be enrolled in Red Ball Summer Tennis, while older more experienced players can be enrolled in intensive programs with different tracks and electives to make each individual the best player he or she can be. The School of Golf has programs for kids ages 7-18, with certified golf pros who concentrate on tactical, technical, physical and mental aspects of the game.
Lavner Camps— Various locations
Lavner Camps offer four types of sports camps: Super Sports, Tennis, Soccer, and Basketball Camp. For ages 6-12 (ages 7-12 for basketball), and with locations on college and private school campuses in the Philadelphia area, Bucks County, the Main Line and Lower Gwynedd, chances are that there's one close.
76ers Basketball Camp— Various locations
A traditional basketball camp mixed with opportunities to learn from the pros, meet players and coaches, attend Sixers practices and games. For basketball lovers ages 5-17, this is where to go to improve their skill levels.
Legacy Youth Tennis & Education— Philadelphia, PA
Legacy provides Philadelphia youth with a safe and organized program of tennis instruction, team, and individual match play, and life skills lessons to make them winners on and off the court. With programs including Munchkin Summer Camp for ages 4-7, National Junior Tennis and Learning for ages 7-17, Junior Future Stars for ages 6-8 with exceptional tennis talent, and Legacy Training Camp and Legacy Training Camp Elite which focus on tournament play, there's an option for many ages and skill levels.
Union Soccer Camps— Various locations
Pairing instruction from the region's top coaches with behind-the-scenes tours of Talen Energy Stadium, an official 2017 Union Soccer Schools Adidas uniform, and the opportunity to meet Union players or coaches, Union Soccer Camps are a soccer players dream come true. Instruction focuses on technique and skill development, but also principles like sportsmanship, individual integrity, and being an all-around team player.
Photo courtesy of the Julian Krinsky Camp website