Giveaway + New Crayola IDEAworks Exhibit at Franklin Institute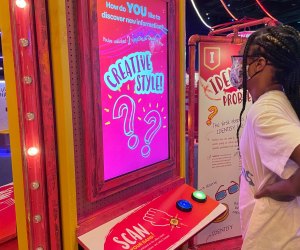 Invention, creativity, and a whole lot of color collide at the brand-new Crayola IDEAworks: The Creativity Exhibition, a fun interactive attraction presented by Epson and Crayola at the Franklin Institute. The exhibit celebrates ingenuity and highlights children's creative strengths. We've teamed up with the sponsors to give away a grand prize trip package that includes a one-night stay at a Philadelphia downtown hotel, passes to see IDEAworks, and a suite of Crayola and Epson products that are sure to get the whole family's creative juices flowing.
The big idea at IDEAworks is that there are lots of different ways to be creative, and unlocking our personal creative style is the key to innovation and problem-solving success. Kids discover their creative style by answering a series of questions at various stations, and the answers are recorded using RFID wristband technology. After completing the exhibit, the data is compiled into a creative style profile that corresponds to a unique Crayola color. The profile helps the individual understand their approach to working through tough situations.
What to See and Do at IDEAworks
Before fully embarking on the journey into your creative mind, you'll need to pick a wristband, a color, and an icon that best suits you. The wristband will be scanned throughout the rest of the exhibit at interactive Q&A stations, keeping track of your responses along the way. Why? You'll find out at the Grand Finale! Once the wristband is set up, watch a video explaining how to navigate the exhibit. This is presented via a top-notch Epson projector onto a giant screen, led by fun Crayola friends. After you've got the gist of your mission, you're ready to roll!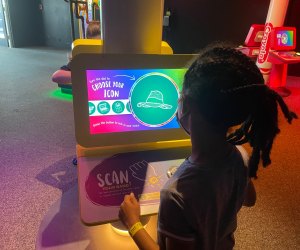 Begin the creative journey by choosing personalized features and syncing them to your wristband.
IDEA Workshop
The IDEA workshop invites kids to participate in activities at four main hubs: Identify, Define, Explore, and Assess. Completing the activities provides insights into how they view challenges and their method for solving them. From developing a plan to plant a vegetable garden to construction tasks using pool noodles, the IDEA workshop puts kids' creative abilities to the test as they strategize their way through different situations. The Inspire station is where problem-solvers really shine, using a variety of Crayola markers to design solutions for everyday tasks. Answering specific questions at each hub earns badges for the wristband.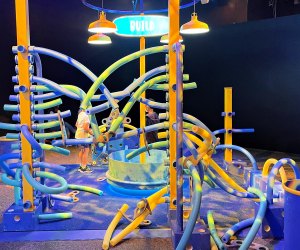 There are even building opportunities to try inside the IDEA workshop.
Colorverse
Once you pass through the Color Wheel Portal, you'll enter the Colorverse, where three worlds ask for kids' help to improve their circumstances. The Seabase is in search of coral reef protectors, Crayopolis is a city in need of planners who understand fun and function, and Mars Station wants to make the red planet habitable for human life. Kids will enjoy putting on their thinking caps to work through solutions to each world's issues. As they build tools to transplant corals back to the reef like actual scuba divers, use Crayola art supplies to create their own fashions, or figure out new ways to grow food in outer space, they'll be having too much fun to realize they're addressing real-life global concerns, using the IDEA skills they just learned.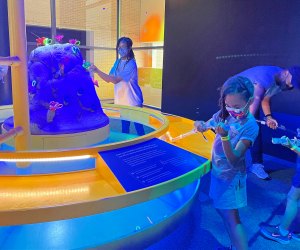 Building tools to simulate a coral reef restoration.
Grand Finale
The Grand Finale is the last stop on your journey, putting all the pieces of the creativity puzzle together. Here, your wristband summarizes your activities for the day, generating a personalized creative style profile that matches a special hue on the vast Crayola spectrum. Whether you're Crayola's Royal Purple, taking decisive action quickly; or its Cherry Tomato, infusing every project with extra energy and enthusiasm, IDEAworks shows that every child has creative strengths that they can harness to tackle hard problems. This exhibit is educational, motivational, and loads of vibrant fun that encourages the whole family to color outside the lines.

The green screen lets kids broadcast a Mars weather report.
Crayola IDEAworks: The Creativity Exhibition only runs at the museum through July 18. It's recommended for ages 5 and up, but there's more than enough visual candy to keep younger kids engaged. General admission tickets cost $35 for adults and $31 for kids 3-11 and include the rest of the museum attractions. IDEAworks is open Wednesday to Friday from 10am to 5pm and stays open until 6pm on weekends. Advance ticket purchase is recommended. COVID-19 Note: The museum currently requires all guests ages 3 and up to wear a mask except while eating. Reduced capacity is currently enforced, and enhanced cleaning and sanitation protocols are in place. Please practice social distancing.
Don't miss the rest of the cool things we recommend seeing at the Franklin Institute with kids.
All photos by the author