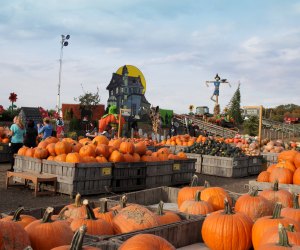 35 Fall Harvest Festivals Near Philly: Pumpkins, Apples, and Scarecrows, Oh My!
With the arrival of autumn, there is no better way to enjoy cooler temperatures, colorful foliage, and delicious autumnal foods than with a fall festival. Fortunately for Philly families, there are many opportunities throughout the Delaware Valley. Whether staying local to attend a harvest festival in your community or heading to a farm or orchard, these events are sure to have something for everyone. Many events taking place this fall include hayrides, pumpkin patches, scarecrow-building, and apple picking while others have live entertainment.
Don't forget to browse checking our event calendar as well as our Fall Activity Guide for new events that are continually added and updated. For now, read on and find the perfect fall festival for your family.