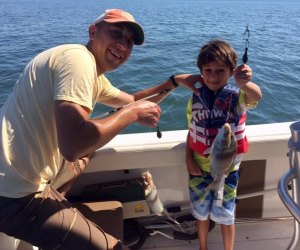 Reel It In: 16 Places To Go Fishing with Philly Kids
When I was a kid, going out for a day of fishing with mom or dad (or one of my grandparents) was such a treat! It usually meant some quality alone time where I could ask all of life's questions, get honest answers, and possibly end the day with an ice cream treat. With a huge variety of fish and well-stocked waters in the region's lakes, rivers, and streams, there are plenty of great spots to check out for a fun day of bonding over the age old pastime of fishing. Even if you don't get a bite, chances are you will walk away with memories that make it all worthwhile.
Looking for more ways to get outdoors with your little ones? How about a hiking trip, a picnic, an adventure out on the water, or even a little cave exploration?
Core Creek Park—Langhorne
Lake Luxembourg is open for fishing, ice fishing, and boating. Part of the lake is open in winter months for ice skating as well. The park features numerous spots for picnicking as well as several miles of trails for hiking, horseback riding, walking and biking, and also several playgrounds in case the fishing is going too slow for the younger kids.
Dark Hollow Park Warwick—Warwick
There are 770-acres of undeveloped land surrounding the Neshaminy Creek where the main attraction is fishing. Trout are stocked here annually.
Delaware State Canal Park—Upper Black Eddy
The canal, a Registered National Historic Landmark is not just a great fishing destination, but a spot to explore American history. The Delaware River contains many species of game fish including American shad, striped bass, smallmouth bass and walleye.
Fairmount Park—Philadelphia
Along the banks of the Schuylkill River there are numerous streams, creeks, and small ponds. Visitors report catching a variety of fish including bass, crappie, herring, sunfish, and trout, and it's a great location for bringing along a picnic.
French Creek State Park—Elverson
There are a reported 88 species of fish found in the French Creek Watershed, including the delicious panfish. This is also an excellent park for camping and hiking with more than 7,700 acres to explore. Ice fishing is available here in the winter as well.
Green Lane Park—Green Lane
Green Lane Park offers fishing as well as boating, picnicking, horseback riding trails, and excellent family-friendly camping.
John Heinz National Wildlife Refuge—Philadelphia
Just south of the city proper, the John Heinz National Wildlife Refuge at Tinicum protects a freshwater tidal marsh. Fishing is allowed along the Trolley Bed Trail and the Main Dike Trail of the East Impoundment area. Be aware that although canoeing is permitted in the marshes, fishing from a canoe is prohibited.
Lake Towahee—Quakertown
This park features a 50-acre lake as the centerpiece, and is perfect for fishing excursions.
Lorimer Park—Huntington Valley
This park is stocked with trout, and is the site of the majestic Council Rock where, legend says, Native Americans used to meet to plan their activities.
Marsh Creek State Park—Downingtown
Marsh Creek Lake spans 535 acres and is home to a variety of fish, including largemouth bass, channel catfish, tiger muskies, black crappie, and an assortment of panfish. PA Fish and Boat Commission laws apply, as do the regulations for big bass lakes. Fishing on the lake can be enjoyed from the banks, from a boat, or from the ice when the lake's waters are frozen over.
Neshaminy State Park—Bensalem
Neshaminy State Park provides boating access to the Delaware River. The site is home to a variety of fish including largemouth and smallmouth bass, muskellunge, catfish, and various panfish. There is also an annual spring run of bass for the park.
Pennypack Park—Philadelphia
A local favorite for picnicking and hiking, Pennypack Park also has several spots that are great for fishing along the creek banks.
Pier 68—Philadelphia
A dedicated public fishing pier, picnic spot, and oasis in the city, the pier includes a dedicated space for casting lines and built in fish-cleaning stations.
Schuykill River National and State Heritage Area—Pottstown
The 128-mile-long Schuylkill River is not only a great spot in Philadelphia proper. Head out to the Schuylkill River National and State Heritage Area. The river's large variety of fish includes catfish, yellow and white perch, American, hickory, and gizzard shad, largemouth, rock, smallmouth, and striped bass, and more.
Wissahickon Valley Park—Philadelphia
Stocked with brown trout and rainbow trout every spring, midsummer, and early fall, this is a great spot for younger kids since there is a high probability of an easy catch.
Linvilla Orchards—Media
Linvilla's Orchard Lake is open from early spring to late fall. The best part is you do not need a fishing license to fish here. You'll have to pay to fish here, but rods and bait are provided, so this is the perfect spot for a novice. Depending on the time of year, you can find trout, hybrid striped bass, crappies, bluegill, and catfish in this fully stocked lake.
If you are going out for the first time, here are some good to know tips before your pick your prime spot:
A current Pennsylvania fishing license, signed in ink and displayed (attach to a hat or outer garment), is required of persons age 16 and over to fish or angle for any species of fish.
A license is also needed to take fishbait or baitfish.
An adult who assists a child by casting or retrieving a fishing line or fishing rod is not required to possess a valid fishing license provided that the child remains within arms' reach of the assisting adult and is actively involved in the fishing activity.
An adult may assist a child by baiting hooks, removing fish from the line, netting fish, preparing the fishing rod for use and untangling the line without possessing a valid fishing license.
There are fishing limitations about both species and number of fish. It is possible you may need an additional license. Make sure to check the guidebook before you head to your destination!
Photo courtesy of Jaime Tomeo Sumersille for Mommy Poppins