Pediatric ERs in NYC: Best Emergency Rooms for Kids in Manhattan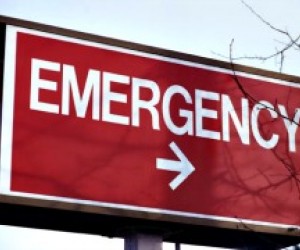 'Tis the season... for children to cut themselves on broken ornaments, burn themselves on melting candles and crash their sleds into inconveniently placed trees. (What? Just my kids?) But really, any season has the potential for injury or illness. So even though it's not something we parents like to think about, it's important to know where to find an emergency room.

But when it comes to kids, not all emergency rooms are created equal. If at all possible, it's best to bring children to a pediatric ER where the staff is specifically trained to deal with the anatomical, physiological and psychological issues unique to kids.

This being New York City where we have everything, you probably won't be surprised to hear that we've got lots of pediatric ERs throughout the five boroughs. There are so many in fact, we decided to start with a list of pediatric ERs in Manhattan. You can find our follow-up list of pediatric ERs in the outer boroughs here. Obviously, when you've got a bleeding, wheezing or otherwise in distress child on your hands, you won't have time to go online, so jot the nearest one down on your emergency contact list—and then hope you'll never need to visit.
Komansky Center for Children's Health Pediatric Emergency Department – Upper East Side
New York-Presbyterian Hospital - Weill Cornell Medical Center, 525 East 68th Street at York Avenue
They may treat kids, but the staff at the Komansky Center doesn't kid around. This hospital boasts a dedicated pediatric emergency space that's separate from the adult ER, plus full-time physicians who are board certified in pediatric emergency medicine, specially trained pediatric nurses, a life specialist who advocates for the young patients and insists on a family-centered experience, and social workers for emotional support. It's also a Level I Trauma Center and a New York City Regional Burn Center.

New York-Presbyterian Morgan Stanley Children's Hospital – Washington Heights
3959 Broadway at 166th Street
This 25,000-square-foot, high-tech pediatric ER can care for up to 60,000 kids from infancy to age 20 annually. Doctors do their rounds equipped with iPads stocked full of computer games to distract their teary patients, and all 26 private treatment rooms come equipped with TV, Internet and movies on demand. There are also four triage rooms, two trauma rooms and a nine-bay asthma treatment area (but that's the kind of stuff adults are interested in; the kids are just happy to find computer tables in the waiting room).

Bellevue Hospital Center Pediatric Emergency Service – Kips Bay
462 First Avenue between 27th and 28th Streets
Founded more than a century ago, this pediatric ER is staffed around-the-clock with board-certified physicians and nurses who specialize in emergency care for children. Bellevue is also a Level-1 Trauma Center with a Pediatric Intensive Care Unit, and a regional Spinal Cord Injury and Limb Re-implantation Center, so the facility is ready to handle any emergency, from a high fever to asthma to potentially crippling injuries.

David B. Kriser Department of Emergency Medicine – Stuyvesant Town
Beth Israel Medical Center, 10 Nathan D. Perlman Place, First Avenue at 16th Street
Renovated in 2010 as part of its larger emergency facilities, Beth Israel's separate pediatric emergency department treats children up to age 17. The new space was designed to enhance patient privacy and create a quieter, less stressful stay. It consists of six individual rooms with TVs, DVD players, radios and child-friendly decor.

Mount Sinai Medical Center – East Harlem
1480 Madison Avenue at 100th Street
In addition to around-the-clock pediatric staff, Mount Sinai's pediatric ER has on-site laboratory services for quicker test results. New York Magazine's first-ever "Best Hospitals" issue ranked it No. 3 overall in New York City for Emergency Care and for Pediatrics.

Harlem Hospital Center – Harlem
506 Lenox Avenue at 135th Street
Pediatric doctors and nurses are available 24 hours a day, seven days a week as part of the Pediatric Emergency Department to provide critical care for infants, children and adolescents. The hospital also houses a Neonatal Intensive Care Unit and a Pediatric Intensive Care Unit.

Metropolitan Hospital Center – Upper East Side
1901 First Avenue at 97th Street
This hospital provides urgent and sub-urgent care to all patients, including kids, in its emergency room, which also has a Sexual Assault Forensic Examination (SAFE) Center. That means it houses a trained, victim-sensitive Sexual Assault Response Team (SART) comprised of Sexual Assault Forensic Examiners, medical personnel, patient advocates, social workers, law enforcement officers (Special Victims Unit) and representatives of the Manhattan District Attorney's Office Sex Crimes Unit. It would be nice to pretend that children never need such services but it would be wrong.

St. Luke's–Roosevelt Hospital Center – Morningside Heights
1111 Amsterdam Avenue at 114th Street
Although St. Luke's doesn't have a dedicated pediatric ER, it's all-ages emergency room is staffed 24-7 with doctors in every clinical specialty, including pediatrics and even dentistry. This isn't the case in every hospital. When my then three-year old shattered his front tooth by falling on the sidewalk, we had to wait three days for treatment because we were incorrectly told that ERs don't offer dental services. This one does.