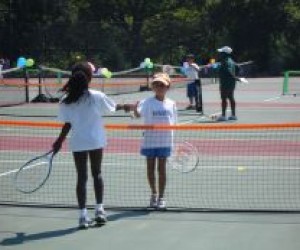 Free and Cheap Tennis for NYC Kids
Tennis is one of those lifelong sports than can be learned and enjoyed at any age. The main thing you need is enough energy to run around the court—and kids have that in spades. Don't worry if your child isn't the next Serena Williams; tennis is a great sport for improving coordination, arm and leg strength, and sportsmanship. And aside from the racket, you don't have a ton of equipment to buy or lug around.

Summer is the perfect time for New York City kids to give the sport a try since there are a few FREE youth tennis programs plus inexpensive game play at public courts, which are already open for the season. Here's where kids can swing their tennis rackets in NYC.
Free & Inexpensive Tennis Lessons for Kids
New York Junior Tennis & Learning Community Tennis Program – Citywide
Visit the website for a list of locations and schedule.
NYJTL has been offering FREE lessons for children ages 6 to 18 in schools and community centers since 1969. (Late tennis great Arthur Ashe was one of the organization's founding members). The program holds classes in all five boroughs, though for some, your child needs to be enrolled at the participating school. The majority of the no-cost tennis clinics are open to all playing levels and loaner rackets are provided. Since enrollment is ongoing, parents can register in person at the location of choice provided space is still available. Children must wear sneakers and bring beverages. For more information, 347-417-8177 or email tc@nyjtl.org.

CityParks Tennis – Citywide
Visit the website for a list of locations and schedule.
CityParks Foundation offers FREE tennis lessons in 37 parks located throughout the five boroughs for children ages 5 to16. The summer, the six-week session runs from July thru August. Once you pick a location, parents can sign up their kids at the first lesson, no advance registration required. According to the staff, no one is ever turned away and players of all levels are welcome, even beginners. Those interested in serious competition should consider joining the FREE Junior Tennis Academy. Tryouts are held annually so keep in mind for next year. 50 players ages 8 to 16 are selected annually to participate. In the fall, 25 of them continue on based on their sportsmanship, attendance, on-court performance and financial need. Graduates of the program have gone on to earn college scholarships, national rankings and even competed at the US Open!

Riverbank State Park – Harlem
Main entrance is on 145th Street and Riverside Drive
We've raved about the inexpensive classes at Riverbank State Park before, and tennis is no exception. The lessons take place on the park's four outdoor courts during the summer. Little Kids Tennis for ages 5 to 7 runs Saturdays from July 6-August 24. For these eight hour-long sessions you pay very little. It's the same deal for Youth Beginner Tennis Skills and Youth Intermediate Tennis Skills for ages 8 to 14. Registration is first come, first served. A Riverbank Park State ID is required, but you can pick one up for around 10 bucks.

Many YMCAs also offer youth tennis lessons through the United States Tennis Association's Tennis for Kids program. Other youth tennis programs of note include BumbleBee Tennis with indoor and outdoor locations in Brooklyn, Manhattan and Queens; Roosevelt Island Racquet Club, which offers door-to-door transportation to its indoor facility and the John McEnroe Tennis Academy on Randall's Island.
Where to Play Tennis with NYC Kids
Once your kids have gotten into the swing of things, they might want to play a friendly game with a pal or parent. The New York City Parks Department maintains tennis courts in all five boroughs that are open from April through November. Some, like the Central Park Tennis Center, are well-known and thus very popular and very crowded. Others, like Frederick Johnson Park in Harlem, are less busy. Many offer lessons but prices vary by facility.

The one thing all NYC public courts have in common is that they require a permit to play. While adults need to pony up about $200 for a full-season permit, children under age 18 pay a small fee. For singles play, season permits are good for one hour of tennis each day in any borough. For doubles play, permits are good for two hours of tennis each day in any borough. If you don't want to commit to a season permit, single-play tickets are available, but for kids a season permit is cheaper.

Find out about other free summer sports programs for kids.
Photo courtesy of the New York Junior Tennis & Learning Community Tennis Program