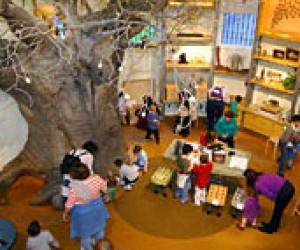 5 Best Indoor Activities for NYC Kids
Though the weather doesn't seem like it will ever approach the lows that will force you & your brood inside. It's going to happen! Whether you have a newborn, toddler or school-aged child you're going to be faced with long hours inside this winter. After you have watched every video, played every game & read every book in the house you're going to need to venture outside or risk what I'd like to call M.G.S.C. Disorder better known as "Mommy's Going Stir Crazy".

Here are some ideas on where to go for indoor activities in New York that will be fun for parents as well as children.
Museum of Natural History Discovery Room
Free with museum admission: $19 for adults, $10.50 for children ages 2-12
We've covered the awesome AMNH Explorer App, and have told you about various cool exhibits and programs like Mystery at the Museum. The AMNH has always been a no-brainer as far as kids activities in the city, but a lot of parents haven't heard of the Discovery Room. *Warning--The staff can be a bit cranky on busy days, you need to supervise your kids so you don't get dirty looks.

The Discovery Room offers a hands-on, behind the scenes experience for kids ages 5-12. There isn't a single field covered in the Museum that isn't included here. Artifacts and specimens, animal searches, totem pole study, earthquake seismographs and even assembly of a life-sized cast skeleton of Prestosuchus, a Triassic Period reptile are just a few of the wonders that await your family. Story Time is especially good for the little ones. Activities for older visitors are located on the upper level. Bonus: The cafeterias at the museum serve healthy, albeit expensive, snack choices.

New York Hall of Science
Free with museum admission: $11 for adults, $8 for children ages 2-17
Yes, folks, it's in Queens, but get over it. This museum is such an easy trip on the subway (or drive) and it's soooooo worth it. During the week the museum is never crowded and it's hours of indoor fun for you as well as your kids. In addition to making our list of 100 Things to Do in NYC with Kids Before They Grow Up, the New York Hall of Science throws a great Maker Faire. Metropolitan Museum of Art
Free with suggested museum admission
The Met is not on everyone's radar as a great museum for kids, but there are some great hidden spots there and fun exhibits. Pass through the Medieval Section on the First Floor into the Robert Lehman Collection and you will be rewarded with one of the least trafficked parts of the building--it's filled with light and lots of room for you and your little one to explore. The guards are really relaxed, there are benches and seating and you can hang out for a while. It's a great place to nurse. Visit the museum's cafes for a snack break and if you're really feeling adventurous wheel through the one of the other sections. Suggestions: The Egyptian Wing-- walk through a real temple, the old baseball card collections, the arms & armor sections, and the costume room. For other visiting tips and prep for your outing read How to get more out of the Metropolitan Museum of Art with Kids, or check out our post on Free Family Programs at The Metropolitan Museum of Art.
Chelsea Piers Toddler Adventure Center
$12 per session, discounts for multiple sessions
The Toddler Adventure Center features one of the nicest indoor toddler play areas in the city. It's also kept super clean and offers you up to four hours of fun indoor time during the coldest months. It's small enough that you can always have your eye on even the littlest of kids.The focus is on fun through movement as youngsters crawl, roll, jump, and explore. Last, but not least there is a ball pit--need I say more? Afterward, explore everything Chelsea has to offer.
Staten Island Children's Museum
Free with museum admission: $6
Best bang for the buck! This museum is full of interactive exhibits, it's in great shape - clean and well organized and it's really not hard to get to. The bus is right outside the ferry station and the trip is guaranteed to tire the kids out. See our full length write up of this trip here.

Find more great activities like this in our Indoor Activities Guide.