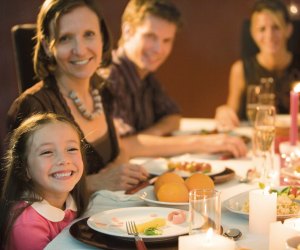 Restaurants Open on Christmas Day in the Fairfield Area
Most Connecticut businesses are closed on December 25th, but lucky for parents looking for an excuse to get out of the house for a few hours (did I say that?), these family-friendly Fairfield County restaurants are open for Christmas day. You'll want to make reservations soon, particularly if you have a large group, and take note that not all prix fixe menus offer a lower-priced children's alternative.
To top off dessert, maybe plan to check out the Christmas lights in one of these towns, or take advantage of these events happening on Christmas day.
Artisan—Southport
Known for its lovely holiday feasts, which are best for older children, Artisan is tucked in the stunning Delmar Hotel. Their prix fixe Christmas meal is a three-course affair that will be served from noon to 7pm. Reservations are essential.
BJ Ryan's Pub—Norwalk
Holidays can be overwhelming for young kids, which is why we're glad for places like BJ Ryan's, proudly advertising a kitchen open 365 days a year and serving all the classics: burgers, pizzas, and (my personal favorite) pulled pork nachos. The restaurant is open Christmas Day from 11:30am to midnight.
OUR LATEST VIDEOS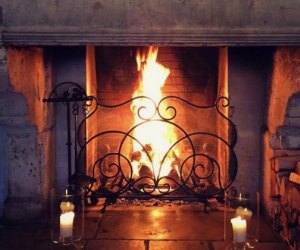 Cozy up to the fireplace in Greenwich. Photo courtesy of L'Escale
L'Escale-- Greenwich
Attached to the prestigious Delamar Hotel, the dining room at L'Escale overlooks the picturesque Greenwich Harbor. Cozy up alongside the fireplace and enjoy an elegant three-course prix fixe feast packed with flavors from the south of France at L'escale for their signature Christmas Day brunch from 12 to 7pm. Reservations are required, and there's limited seating.
Village Gourmet—Norwalk
In the mood for dumplings? Try Norwalk's Village Gourmet, where you will find delicious Chinese specialties. The egg rolls are delicious, and the atmosphere is inviting. Open Christmas Day from 12pm to 10pm.
Long Ridge Tavern—Stamford
This unique setting feels like an escape to the country with a dining room surrounded by antiques and charming decorations. They are open on Christmas Day from 12 to 6pm, with a special menu and a children's menu for kids age 10. Reservations are required.
J House—Greenwich
From dry-aged steaks to the crowd-pleasing J House Burger, J House offers its regular menu on Christmas Day.
Photo courtesy of Roger Sherman Inn
Roger Sherman Inn—New Canaan
This classic New England inn offers an extravagant prix fixe menu from 2 to 8pm, and includes Christmas delicacies such as lobster bisque and venison medallions. There is a children's option for those 12 and under but this venue is not recommended for young children. Reservations are required, and limited seating is available.
Winfield's—Greenwich
Located in the Hyatt Regency, Winfield's offers a traditional holiday brunch on Christmas Day with seatings from noon to 3:30pm. Reservations are recommended.
Blackstones Steakhouse —Greenwich & Stamford
Blackstones is opening its Greenwich and Stamford locations on Christmas Day. Start your celebration by indulging in lobster bisque or shrimp cocktail and finish it up with a juicy dry-aged steak. Don't forget to save room for dessert!
Originally published December, 2011