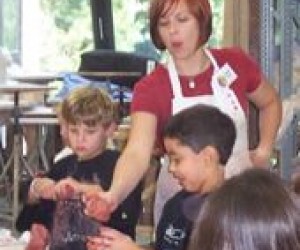 Weekend Events in NJ October 2-3: Kidstock, Bedstock, a FREE Applefest and the Ultimate Block Party!
So similar and yet so different… NJ has two tea parties (American Girl and Grandma and Granddaughter) and two 'stock' events this weekend, not to mention a fitness fair, a self-portrait painting workshop for kids and something marvy called The Ultimate Block Party, which just might make a trip into the Big Apple necessary. Good times, folks, good times…

Warwick Applefest
Now in its 22nd year and listed as one of the "Top 100 Events in North America", the Applefest has over 200 craft vendors, food, live music and entertainment, a Children's Carnival, Farmer's Market, and an Apple Pie Baking Contest. Sunday, October 3 from 10am to 5pm, rain or shine. FREE. Satellite parking is $5. Call 845-987-8300 for more information.

American Girl Tea (Summit)
Come to Reeves-Reed Arboretum with your kids and your American Girl dolls to celebrate Laine, American Girl's 2010 Girl of the Year. Laine is a city girl who discovers the wonders of outdoor life in her own back yard. Saturday October 2 from 2-3:30pm. Members: $15/child, Nonmembers: $20/child. Call 908-273-8787 for more information.

Grandmother and Granddaughter Tea (Kingston)
If you don't want to bring a doll to tea, you could always bring your grandma. Enjoy sandwiches, desserts, fine teas and tea etiquette at the Main Street Eatery and Bakery. Sunday, October 3, 12pm to 1pm. $35. Call 908-239-0100 for more information.

Bedstock (Bedminster)
Nine hours of music and family fun to benefit evidence-based autism intervention services? That sounds like a winner all the way around. NJ beach bands and Miss Amy & Her Big Kids Band top a bill that includes the marvelously-named Stringbean and the Stalkers and John Sebastian from The Lovin' Spoonful. Saturday October 2, 11am to 8pm. Tickets $15/Adults in advance, $20/Adults at the door, $5 for kids.

Kidstock (Trenton)
A family fun festival with a learning angle: it includes education for parents and kids to combat the epidemic of childhood obesity. Come out for fitness activities, entertainment, food (of the "light 'n' healthy" variety, we're assuming), prizes, contests, pet adoption and gift bags. Saturday, October 2 from 10am to 5pm. Admission $6/Adults, $4/Children. Call 888-6-KIDSTOCK for more info.

My Painting of Me (Summit)
At the exceptionally groovy Visual Arts Center of NJ, kids will use a mirror and follow step-by-step instructions to create a unique self portrait. Students gain an understanding of how to draw a proportionate face, and how to paint in watercolor with bright bold colors. Sunday October 3 from 10am to 11:30am. Price $30 plus $6 supplies fee. Call 908-273-9121 for more information.

The Ultimate Block Party (Central Park NY)
Trust us, you'll want to venture into Manhattan for this. Participate in playful activities and mini master classes with leading architects, scientists, engineers, musicians, artists, inventors, and business leaders from around NYC. The event includes the world's largest game of Simon Says and an obstacle course. Sunday October 3 from 11am to 5pm. FREE.